Dallas Stars Fall Hard to Winnipeg Jets, 8-2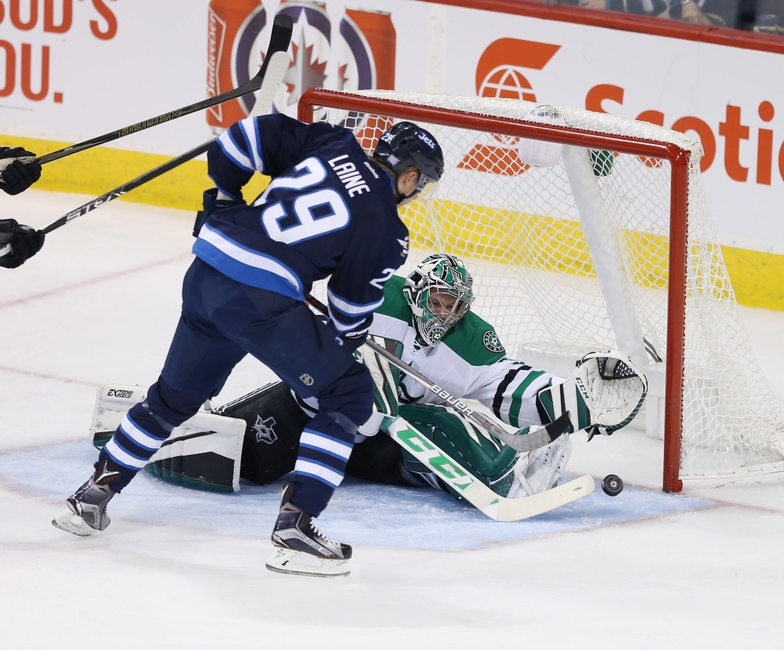 Holes upon holes in the Dallas Stars scheme tonight led to an ugly performance against the Winnipeg Jets. They fell in an 8-2 massacre. Wrap up below.
The Dallas Stars had their worst defensive game of the season as they fell to the Winnipeg Jets, 8-2.
Recap
The first period was a rough one for the Stars. Winnipeg took a 1-0 lead after Dan Hamhuis slid into Kari Lehtonen while attempting to stop a cross-ice pass. They then took a 2-0 lead before the end of the frame, causing Dallas to trail by a pair heading into the first intermission.
Patrick Eaves scored on the power play early in the period to cut the Jets' lead to 2-1. Winnipeg answered with a power play goal of their own to regain their two-goal lead, 3-1 overall. Patrik Laine added his third goal of the night to complete the hat trick and ended Lehtonen's time in net as Antti Niemi took over.
The Jets made it 5-1 with another power play tally with under five minutes left in the second. Winnipeg would add one more power play goal before heading to the second intermission up 6-1.
The third period saw Tyler Seguin net a goal early in the frame to cut the Jets' lead 6-2. Winnipeg came back and tallied a short-handed goal to make it 7-2. The Jets added one more before winning 8-2.
Thoughts and Observations
Help Yourself
The Dallas Stars are a club that often makes things harder on themselves than necessary. For whatever reason they seem to be their biggest obstacle to success and tonight showed much of the same.
Dallas' defender Dan Hamhuis crashed into Lehtonen on the first goal against, making it nearly impossible for No. 32 to make the stop. Stars players were standing in front of Lehtonen and not making his job any easier as the Jets players were also impeding his vision.
Double screens are an immense challenge for goaltenders around the league and the fact that Stars player contributed to one against themselves goes to show their issues from the night.
Missing Offense, Again
The Stars struggled to convert on their opportunities in tonight's match-up. They weren't able to complete their passes and their defensive game wasn't able to contribute to their offense either.
All in all there isn't much to say about this game. The Stars were bad and they suffered from special teams issues and couldn't do too much right.
Nothing was going in for them and they weren't catching any breaks at all. Frustration found its way into their game and it transformed the Stars into a significantly less effective team.
Moving Forward
The Stars will look for a better performance all around when they head to Calgary to take on the Flames Thursday night.
More from Blackout Dallas
This article originally appeared on