Dallas Stars Desperately Seeking Win In Chicago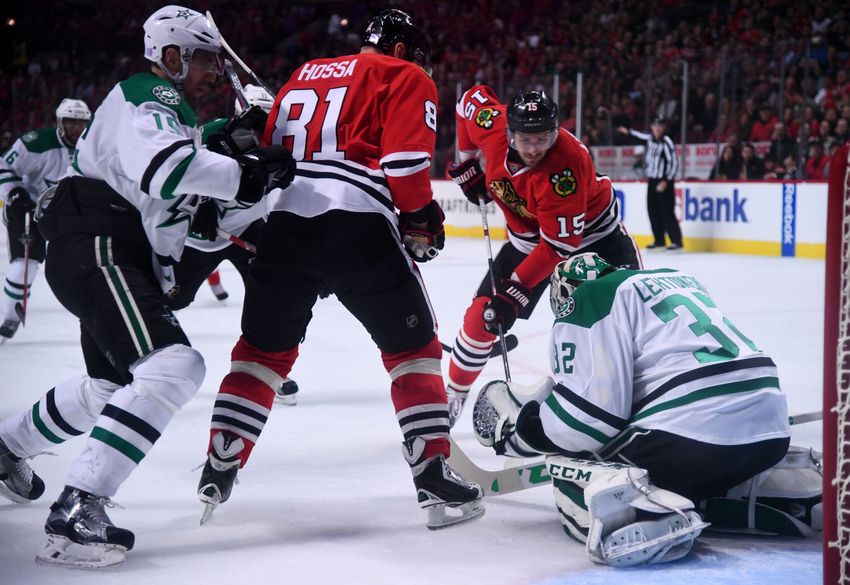 The Dallas Stars are having trouble staying in the win column, but they'll have to beat the Blackhawks if they want to avoid a losing streak.
The game will air tonight on Fox Sports Southwest (FSSW), or you can catch the broadcast on 1310 AM/ 96.7FM The Ticket. Puck drop is scheduled for 6 PM CT from United Center.
Records and Scores
The Dallas Stars, who are 11-12-6 on their season so far, lost a disappointing one in Philadelphia 4-2 on Saturday to miss out on a win streak. Their 5-2 win over Nashville was their most prominent recent game, in which the Stars took the lead early and lived up to expectations in the area of offense. The Stars will return home after tonight for a five game home stand.
The Chicago Blackhawks are 17-8-4 for the season but are also coming off a loss. Their tilt against the Rangers at home on Friday ended in a 1-0 overtime decision that put each team's goalie in the spotlight. The Hawks will wrap up a four-game homestand tonight, with a 1-1-1 record so far.
Dallas Stars Continue Inconsistency, Lose To Brayden Schenn, Flyers
Storylines
Beat by the power play
The difference in the Stars' game in Philly came down to power plays. The Flyers were 3-6, while the Stars were 0-4. This has been a constant struggle for the Stars this season. While their penalty kill has wavered between good and not quite so good, the Stars still need to find a way to keep from presenting their opponent with these opportunities. Although you can't always control what a ref is going to call, the Stars should be more careful with their penalties in order to cut down on the chances the Blackhawks might have to make something of the man advantage.
The Stars are earning a pretty bad reputation within the league for powerplay goals allowed on the road- they're the worst at it in the NHL, with 19 allowed so far this season. The Blackhawks do very well at home, with an 11-2-3 record to prove it. The Stars must step up their penalty kill performance and make their own power plays count, especially at United Center tonight.
Out, but not down and out
The Blackhawks are making do without the help of their captain, Jonathan Toews, and goalie Corey Crawford. Although the Stars have dealt with some horrible injury situations, this would be the equivalent of the Stars losing Jamie Benn and Kari Lehtonen in the same stretch.
Still, the Blackhawks seem to be forging ahead well without these two cornerstone players. Scott Darling is a quality replacement for Crawford, and proved that in Chicago's last game. So another key for the Stars tonight will be to find a way to crack Darling early, and often.
The history
In previous seasons, the Stars' luck has fared pretty well against the Blackhawks. So far this season, though, things are falling a little differently. At the third of five contests the Stars and Hawk will share this season, the Stars have gone 0-1-1, yet to mark a w against Chicago.
While their last game did go into overtime, the Blackhawks pulled out the narrow win. Tyler Seguin and Patrick Kane lead their teams in points, with 29 and 27 respectively.
Injury Report
The Dallas Stars have cleared Jiri Hudler (illness) and Johnny Oduya (lower body) to return to play. They both look like game time decisions. However, Julius Honka (upper body), Patrick Sharp (concussion-like symptoms), Mattias Janmark (knee), and Ales Hemsky (hip) are all out.
For the Chicago Blackhawks, Jonathan Toews (back) and Corey Crawford (appendix) are both out, and Brent Seabrook (upper body) is questionable.
Projected Lines
Dallas Stars
Jamie Benn – Tyler Seguin – Jason Spezza
Antoine Roussel – Radek Faksa – Brett Ritchie
Lauri Korpikoski – Cody Eakin – Patrick Eaves
Curtis McKenzie – Devin Shore – Adam Cracknell
Johnny Oduya – Jordie Benn
Kari Lehtonen
Chicago Blackhawks
Artemi Panarin – Artem Anisimov – Patrick Kane
Ryan Hartman – Marcus Kruger – Marian Hossa
Tyler Motte – Dennis Rasmussen – Richard Panik
Andrew Desjardins – Vince Hinostroza – Jordin Tootoo
Gustav Forsling – Niklas Hjalmarsson
Trevor van Riemsdyk – Michal Rozsival
Scott Darling
Lars Johansson
Predictions
Comparing the Stars road record with the Blackhawks' home one, the probable outcome is that the Stars will fall by at least a one goal deficit.
If the Stars can buckle down on their power play and penalty kill efforts and stay strong in goal all night, they could pull out a narrow win, but it's far more probable that the away situation will end in a score something like 3-1.
More from Blackout Dallas
This article originally appeared on