Dallas Stars Defense Looked Strong With Youthful Exuberance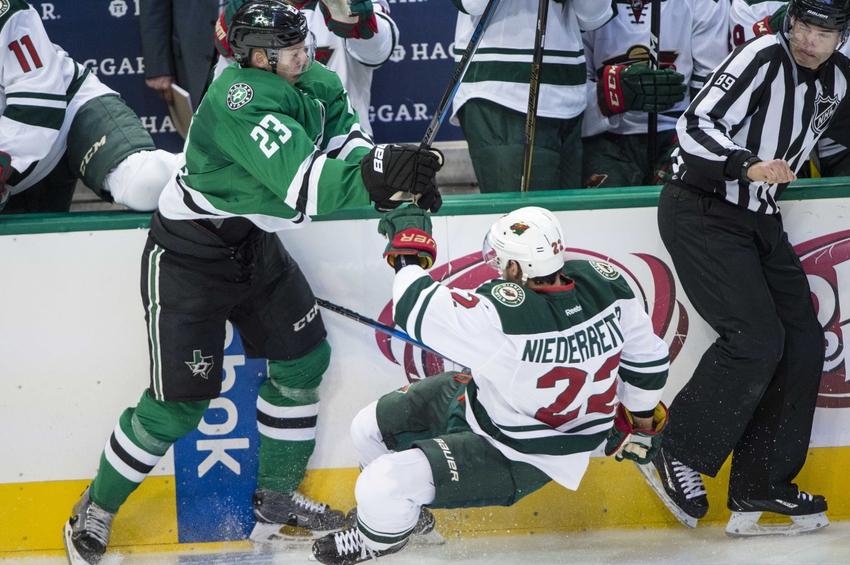 The Dallas Stars defense looked better than usual in Monday night's game. The crazy thing is, their blue line was primarily composed of youth. Can they keep up the positive trend?
It takes a lot to trust a young and relatively inexperienced blue line. As everyone knows, defense is highly regarded as the most influential and critical part of any hockey team. Without it, a team is destined for failure.
The Dallas Stars learned that difficult lesson during the 2014-15 season. After high preseason expectations mixed with an excellent young core group of players, the Stars plummeted from their past standing into a mediocre season that ended at game 82.
The main catalyst in their downfall was the young defense that needed a year to grow and develop. The Stars gambled too heavily on names like John Klingberg, Patrik Nemeth, Jamie Oleksiak, and Jykri Jokipakka to keep the defense balanced, and it came back to bite them. The Stars finished with a 3.23 GAA, which was the fourth most throughout the NHL.
Before the 2015-16 season, GM Jim Nill made sure that it was not going to happen again. He added veteran defender Johnny Oduya and later brought in veteran Kris Russell to work alongside Jason Demers, Alex Goligoski, John Klingberg, and a mixture of other young defensemen.
The moves definitely paid off. The Stars took the NHL by storm, racking up 50 wins and securing first place in the Western Conference. They made it to the second round of the Stanley Cup Playoffs before falling short in game seven to the St. Louis Blues.
Seeing the success that occurred for Dallas last year, Nill replicated his offseason actions and added veteran Dan Hamhuis to the blue line.
But he neglected one very important aspect: the re-signing phase. Alex Goligoski, Jason Demers, and Kris Russell all departed in free agency this past offseason, leaving three big veteran gaps that needed filling.
Instead, Nill decided to take on a similar philosophy as he did in 2014-15 and allow the young guns to test their fate.
And at the beginning of the current season, it looked like the Stars would be in for another long year. The Stars' defense was allowing well over 30 shots per game, they were leaving the already shaky goaltenders out to dry, and there was a severe lack of chemistry.
Pairings were being changed every other game and some of the Stars' regular superstar defensemen were not producing anywhere near their usual level, specifically John Klingberg. It got to the point where Stars fans were calling for Klingberg, once considered a top-five defender in the entire league, to be benched.
They got their wish on Monday when Klingberg accidentally overslept and missed the morning team meeting. Lindy Ruff never shows pity for missing a meeting, no matter who the player is or how talented they are, and the punishment is always the same: sit out the next game.
With Klingberg in the press box and Johnny Oduya on the injured reserve, the Dallas Stars fronted an extremely inexperienced lineup on defense in a critical game against the Minnesota Wild.
Dan Hamhuis – Julius Honka
Patrik Nemeth – Jamie Oleksiak
This was their starting lineup on Monday night. Out of those six defensemen, only one has competed in more than five seasons at the NHL level. Only three of them have played at least 82 games at the NHL level (a complete season). Lindell has only played 15 games and Honka was set to make his debut.
In other words, the odds were not in the Stars' favor. But they won. Not only did they win and secure two points (in overtime, no less), but they did it due to an impressive defensive showing.
Hamhuis remained as a strong and wise veteran presence on the ice. Jordie Benn had a phenomenal game, especially on overtime when paired with Tyler Seguin and Jamie Benn. Jamie Oleksiak got into a scrap and scored a goal. Nemeth and Lindell did what they needed to in the defensive zone.
Not to mention that Honka was good. Like, really good. He finished with an assist and a plus-one rating, skated for 21:01, and helped run the first power play unit while filling in for Klingberg. Not many rookies have as good a start to their professional career as Honka did on Monday night. He obviously isn't looking to go back to the AHL anytime soon. I think the Stars are okay with that.
With the victory over Minnesota, Dallas moved into third place in the Central Division. Things are slowly beginning to brighten up for a team that is 8-7-5 and has yet to play a game this season with all of their typical starters in the lineup.
But that doesn't mean things will be getting easier. The Dallas Stars will face off with the Nashville Predators from the Music City tonight in another critical interdivisional game. A loss could put them as low as sixth place in the division. That's how tight things are right now.
The defense played a solid game two nights ago. They were effective in their own zone, gave up very few quality chances, and only allowed one goal at even strength. It's a defense like this that the Stars need on a nightly basis. Could this group continue to be that defense?
Dallas will play a Nashville team that has a lot of offensive weapons, especially the ones that sit on the blue line. It's not going to be an easy matchup by any means, considering the Predators are just as desperate for points as the Stars. Can this young defense wow the opposition again? If they were looking for a time to shine, now would be perfect.
Let's just hope we aren't still on that dang roller coaster.
More from Blackout Dallas
This article originally appeared on