Dallas Stars Could Have Reinforcements By Tomorrow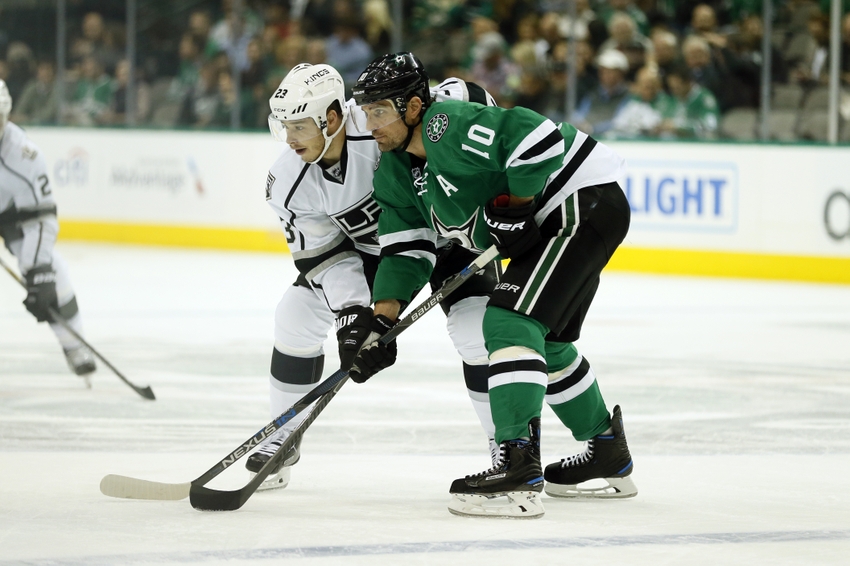 The Dallas Stars will finish up their Western Canada road trip tomorrow afternoon in Vancouver, and some familiar faces may be returning to the lineup just in time.
It's been much too long since the Dallas Stars showed off the complete team that they have spent the past few seasons building up.
Due to an extensive list of ailing injuries that have been piling up since the beginning of the World Cup of Hockey in September, the Stars have yet to show off their full team in a regular season game this year.
Patrick Sharp, Patrick Eaves, Jason Spezza, Ales Hemsky, Jiri Hudler, Cody Eakin, and Mattias Janmark have all spent some portion of the 2016-17 season on the IR list so far. All of these players happen to be typical offensive starters for the Stars. So it's pretty obvious what the main cause of their downfall has been over the first month of the season.
Eaves only missed one game and has returned, but all of the other names are currently injured as of Saturday morning. That's six forwards who are typically in the top nine on offense. The fact that the Dallas Stars are currently at .500 (6-6-3) with all of these players on the shelf is nothing short of extremely impressive.
Dallas Stars Prepare To Host Emotional Hockey Fights Cancer Night
Things have not been easy so far, though. For example, the Stars have scored 40 goals through the first 15 games of the year. That translates to an average of 2.67 goals per game, good enough for 16th in the league. Last year, the Stars averaged 3.23 goals per game and claimed the title of best offensive team in the NHL.
They're obviously not there right now, and injuries are one of the big things holding them back. After all, Jamie Benn (4G, 9A) and Tyler Seguin (7G, 10A) can do a lot, but even they need some help after a little while.
Offense isn't the only thing trying to catch up with the speed of the season. Their defense, which consists of Johnny Oduya, Dan Hamhuis, and a bunch of other defenders in their fifth full NHL season or earlier, had to take some time to adjust. There are still some growing pains, but things are getting slightly better with each passing game.
The Stars' special teams unit also got out to an extremely slow start this season. Their power play went scoreless most nights, and their penalty kill dipped well below 80 percent, which isn't a common occurrence.
But their offense has definitely missed some key assets over the first 15 games and struggled because of it. On the bright side, those days of struggling might be coming to an end within the next 24 hours.
According to Mike Heika of the Dallas Morning News, both Patrick Sharp and Jason Spezza skated with the scratches at the Stars' morning skate on Friday morning in Edmonton. Neither player participated in Friday's win against the Oilers, but it was definitely encouraging to see both on the ice.
In an interview on Thursday, Dallas Stars head coach Lindy Ruff indicated that Sharp could possible be ready by Sunday when the Stars stop in Vancouver. He stated that Spezza was on a day-to-day basis but is having some pains and is still unable to "push it" in practice. He said that #90 would not skate in a game until he was able to give his all with no setbacks or pains.
Whether it's only one or both of them, the Stars could use all the help they can get. Sharp has one assist in four games this year, but scored 20 goals and tallied 55 points in 76 games with Dallas last year. Spezza already has four goals and an assist in nine games this year. Their presence would be massively helpful on not only the offensive front, but also on special teams.
The Stars finally seem to be figuring things out after two straight wins through this Western Canada swing so far, which is impressive considering all of the talent that is absent. But that talent is on the brink of returning, which makes the rest of the season even more exciting.
Just a little while longer, Stars fans. The real 2016-17 Dallas Stars are almost here, and the NHL as a whole might want to be prepared for their arrival.
More from Blackout Dallas
This article originally appeared on