Dallas Stars Big Name Players' Plus-Minus Woes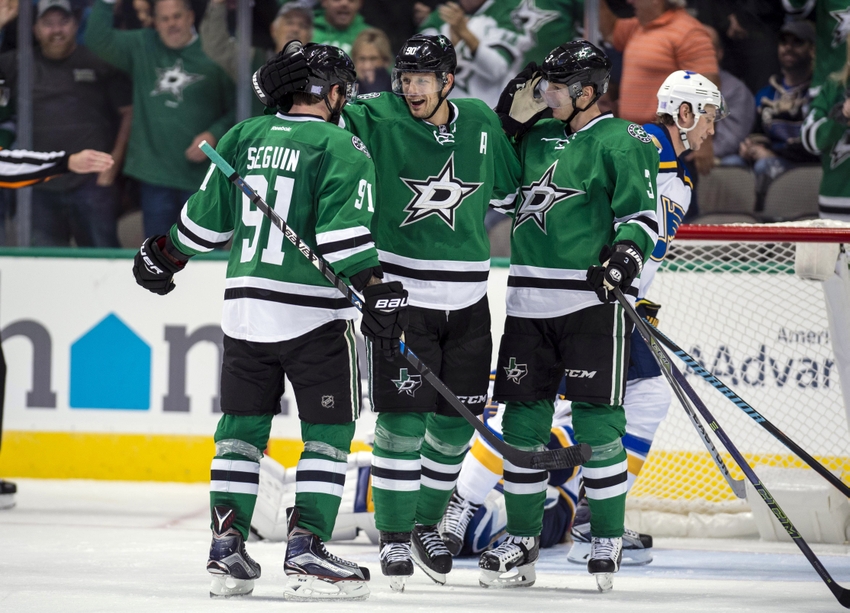 With all of the high-powered offense that the Dallas Stars own, it's rather peculiar that some of their best players are sitting so low on the plus-minus scale.
The Dallas Stars are not a particularly defensive club. They have a few good options on the blue line, but it is definitely not a position they are known for.
So it kind of makes sense that the Stars' best offensive players are falling behind defensively However, in comparison to their peers, Dallas' highly productive players are getting scored on more than they are scoring. In a league with games as close as the NHL, that is a big concern.
Tyler Seguin and Jamie Benn
No. 91 and No. 14 are easily the best known Dallas Stars players. They have the skill, speed and fire power to command attention in the hockey world and they are usually hard to miss on the ice.
That is both a blessing and a curse because opposing players know to look out for the young guns the Stars in the offensive zone, but they also are two of the players struggling the most defensively.
Both Jamie Benn and Tyler Seguin have plus-minus ratings of minus-five. That means they have been on the ice for five more goals against than goals for. Considering Seguin leads the Stars with 20 points (7G, 13A) and Benn is second with 14 points (4G, 10A), their plus-minuses being so low is concerning.
Jason Spezza
The experienced and highly productive Stars center has a minus-seven in just nine games this season. No. 90 has missed six games due to two injuries and is still sidelined, but his plus-minus speaks for itself.
He only had five points (4G, 1A) at the time of his injury, so it is a very small sample of what the season ahead will hold.
Perhaps Jason Spezza's nagging injury or ailment prevented him from playing his best defensively, or maybe he was so focused on scoring that he let his defensive play slip. Either way playing well in all three zones will be of the utmost importance upon Spezza's return to the line-up because, as they say, the best offense is good defense.
John Klingberg
Lastly, Dallas' power play quarterback extraordinaire John Klingberg is sitting with a minus-six. As the only defender currently posting a significant minus, No. 3 is noticeably lacking in his defensive play.
Klingberg is a more offensive defender compared to his peers, so that certainly influences his heavy minus thus far this season. However, being a defenseman is his role first and foremost. Contributing offensively is just another skill he brings to the table.
It will be interesting to see if Klingberg has a conversation with the coaching staff or fellow teammates about his tendencies to make risky decisions in hopes of an offensive payout. Dallas seems pretty keen on No. 3's decision-making, though, so that is highly doubtful.
What is clear is that he needs to tighten up his defensive approach so the Stars can be more sound in their own zone.
Things to Remember
Special teams also do not factor into plus-minus calculation. That means any goal scored on the power play and any goal given up on the penalty kill do not count. Shorthanded goals, on the other hand, do factor into plus-minus and could be another reason some top player's who kill penalties have such low ratings.
It is important to remember, however, that plus-minus is based on the season's entirety. Toward the start of the year Dallas were struggling to score. That means every goal going in against the Stars was a minus on their tallies. In the past week or so the team has been looking like the Dallas Stars yet again, so it would be reasonable to expect their plus-minus ratings to improve.
More from Blackout Dallas
This article originally appeared on