Cup crazy: Facebook map reveals NHL playoff allegiances
Not every NHL fan has the privilege of watching their team compete in the Stanley Cup playoffs, but many still will want someone to back. Thanks to Facebook, we (sort of) know where their allegiances now lie.
Facebook made a map based on which team had the most likes in each U.S. state and Canadian province. While it might not be the most scientific study, the results seem as though they could be more or less accurate. In Canada, the lone local team to make the playoffs, the Montreal Canadiens, captured the interest of most of the country.
The three provinces that didn't choose to support the Habs all leaned toward the Pittsburgh Penguins, possibly because of Sidney Crosby's popularity in his native country.
The Chicago Blackhawks stole America's heart, having the most likes in 10 states. Most of the other teams picked up at least their home state, with a few stealing fans from neighboring states.
However, the Los Angeles Kings and Anaheim Ducks didn't come out on top anywhere after being beaten out by San Jose Sharks fans in California.
As for the Boston Bruins-Detroit Red Wings matchup, the Red Wings were able to win over seven states other than Michigan, while the Bruins (perhaps obviously) gained the support of the other five New England states, with a bonus of Hawaii.
Check out the map below.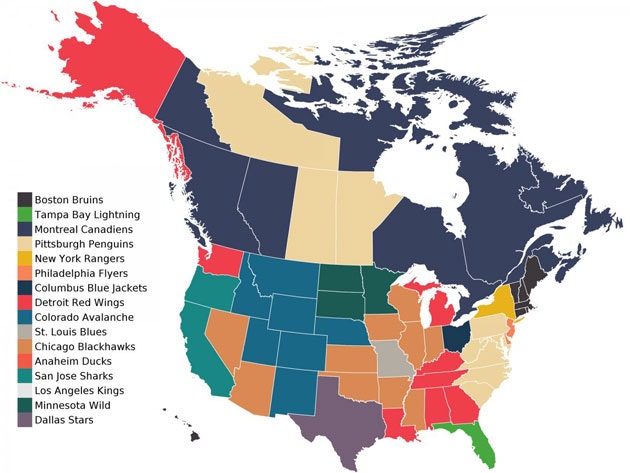 MORE FROM NESN
Lightning fan captures hockey fight in perfect selfie
Another epic montage from "Hockey Night In Canada"