Colorado Avalanche Will Make Trades if Performance Does Not Improve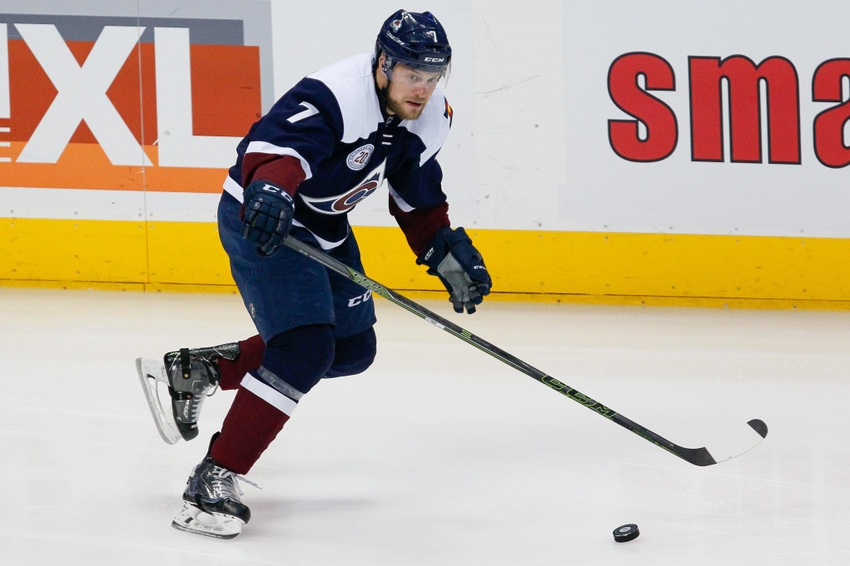 The Colorado Avalanche are 2-6 in their last eight games, and trades will inevitably happen if they continue to perform so terribly.
The minute the Colorado Avalanche decided to waive John Mitchell on November 4 trades became a reality in Avs territory.
That was nearly a week ago, so perhaps this article is a bit overdue, but I needed time to organize my thoughts on the matter.
Why Was John Mitchell Placed on Waivers?
My thoughts on the matter might be better expressed in the form of questions; questions you might consider asking yourself as you move through this article with me:
Why would the Colorado Avalanche waive John Mitchell instead of say Rene Bourque?
Why would the Avs waive a player that only played four games with the team this season before being waived?
Why didn't any team pick up Mitchy's contract?
Why would the Avs keep said player with the big club after he cleared waivers?
What does all this mean for the Avs?
That final question is where it all begins. However, I still plan on providing you with succinct bullet-point answers to the questions above in respective order:
Mitchy's contract carries a cap hit of 1.9 million while R. Bourque's contract carries a cap hit of 650,000. And, this waiving of Mitchell was a clear attempt to get rid of his contract.
Mitchell's contract carries the largest cap hit among the expendable contracts.
The expansion draft is a devious trickster constantly roaming around in the periphery of this season. And, no team wants to pick up a contract that they will inevitably leave unprotected when Thievery Day comes for Las Vegas.
Well, the Avs were trying to get rid of Mitchell's contract. And, sending him to the AHL does not alleviate any cap pressure because he is on a one-way contract.
It means that the Avs were trying to orchestrate a trade. And, that the cap pressure was getting in the way of said trade. And finally that Mitchy's contract represented the best way to alleviate that cap pressure.
Why Trade John Mitchell, or Why Attempt to Get Rid of His Contract?
Why trade Mitchy? What do you mean — I can see the pulse in your forehead. You're telling me that the Avs did not try to trade him.
I disagree. I think that the Avs were trying to conduct a trade that involved John Mitchell. Said trade partner was not interested in Mitchy, so the Avs worked out some other deal. However, said deal they worked out required cap space, so they tried to get rid of Mitchell's contract via waivers.
More From Mile High Sticking: MacK Needs to Break Out
So, why his contract? And why trade him?
First of all, his contract represents an expendability because his type of play is by no means a rare commodity in the NHL these days. In other words, he's a versatile forward that can play up and down the lineup — to a certain degree — but is better suited to a bottom six role.
Second of all, the Avs are in obvious need of some cap space if they are going to orchestrate a trade — depending on the trade of course — and Mitchell carries a 1.9 mil cap hit.
And finally, the Avs are desperately seeking some way to address the issues taking place so far this season. And, Mitchell does not pose any glaring threat to those issues increasing in his absence.
More From Mile High Sticking: Picks Earning a Chance at No. 1 Goalie Spot
In other words, why not trade him? Or, why not see if you can get rid of his contract via waivers and make an attempt at change within the organization?
What Does all This Mean for the Avs Now?
Obviously we're a week removed from the above events. And, Mitchell went unclaimed on the waivers. So, the chances of any trade involving him are slim to none. And, the chance of getting rid of his contract via waivers has already been exposed.
More from Mile High Sticking
So, where does that leave the Avalanche — a team desperate for some kind of change, some way to clot the bleeding?
According to Spotrac, the Avs currently have a cap space of $2,716,928. That's good for 17th in the league in overall cap space, which, is not so bad. However, that's not enough cap space to make an impactful trade.
The alleviation of Mitchy's contract from the fold would certainly help facilitate an impactful trade. But, who else would be lost in the process? And, with Jarome Iginla's and Brad Stuart's contracts coming off the books this summer, is it really time to consider making a big trade?
To be honest, I'm not really sure this question can be answered yet. The Colorado Avalanche have been showing a lot of bright spots this season. And, the stats point to a much better team than we've seen.
Furthermore, it would seem like poor discipline is the actual reason for the team's dismal play recently.
So, if the Avs can figure out a way to convert underlying numbers into success, while also mitigating the poor discipline, this team could get on a roll.
However, I honestly believe that if this poor performance continues, then management will inevitably look to trades in an attempt to shore-up the problems.
Conclusion
The Avs need something to give, something to break. And, perhaps that's a trade, or the departure of some player pivotal to the core. And, it seems like the Avs were starting to flirt with that possibility when they put Mitchell on waivers.
However, none of that Mitchell nonsense went to plan for the Colorado Avalanche, so now they're back where they started before it began.
They're stuck with the same team, same results and the same disappointment. So, more drastic attempts at overhaul may come to fruition soon. In other words, the recent escapade with John Mitchell was probably just the tip of the iceberg.
And, the Avs are Titanically heading toward a pretty massive underbelly of destruction if something doesn't change quickly.
I don't want to label myself as the pundit ready for trades, but what else would anyone suggest at this point? Is there any other way to enact the altering of current direction without making a coaching change? In other words, that's already happened, so the next logical step would be trades, right?
I'm telling you guys, the waiving of Mitchell was the tip of the iceberg. And, Avs fans might be introduced to the grotesque nature of that iceberg's underbelly if the Avs don't find control soon.
That's all for today folks, thank you for stopping by.
This article originally appeared on