Colorado Avalanche: Tyson Barrie Set for a Big Season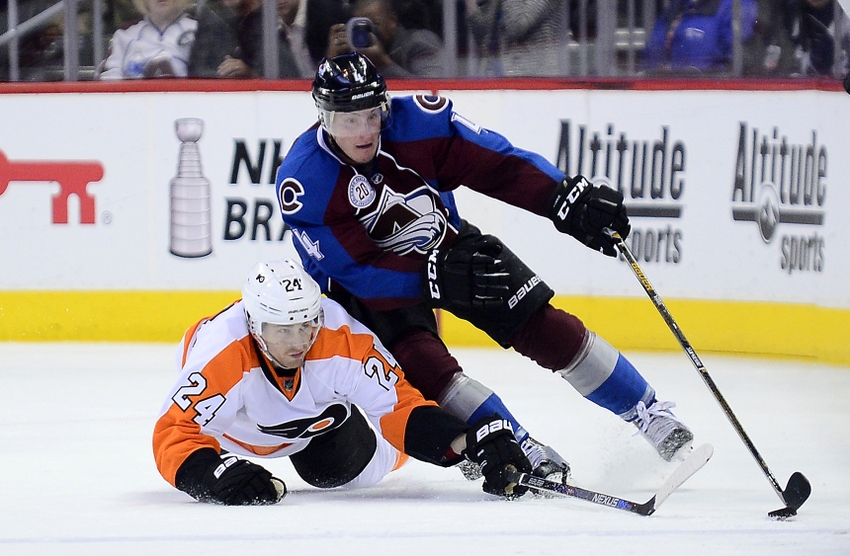 Colorado Avalanche Defenseman Tyson Barrie will be given a chance to dominate this season, and Avalanche fans could be looking at his biggest season to date.
The Colorado Avalanche will be sending six players to the World Cup of Hockey, which will start on Sept. 17 in Toronto. However, training camps began Sunday for most of the teams, with the rest set to begin on Monday.
There is also a pre-tournament schedule that will feature 12 games, which begins on Sept. 8 and will run through Sept. 14.
If Tyson Barrie played for any other country aside from Canada or Sweden (and maybe the U.S.) then he would be accompanying the rest of the players headed for the World Cup.
I know, there's no sense in operating under the umbrella of what-ifs, but Tyson Barrie is an elite offensive defenseman. Furthermore, Barrie could have conceivably made Canada's roster if it weren't so stacked at the defensive position already.
And — as I said — any other roster aside from Sweden and maybe the U.S. would want to have Barrie on their team.
Alas, he will miss out on the World Cup fun, and instead be relegated to training camp with the Colorado Avalanche in just a few short weeks.
Missing the World Cup of Hockey Will Be a Good Thing for Tyson Barrie
Obviously this is the time of year where speculation becomes a mode of conversation for writers who cover the larger sports outlets like Hockey, Football, and — to a lesser degree — Basketball.
As such, my assertion that an absence from the World Cup of Hockey for Tyson Barrie is ultimately beneficial for him, and the Avalanche in general, is certainly speculation.
However, there are a couple reasons why this will be good for Tyson Barrie:
Reason No. 1: Tyson Barrie is going to have more time to work with Jared Bednar and Nolan Pratt during training camp and preseason, and will have more time to absorb their systems and play style.
Reason No. 2: Tyson Barrie will be receiving top pairing minutes, and will be playing in all situations because he will easily be the best defenseman on the roster.
Tyson Barrie is finally going to be playing in a system that compliments his attributes on the defensive end of things.
Patrick Roy's systems were ok in the offensive zone, and perhaps even in the neutral zone, but a collapsing, shot-blocking style in the defensive end is not beneficial to Barrie's skill set.
With a more aggressive playing style likely on the way from Bednar and Pratt, Barrie figures to be spending less time in his own zone, and more time producing offensive opportunities. The more time he spends working with Bednar and Pratt, the more time he has to be successful in their systems.
Furthermore, Barrie figures to play a large role in training camp and preseason because Francois Beauchemin and him are the only players on the roster that can be considered mainstays from last season on the blue line.
Thus, as Barrie takes on a leadership role, as well as a more responsible role with playing time, his development will skyrocket.
Tyson Barrie Set for Breakout Campaign
Let's get one thing straight here first, I believe that Barrie already had his breakout campaign when he scored 53 points in the 2014-15 season, but I don't believe that 50 points is his ceiling.
Barrie should prove me right this season, as he'll aim for the 60-70 point mark, and find a home in Bednar's and Pratt's new systems, which preach aggressive pressure, and tons of mobility on the blue.
Joe Sakic showed faith in Tyson Barrie this summer by awarding him a four-year contract worth $5.5 million. Barrie now is the second highest paid defenseman on the roster — as he should be — and will now have to take the next step in his development.
Many would argue that his development is needed on the defensive side of things, and I think there is plenty of merit there. However, I also believe that when Barrie is given the chance to be more aggressive in his own end he'll excel and become one of the best puck-moving defensemen in the NHL.
More from Mile High Sticking
Based off of the last two seasons, Tyson Barrie is already one of the most elite puck-moving defensemen in the NHL, he just needs to take the next step and turn it up to eleven.
Well, apparently screenshots are no longer allowed for upload. So, Tyson Barrie is No. 7 in points from defensemen over the last two seasons with 102 in 158 games.
He only trails — in respective order — Erik Karlsson, Brent Burns, Kris Letang, Roman Josi, P.K. Subban, and Mark Giordano in the last two seasons.
He's already in the grouping of elite offensive/two-way defensemen, and he's set to take the next step this season because of new coaching systems, and plenty of time to adjust by not attending the World Cup of Hockey.
Conclusion
With an increased role in training camp and during the preseason, Tyson Barrie figures to be a good candidate for realizing his potential and ceiling as an offensive defenseman.
However, it's going to be Bednar and Pratt's defensive systems that will ultimately propel him to the status of an elite two-way defenseman.
Barrie will be given every opportunity to contribute in the defensive end, and a system predicated on speed, mobility, and aggression will play well to Barrie's strengths as a defenseman.
Furthermore, Barrie is one of three defensemen (Beauchemin, Barrie, Erik Johnson) on next year's roster that played a full season (excluding injuries and suspensions) for the Colorado Avalanche.
The rest of the defensive roster is constructed of free agent signings (Fedor Tyutin and Patrick Wiercioch), inexperienced young players (Nikita Zadorov and Chris Bigras), and one trade deadline acquisition who is also largely unproven (Eric Gelinas).
Therefore, Barrie figures to be pivotal to the leadership of the Colorado Avalanche blue line next season. And, I imagine that Bednar and Pratt are going to use the mobility of their top defensemen — emanating from Barrie and Johnson — to establish a style of play for the rest of the blueliners.
Next season figures to be the "Year of the Defensemen" for the Colorado Avalanche, and Barrie could be the biggest beneficiary of the new style in Avalanche Territory.
This article originally appeared on