Colorado Avalanche Rumors: Analyzing Carolina Hurricanes as Trade Partners
Ross Sellers/FanSided via Mile High Sticking

Fansided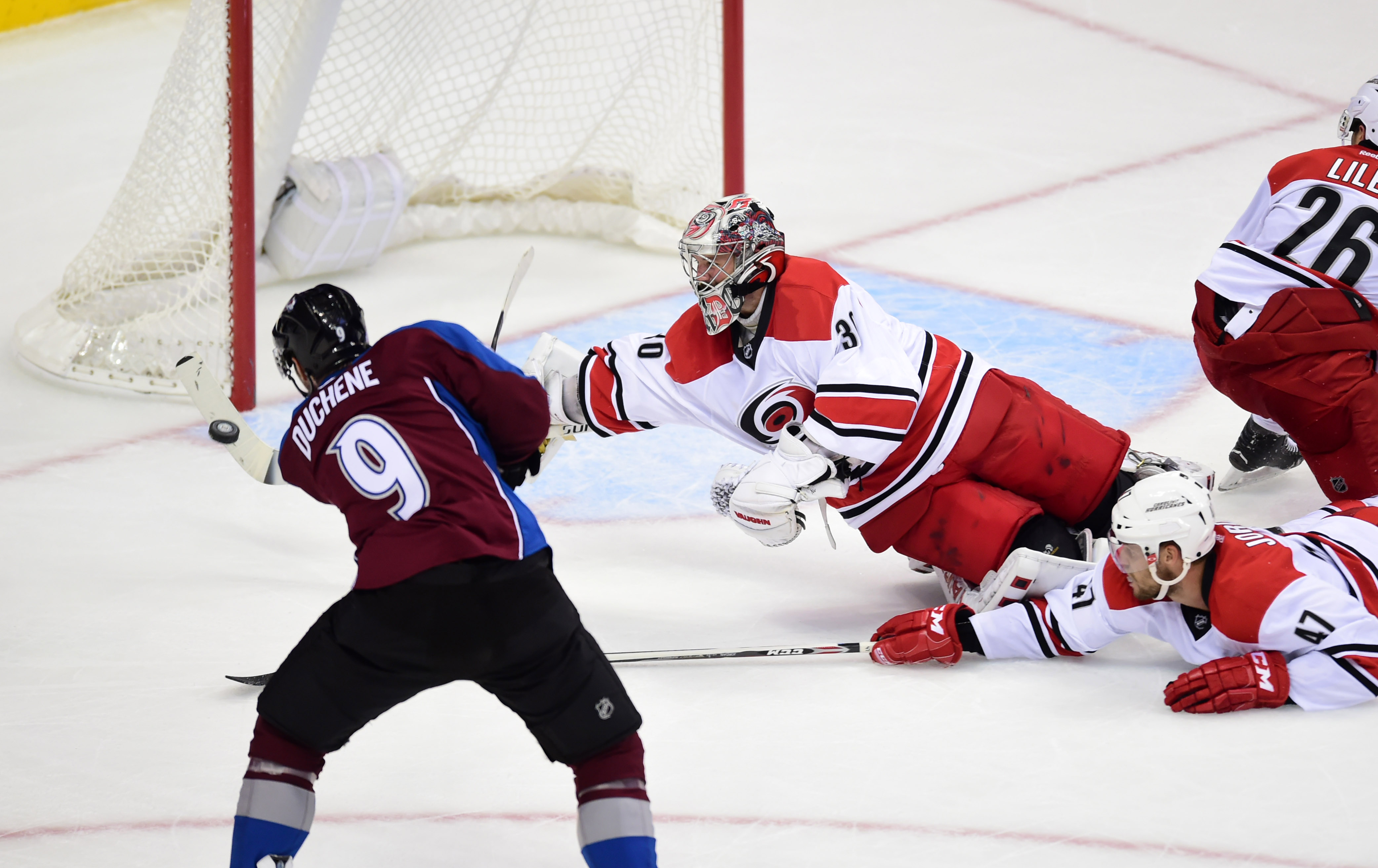 The Colorado Avalanche and Carolina Hurricanes would appear to be perfect trade partners, but will a deal get done between the two?
Jeff Skinner — of the Carolina Hurricanes — needs some help in the top six, and the Colorado Avalanche need some help on their blueline. Therefore, both teams seem to be good trade partners for one another. Perhaps a deal can be accomplished between the two.
It's actually very likely that a deal could be accomplished between the two. The Avs have a wealth — debatably — of what the 'Canes need, and the 'Canes certainly have a lot of defensive depth.
I say debatably because the Avs do not really have a wealth of top six forwards currently. However, that should change by next season, and this season is already in the gutter.
So, why not make a trade for a defenseman that can contribute to the future of this team. Said future should be pretty clear by early August of next year…and a steady defenseman needs to be a part of that future.
Anyway, the Hurricanes definitely present a viable trade partner, so let's look at some potential targets.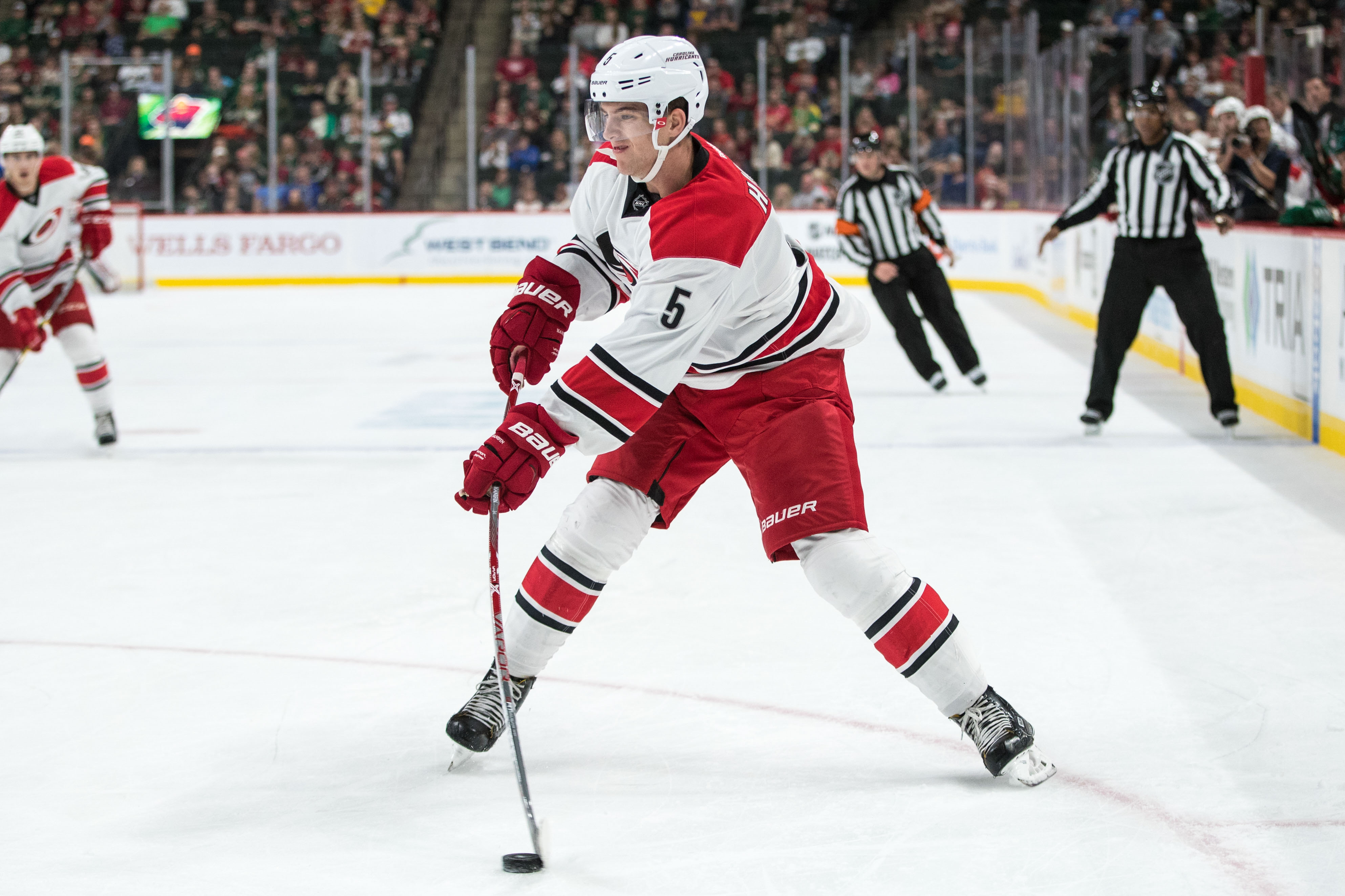 Noah Hanifin
My first article ever at MHS was about a speculative trade involving Ryan O'Reilly and the Avs first round pick in order to find a way to draft Noah Hanifin. Basically, I think Noah Hanifin is the bees knees.
Hanifin is definitely still developing, but he has all the tools necessary to becoming a legit No. 1 D-man. He can skate, he can shoot and he can most certainly defend. Here's what one scout had to say about him coming into the draft:
A dynamic two-way defenseman who has no holes in his game. An exceptionally strong skater who isn't afraid to take the puck himself and move it up-ice. The confidence that he has in his abilities lets him thrive under heightened competitive levels. The skilled defenseman's undeniably high level of hockey sense is showcased whenever he touches the puck in the offensive zone. Defensively, he is aggressive, constantly pushing for puck possession and a quick transition to offense, but at the same time steadfast, reliable, and patient. He is poised beyond his years and mature in his decision making. All-in-all, Noah Hanifin is the ideal all-around defenseman who leaves no area of his game untended.
Hanifin would be a tough player for the Avs to acquire — it would probably take Matt Duchene for the Avs to pry Hanifin away.
Nonetheless, Hanifin is still young — 19 years old — so his potential is by no means proven. Duchene has proven his salt, so the 'Canes know what they would be getting.
The Avs would be taking a risk on a defenseman they hope to develop. It is certainly a calculated risk, but a risk nonetheless. There are some other options available of course.
Haydn Fleury
Haydn Fleury is another high draft pick — seventh overall — of the Carolina Hurricanes, and his future is bright as well.
He doesn't have the same upside as Hanifin, but he certainly possesses the necessary intangibles to develop into a real good defenseman.
More From Mile High Sticking: Analyzing Potential Gabe Landeskog and Nick Leddy Trade
He's 6'3″, 220 pounds and has offensive upside. However, he's either been given some more time to develop, or is taking a little longer to develop.
Granted, he is only 20 years old, so it's not like his time has passed by any means. Defensemen take longer to develop anyway, and Fleury is going to be a real good defenseman one day.
I had to go a bit off the board for this talent analysis, but it seems like a good description of the kid:
A brilliant skater, Fleury has the footwork necessary to make it in today's NHL. After a tough season last year, he has rebounded nicely, coming to camp stronger and has been the most important part of the [Charlotte] Checkers' blueline. He's an offensive d-man, who has been a minute-muncher at every level. With the focus shifted to his defensive play, he projects to be a No.2/3 D-man who will be an effective part of special teams. His offensive flair will see him run a PP unit in Carolina, and his ability to skate and close down opponents fits right into the 'Canes' PK.
I certainly wouldn't mind a trade for Fleury, but the Avs should expect more than just Fleury if they do make a trade involving his name.
Time to look at one more defenseman on the Hurricanes.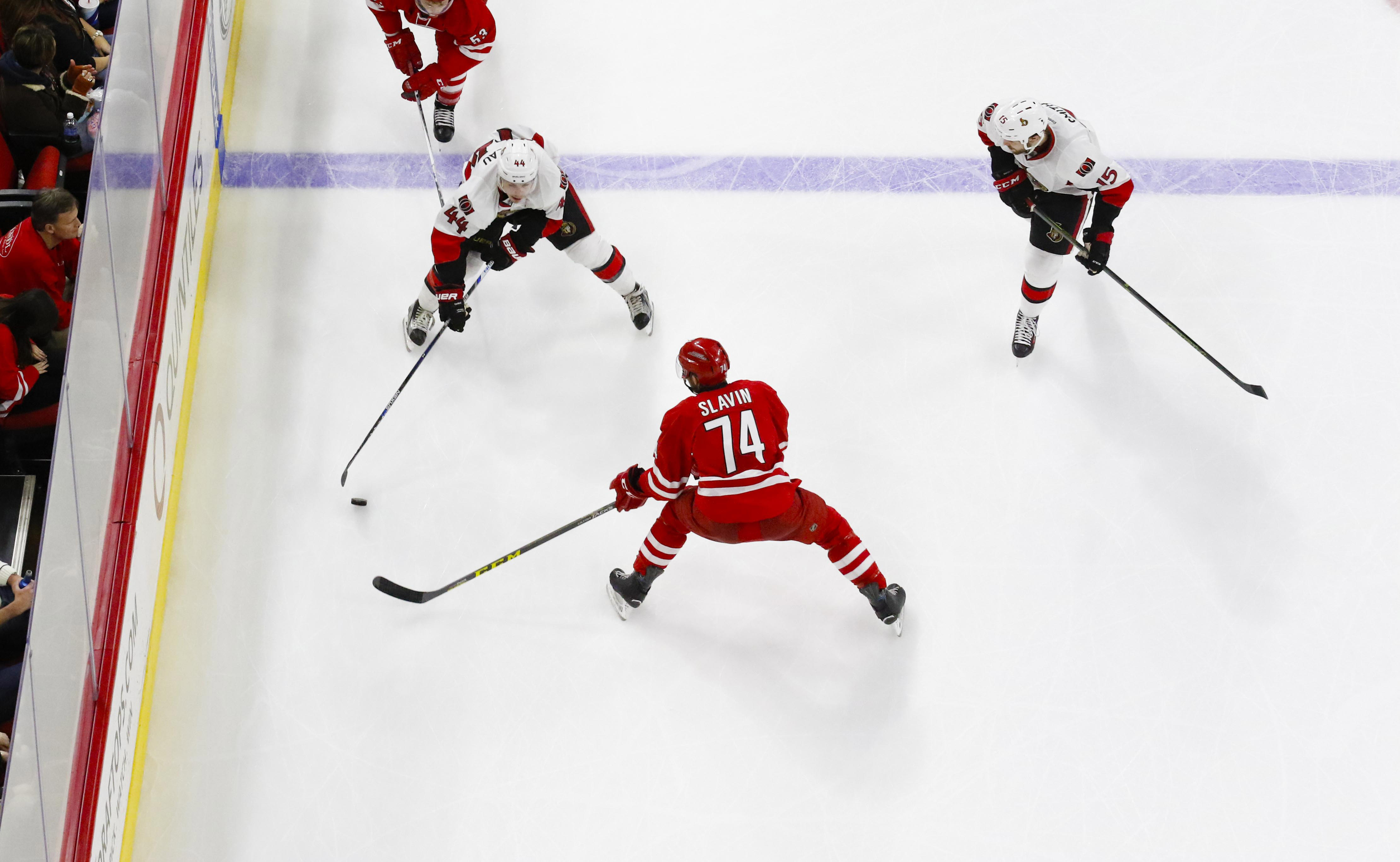 Jaccob Slavin
I gotta tell you guys, this kid seems to be developing into a real good defenseman, and he's certainly blowing his expectations out of the water. What I mean is, he was drafted in the fourth round at 120th overall.
He's in his second season with the Carolina Hurricanes, and he's only 22 years old. He put up 20 points in 63 games last year, and this year he's on pace for 31. He leads the team in ice time, he has a 53.1 Corsi-for percentage, and he takes the puck away like nobody's business.
And the best thing about him is that he is from Colorado — born in Erie, Co, and a former player at Colorado College. You think he wouldn't love being traded to play for the Colorado Avalanche?
Also, he's a bit under the radar. So, you figure the Avs might be able to get more prospects/picks/whatever in a deal involving Slavin and either Gabe Landeskog or Matt Duchene.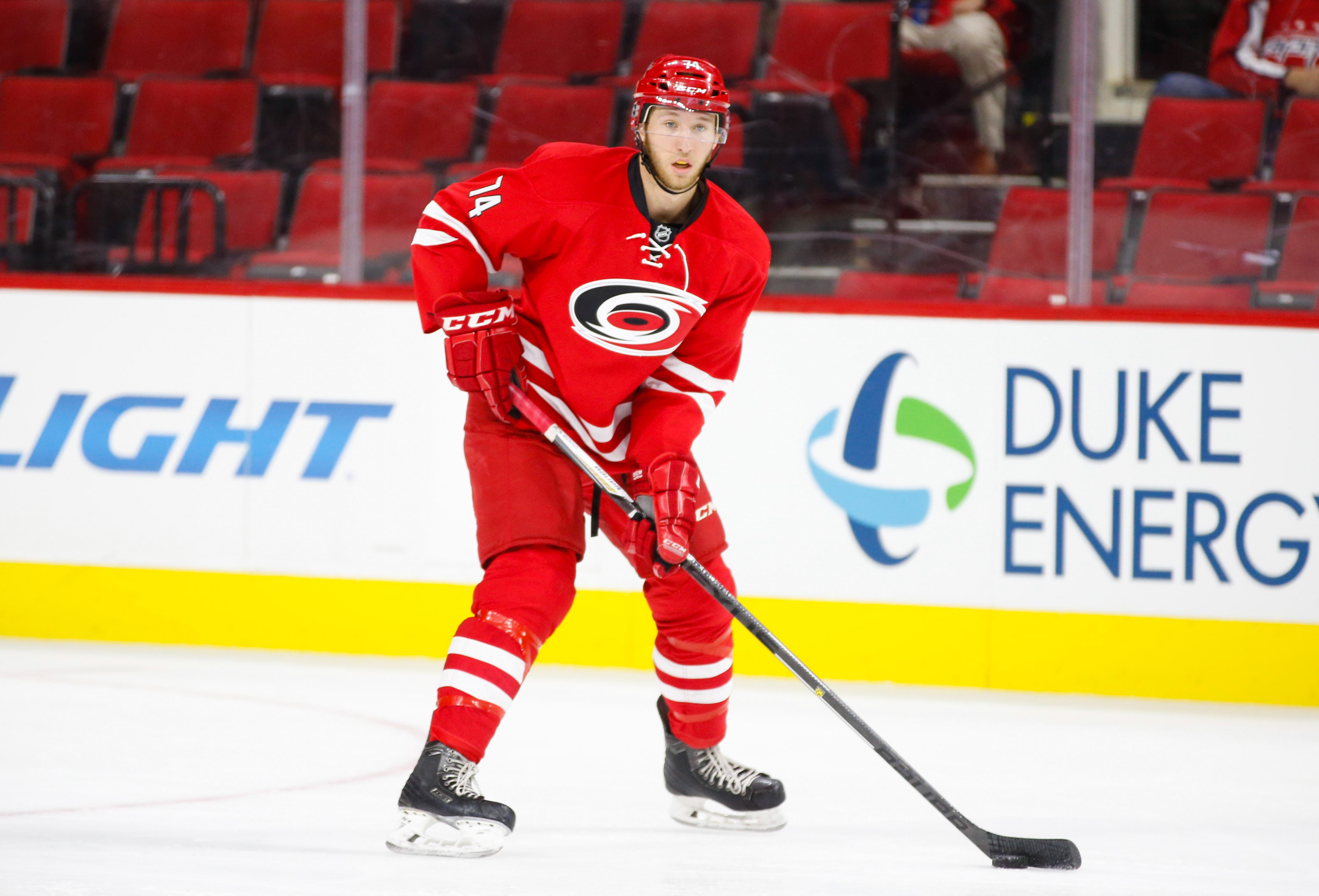 Conclusion
The 'Canes have four defensemen currently playing on their roster who are under the age of twenty-five.
They also have a couple more in their system — Haydn Fleury and Roland McKeown — who project as top-four defensemen. Fleury — in particular — is going to be a real good defenseman, but McKeown has some upside.
The Hurricanes are currently stacked at the defensive position, and in definite need of help in their top six. Basically, they have plenty of defensemen to dangle at the Avalanche if the Avs decide they want to get interested.
The Hurricanes are also in the Eastern Conference, so the Avs wouldn't have to worry about playing and competing against them for a playoff spot.
In other words, the 'Canes and Avs are perfectly suited to make some moves with each other. If both GMs haven't already been conversing with one another I would be very surprised.
The Avs have made it clear that they are shopping players and looking for offers. But there is still time before the trade deadline. I imagine trade conversations will heat up between the Hurricanes and Avalanche as we get closer to the trade deadline.
What do ye faithful Avs fans think about the 'Canes and Avs making a deal, and what defenseman should the Avs target?
More from Mile High Sticking
This article originally appeared on