Colorado Avalanche Rookies and Prospects Looking to Impress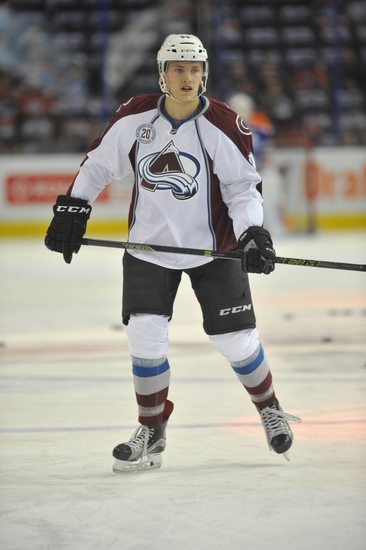 Colorado Avalanche rookies had a strong showing in their first showcase game against the San Jose Sharks.
The Colorado Avalanche are following the lead of a lot of teams in hosting a rookie showcase. For this three-game tournament, rookies and prospects from the Avs face off with similar players from the San Jose Sharks and Anaheim Ducks.
The first game took place at the Ice Centre at the Westminster Promenade. It was a well-attended event — I ended up standing in line to get in for almost an hour:
Yep, I shoulda left a little earlier. 😳 pic.twitter.com/UFzAJY7q9t

— Nadia Archuleta (@Hockeygrrls) September 17, 2016
(As one of my Twitter friends pointed out, there's always got to be a McDavid fan in the crowd. I saw a Crosby fan after the game.)
Spoiler alert, the Avalanche rookies won the game, 4-1.
I was especially excited to see forward Mikko Rantanen and defenseman Nikita Zadorov. At first it perplexed me why the latter was even participating, but apparently he just likes to play hockey and takes any opportunity offered him. I like that in a player.
Here's Rantanen warming up:
A photo posted by Nadia Archuleta (@avsfan20) on Sep 17, 2016 at 1:44pm PDT
He got the loudest cheers when his name was announced.
And here's Zadorov:
A photo posted by Nadia Archuleta (@avsfan20) on Sep 17, 2016 at 1:45pm PDT
Zadorov had an interesting game. He got two penalties — one for crosschecking and one for hooking. He also scored an empty net goal. To me, I think that's the kind of play we're going to get from our wild mustang.
More from Mile High Sticking
In fact, the game was all Avalanche. Within the 4-1 score, the players earned seven points to San Jose's two. JT Compher had a multi-point night with a goal and an assist. Chris Bigras and AJ Greer were the other goal scorers.
The Colorado Avalanche also dominated in penalties, for what that's worth. They earned a total of eight. In fact, for an exhibition game, there was a lot of rough stuff — these are clearly some young men looking to impress.
The team was overseen by San Antonio Rampage coach Eric Veilleux. However, GM Joe Sakic, assistant GM Craig Billington, defensive consultant Adam Foote, defensive coach Dave Farrish and the new Avalanche coach were all avidly watching the game.
Here are the young Avalanche men getting ready for the first period — note the fierce look on Mikko Rantanen's face:
Unfortunately, Rantanen left the game late in the third with an injury to his right leg. The Colorado Avalanche later reported that he only had a sprained ankle. And, yes, I know that proves what everyone's been saying about World Cup injuries, that they can happen in preseason play as well. However, I counter that with Tyler Seguin, who's out with a hairline fracture in his foot.
I also thought Spencer Martin looked really good. He was pitching a shutout until he got replaced in the second with Chase Marchand, who's on an amateur tryout. I have a little hope now for when Semyon Varlamov's groin inevitably gives out and we've got Calvin Pickard being backed up with Martin.
AJ Greer was another solid player, as was Compher. The Sharks had players wearing letters — if the Avalanche had done the same, I'm sure both of them would have been tapped for at least alternates.
Greer said of his play:
"Personally, I think I did a good job. There are definitely some areas in my game that I want to improve. Some little things and little details, but for a first game I was satisfied with my performance."
Compher said similar things about his own play:
"I think I did some good things, but there are some things that I need to improve on."
He also remarked that he wasn't so focused on impressing Avs management as simply helping the team win the game.
A last note: The San Jose Sharks goalie, Mantas Armalis, was wearing the number 33. I think it's cheeky as hell for any NHL goalie to wear that number — talk about some big skates to fill. However, he is still a prospect at this time.
The next game is on Sunday at 1 pm, again at the Ice Centre. Colorado will face the Anaheim Ducks rookies.
This article originally appeared on