Colorado Avalanche Players as Slipknot Characters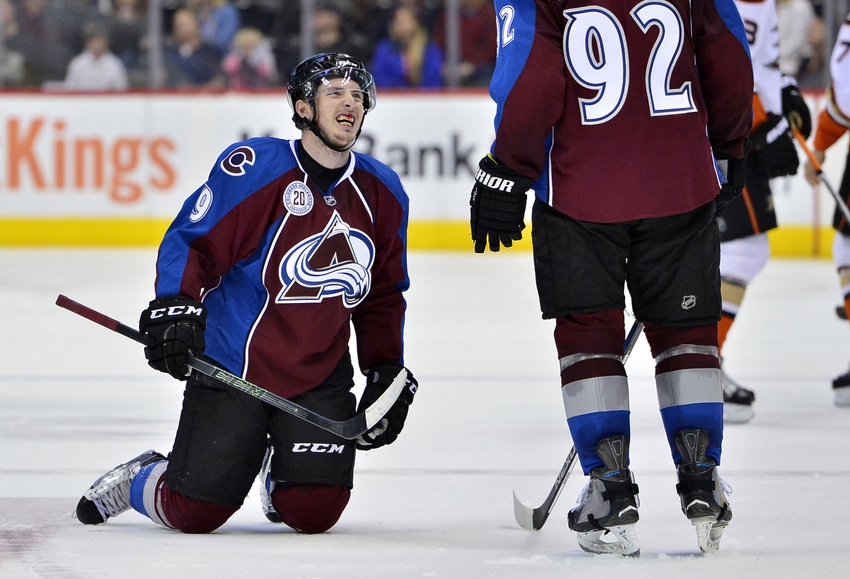 A light-hearted post about who the Colorado Avalanche core players would be if they were Slipknot characters.
The Colorado Avalanche season is nearly upon us, and we're going to have to get real about some hockey. I think about mid-November we're going to have to get really real about our expectations, but that's a story for another post.
While it's still technically the off-season — World Cup of Hockey notwithstanding — we have time for at least one more crossover post. We've had a few of them, such as Avs players as Grey's Anatomy characters or Thanksgiving food. (Yep, that happened.)
Recently I wrote a post about how hockey IS Slipknot:
My point of the post was that analytics don't tell the whole tale when it comes to hockey. You can't create an equation for hockey success anymore than you could do so for heavy metal stardom. (X = head bangs, Y = vocal distortion makes as much sense as x = shot attempts, y = time on the ice)
Well, while I'm in a Slipknot kind of mood — watching your beloved player-hero get forced off the management team will do that to a girl — let's examine who the Colorado Avalanche players would be if they decided to create a Slipknot cover band.
Matt Duchene as Jim Root
Jim Root is the lead/rhythmn guitarist for Slipknot in the same way that Matt Duchene is the #1/#2 center on the Colorado Avalanche. He's a broody sort of guitarist — just like Duchene is ever a mental sort of hockey player.
I like to joke that Root is a cross between Paul Stanley of KISS and Dave Navarro of Jane's Addiction because of his pouty-fierce style. A lot of the other band members choose disgusting or scary masks — Root's is a classic jester. Duchene is a straight arrow kind of guy. If he were to choose a mask, I doubt he'd get freaky or horrific either.
Jim Root goes by #4 — our Dutchy, of course, favors #9. And Duchene plays guitar, too — though I'm guessing not Slipknot, considering his country music love.
Cody McLeod as Sid Wilson
If someone's going to make a crazy act in Slipknot, it's usually Sid Wilson. He's the band member who actually eschews his safety to crowd surf at concerts. He also likes to climb up on his keyboards and cavort like a deranged ant to incite the crowd.
Doesn't that sound like Cody McLeod? He eschews his own safety to fight opponents. And if there's going to be a guy who lays a big hit to incite the team's passion, it'll be Cody McLeod. Also, old double-nickels is just a touch crazy, too.
Wilson goes by the number 0 in the band. McLeod, of course, is 55.
That's real blood, people.
Semyon Varlamov as Craig Jones
Craig "133" Jones is the sampler for Slipknot's brand of nu metal. He's a bit of an enigma in that he wears a full-face mask with gigantic nails coming out, à la Hellraiser. Talk about a guy who doesn't want you getting close. His mask features a zipped mouth, too.
I'm not saying Varlamov is that prickly exactly, but he comes across as equally quiet a lot of the time. Like a music sampler, Varlamov is off to the side, doing something different than everyone else. Plus, he also wears the most complete mask of anyone on the ice.
The "133" in Jones' name relates to megahertz. His Slipknot number is actually five. Varlamov, naturally, wears number one.
John Mitchell as Chris Fehn
More from Mile High Sticking
Chris Fehn is a Slipknot member you can sometimes overlook — until he starts yanking on his nose. He wears a modified black plague mask with an over-long nose. (In the Middle Ages, the nose held herbs that supposedly protected doctors.) He plays custom percussion and sings backup vocals.
John Mitchell is a Colorado Avalanche member you can sometimes overlook — until he makes a key play or goes to battle for one of his teammates. His is also a supporting position, usually as the center on the checking line.
Fehn is #3 in the band. Mitchell wears #7.
Nathan MacKinnon as Shawn Crahan
Shawn "Clown" Crahan is a deranged clown. Best I can tell, it's not just that he wears a deranged clown mask — he seems to embody the spirit of the creepiest — but goofiest — of clowns. He's multi-talented, playing percussion, bass, piano and singing backup vocals. Crahan is also one of the auteurs of Slipknot.
Last season Nathan MacKinnon came to camp looking like a deranged Leprechaun, with his reddish hair in an extreme pompadour and his under-chin beard. Frankly, it was a look that really worked for the kid. He's goofy but lethal, a little like Crahan looks. And no one's going to question the multiple roles he's destined to play for the Colorado Avalanche.
Crahan is #6 in Slipknot, while MacK is #29 for the Colorado Avalanche.
Erik Johnson as Mick Thomson
Mick Thomson is a big, mean boy. He's 6-foot-4 and renowned for his "Leave me the eff alone" personality. No joke, he got injured in a knife fight with his own brother. And this was relatively recently. He's not the biggest guy in the band, though — Jim Root is a respectable 6-foot-6. (Wouldn't it be great to have him in the defensive corps?)
When it comes to on the ice, Erik Johnson definitely has a "Leave me — and my teammates — alone" kind of aura. He'll get up in an opponent's business if the need warrants. He's also the same size as Thomson. Big, kind of quiet, a little mean (on ice) — yep, that's our EJ.
Mick Thomson wears a modified goalie mask — Johnson actually wanted to be a goalie in his early years. EJ, of course, wears #6 while Mick is #7 — so close!
Gabriel Landeskog as Corey Taylor
Of course our charismatic captain is Slipknot's charismatic singer. Corey Taylor is known for a lot of things, but being the center of attention is especially prevalent. That's so Gabriel Landeskog, whose own (twin) sister once remarked would start singing if people didn't pay enough attention to him. Both display strong leadership qualities.
Taylor is very talented and also participates in social causes — especially political ones. He makes an effort to be a role model, in his own heavy metal kind of way. Again, so Landy. Gabriel is the spokesperson for Friends, an anti-bullying campaign, and recently spoke out about concussions in hockey.
Taylor wears the highest number in Slipknot, #8, while Landeskog currently wears the highest Colorado Avalanche number, #92.
You'd be hard-pressed to say which man has the stronger jawline, though.
(Come on — they even kind of look alike.)
The New Guys as the New Guys
Slipknot lost a member to drug overdose and one to illness. This is meant to be a light post, so I'm going to leave that one be.
However, that does mean Slipknot has a couple new musicians the same way the Colorado Avalanche picked up a couple new layers. (Ok, three, but Fedor Tyutin doesn't fit into this.) According to Corey Taylor, the new musicians, Alessandro Venturella and Jay Weinberg, have to earn the right to be called Slipknot members.
I'd say that holds true for Joe Colborne and Patrick Wiercioch, too. Venturella and Weinberg don't have official numbers yet, and neither do Colborne and Wiercioch.
Colorado Avalanche players are already participating in World Cup hockey action. We'll get back to regularly scheduled programming soon, folks.
This article originally appeared on