Colorado Avalanche Player Grades: The Season Opener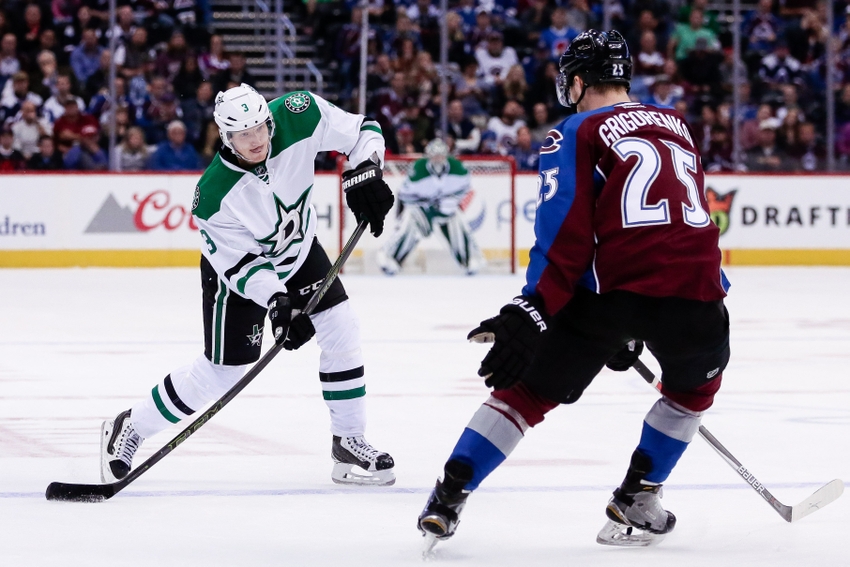 The Colorado Avalanche kicked off their season with an exciting 6-5 win against the Dallas Stars
Who stood out in a good way for the Colorado Avalanche? Who stood out in a bad way?
I thought he could have had at least two goals last night, but unfortunately the puck wouldn't settle down for him. Despite being unable to find the score sheet, Duchene was great. In the first and second period especially he was a constant threat, flying through the neutral zone, forcing the Stars defensemen to retreat quickly. While I didn't notice him as much in the third, I thought he was surprisingly good in his own zone. He won a whopping 83% of the draws he took tonight. Encouraging start by #9.
I thought Soderberg had a good game. He was solid defensively all night and even managed to win 69% of the draws he took. Pretty impressive considering he's historically struggled in the dot. His highlight of the night was a breakaway goal where he turned Neimi inside out.
The last member of Duchene and Soderberg's line also had a great night. He looked engaged and was an offensive threat for most of the night. He picked up an assist on Colborne's first goal after getting two grade A chances on Niemi. His best play of the night came in the third, where, if not for voodoo magic, would have been a goal. He intercepted a pass from Kari Lehtonen, threw the puck on net creating a scramble, picked up the rebound, rung it off the post where it then hit Lehtonen twice and finally rolled to hit the far post and out. Craziness.
For most of the night I didn't notice Zadorov either in a good or a bad way. That's probably a good thing considering he was on the top pairing playing against Tyler Seguin and Jamie Benn. That's not an easy task. He did register an assist off a one timer that Colborne managed to tip past Niemi, but it was after that where I thought he begun to struggle. He made a couple of complacent passes that led sustained time in the defensive zone. He also made a bad stand at the blueline on Ritchie's goal putting Wiercioch in a bad position (although Comeau shoulders some of the blame as well)
Zadorov's partner on the other hand looked as good as I've ever seen him. When Johnson is moving his legs he's almost impossible to contain, and boy was he ever moving last night. He made some beautiful rushes and consistently made great decisions with the puck all night long. He made a fantastic flip pass that almost connected with Duchene for a partial break in the first period. If Johnson can continue this kind of play, watch out. He ended the night with 1 assist.
It was a pretty poor game for Comeau. While the first penalty he took was an awful call by the ref, he did very little to make up for it. He made several poor passes and looked out of sync most of the night. He completely lost Ritchie on the Stars 5th goal. Late in the third he took another penalty on a slash. Luckily the Stars failed to convert. He did however pick up a secondary assist.
Historically I have not been a fan of Martinsen as I believe him to be a bit of a defensive liability, but that wasn't the case tonight. He's definitely at his best when he's playing a physical brand of hockey and he was certainly doing that last night. He just about made it 6-4 early in the third when the puck found him at the top of the circles. Unfortunately, he hit the goalpost, but it was a good game from the Norwegian.
Iginla continues to be invisible at end strength. He did have a partial breakaway but couldn't corral the puck, ultimately whiffing on a great opportunity.
Although Beauchemin had 2 assists last night, I thought he had a terrible game. He struggled with passes, made bad choices with the puck and left Benn alone in front of the net on his tip in goal. His worst play of the night was on a pinch that lead to a 2 on 1 and ultimately a goal. Concerning start from the new alternate captain.
Barrie had a very up and down night. He scored the game winning goal and made a beautiful pass on Soderberg's breakaway but struggled mightily at time in his own zone. In fairness to him, Beauchemin's play wasn't helping him any, but there's room for improvement.
Ben Smith was very "meh" to me. I didn't see him make any particularly bad plays, but at the same time I had a hard time seeing where he was making positive contributions.
There were not a lot of great things said about Tyutin after the preseason, but I thought he looked solid. He was good defensively, but where his limitations became obvious was in the offensive zone. Some of his shots selections were not very good. A number of his shots were blocked and immediately forced play back towards the Avs zone. His best play of the night was an intentional shot wide that created a scramble around the net. He also fooled the Pepsi Centre goal horn guy when his slapshot ended up in the side of the net.
What a debut for the former Calgary Flame. He recorded his first career hat trick in his first game with the Avalanche. Having him in front of the net on the powerplay makes too much sense. He's gigantic and has decent hands. Two crash and bang goals and a nice tip. Hard to expect more than that!
This kid is going to dominate the league. There were times tonight he was doing it all on his own and literally nobody could touch him. The things he can do with the puck are just absurd. He's going to be a real treat to watch. He finished the night with a goal and an assist.
Wiercioch might be one of the most awkward skaters I've ever seen. That being said, he's really quite effective at moving the puck. He could have done more on the Ritchie goal, but Zadorov had put him in a tough spot. He did take a needless interference penalty on Sharp, but not a bad showing overall. There's promise here.
Landeskog was really aggressive and relentless on the forecheck all night. That's when he's at his best. While he only had 1 shot on goal he had several attempts that ended up getting blocked. That's something that has got away from him since his rookie season. I think it will be really beneficial for him to get back to being trigger happy.
This one surprised me. I was an advocate to not sign Bourque past a PTO, but he looked decent tonight. He was in the right spots on the ice a lot of the time. He even had a pretty good scoring chance, but unfortunately his stick exploded. Not a bad start.
Just like the other Bourque I thought Gabriel looked solid. He's a good skater and was excellent on the penalty kill as he chased down a puck in Dallas' end, eating up a decent amount of time.
This might surprise some fans that I'm only giving him a C minus. For Varlamov's standards he had a poor game, but was some craziness going on last night. Dallas' 1st goal was an unlucky bounce that ended up on Seguin's stick. Their 2nd goal was a 2 on 1 that went 5-hole, so that wasn't awesome, but not entirely on him either. The 3rd goal was a tip from Benn who was all alone. Generally I would expect Varlamov to save it, but its not a "bad" goal. The 4th goal was a softie, Varly absolutely needs to get that one. The 5th goal was a complete breakdown that Varlamov had no chance on. So was he bad? For his standards absolutely. Was he as bad as his 0.821 SV% suggests? No.
More from Mile High Sticking
This article originally appeared on