Colorado Avalanche Player Grades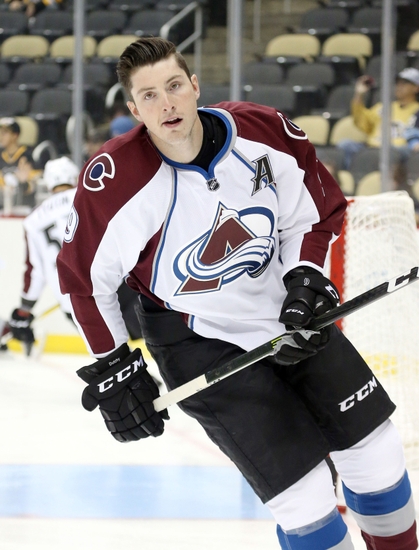 The Colorado Avalanche lost 5-1 to the St. Louis Blues. Here's how everyone played.
The Colorado Avalanche have been on a skid recently. After squeaking out a 1-0 win over the hated Minnesota Wild, they dropped an embarrassing 5-1 game to the St. Louis Blues. Let's look at how they all did in that stinker of a game.
One of the few forwards who looked good in a first period that was otherwise an abomination for the Avalanche. His forecheck continues to be strong. Was hampered greatly by his linemates who were truly awful.
Disastrous game from Soderberg. He was caught out of position on PK and the ensuing shot hits crossbar. Made several bad pass that led to extended zone time in Avs zone. His lines got demolished in possession with a CF% of only 35.71%. He's quickly becoming a concern. If this sort of play keeps up the Avs will be hoping Las Vegas selects him in the expansion draft.
Really solid game from Colborne. I'm a big advocate of giving him more ice time. He made a great steal on PK that led to Shattenkirk taking a highsticking penalty against Mitchell. He continues to wreck havoc in front of the opposing team's net. Made a great rush on the Avs powerplay in the third.
You know when your controller disconnects while playing NHL 17? That's what Iginla looked liked on the Blues 2nd goal. He didn't do anything to prevent it. As always he's invisible at even strength. I can't wait for him to not be on this team next year.
I have no idea why the spacing between him and Tyutin was so wide on the first breakaway 30 seconds into the game, but it was. He made a poor pinches on the Avs 2nd powerplay. To be fair I don't think he realized Rantanen was going back for a new stick. He played better in the second, but the Avs need more from Barrie. He's really struggling on getting his shots on target so far this year. Discouraging after his great game against Minnesota.
The Avs should move on from him, but he didn't actively hurt them tonight. All he ever does is chip the puck into the offensive zone. I don't remember him carrying it across the blueline yet this season.
He's physical but never gets the puck. When he's not fanning on shots, they're well off target. Missed several passes. However, he did have a chance on a 2-1 and was surprisingly okay possession wise ending the game at 53%.
Rantanen again had a solid game. He had an unlucky stick break on the powerplay which leads to breakaway when he missed the puck. Otherwise looked good.
EJ was very active in the offensive zone. Was skating very well. Unfortunately not a lot of offense was generated because of it. He lead the team with a stunning 61.11% CF%. He and Zadorov continue to be a strong pairing.
Started the game with a brutal positioning leading to a 2-1 and a goal against. He's losing A LOT of puck battles at the blue line this year. This one lead to the Blues' 4th goal by Upshall. However, he still takes intelligent shots in the offensive zone. Good wrist shot with lots of traffic on Duchene's lone goal.
He made several poor passes in the first period, but found his game a little bit after that. His line was the only one that got anything dangerous. Got the tip on Beauchemin's shot for the lone goal of the game.
Struggled with the puck. Had a CF% of only 36%. Wasn't a good game from him.
On the Blues second goal he was caught just standing there. Not completely his fault because Iginla, Iginla'd, but you'd like to see more of an effort. He was responsible on a good chance by Steen when he tied to take the man and left pass wide open. He took a rather soft tripping call right as the Avs were getting some momentum. It led to a powerplay goal against. Poor game overall.
Really fighting the puck right now. There were a couple times the puck hopped right over his stick in the first period. He looked better after that. He was absolutely robbed by Allen after great passing sequence. He'll score again eventually? Right?
Was far and away the best defenseman on the team in the first period. Made safe simple plays. Didn't notice him a ton after that, but he continues to have strong possession games. He and Johnson were the only good defensemen today.
Took a lazy hooking penalty in the first period and was making some pretty poor passes. Found his game in the second period, but still didn't do very much.
After being put on waivers he's played okay. Wasn't noticeable today.
He was better than Beauchemin, but otherwise was not good. Ice was titled towards Avs zone when he was on the ice. CF% of 43.75%
Very up and down game from Varlamov. He makes the save on a breakaway 30 seconds into the first. Then makes a fantastic save on the first penalty kill. Robs Berglund later on. Stops another breakaway late in the first and makes a save on Tarasenko during a 2-1. On the other hand he also let in 5 goals, the fifth goal especially was very soft. Varlamov straight up needs to be better, but its hard to pin this loss on him as the whole team was poor. I wouldn't mind if the Avs ran with Pickard until Varlamov figures it out.
More from Mile High Sticking
This article originally appeared on