Colorado Avalanche Play Complete Game Against Jets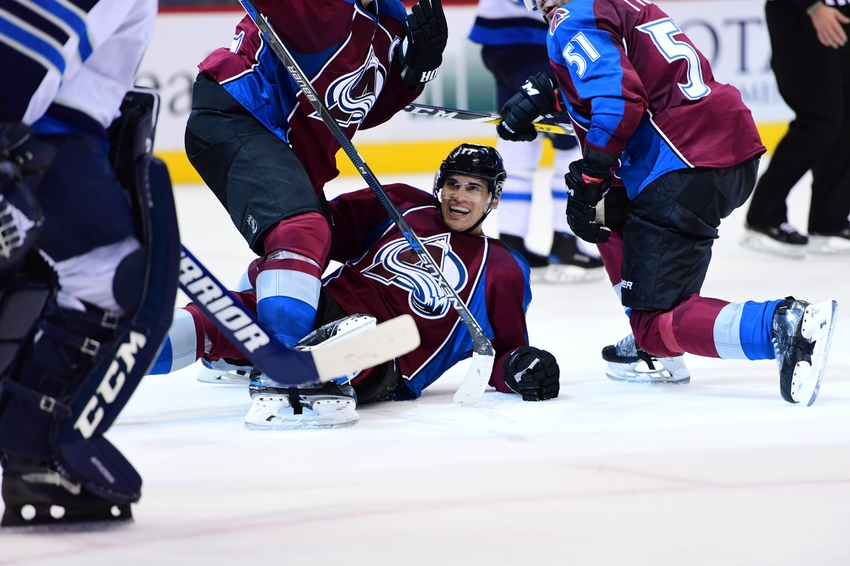 The Colorado Avalanche defeated the Winnipeg Jets Friday night by playing a full 60 minutes before winning in overtime.
If there's been one issue the Colorado Avalanche have suffered from this season, it's consistency. Catastrophic turnovers, system break downs, and an inability to generate chances on the powerplay can kill the Avs in what is otherwise a well-fought game.
That was not the story Friday, as the team battled with an equally-solid Winnipeg team. The Avs were a model of consistency, and well-deserving of the two points.
The Great
Mikko Rantanen: Mikko Rantanen registered his first NHL goal…finally! After playing hard every game, but being an embodiment of the phrase snake-bitten, our favorite Finnish rookie got his first goal. Even better, it was on the powerplay, where the Avs have struggled lately.
Rantanen continued to play the game with an added swagger, and I'm sure we can expect big things from him the rest of the season. Congratulations on the first of many, Mikko!
The Winnipeg Jets: More specifically, Nikolaj Ehlers helped the Avs out by scoring the game-winning goal in overtime, so thanks buddy! We couldn't have done it without you! Of course, we also couldn't have done it without…
Rene Bourque: Bourque nabbed the Avs' second goal of the evening on a perfect set up from Tyson Barrie, but it was ultimately his aggressive forecheck that would win the game. Deep in the Winnipeg zone during 3-on-3 overtime, Bourque refused to let up as he pressured the puck, leading to Ehler's goal (credited to Bourque).
This was just a sample of what he had been doing all night, as he pressured the Jets into making mistakes. It seems Rene is proving more every day why he deserves his contract. He may not be the best player on the team, but he is certainly one of the hardest-working.
The Good
Systems: For the most part, the Avs executed well in this game with an aggressive forecheck, smooth breakouts, and responsible play in their own end. In addition, they absolutely pummeled the Jets with shots, leading to a graph that makes me feel all warm and fuzzy inside:
Gurrrrl, why u so preeetttttyy?! #Avs pic.twitter.com/BHTwAJhpte

— Mark K (@cultofbednar) November 12, 2016
I feel like the Avs haven't out-shot a team like this in a while. In terms of shots on goal, the Avs topped the Jets 28-18, as the team produced a number of quality chances. If they can keep this level of play up, the team will be on the right track.
Semyon Varlamov: He only faced 18 shots, but Varly did a solid job of keeping pucks out of the net. The two Winnipeg goals were rather pretty, and Varly had very little chance of stopping them. Coming away with a solid win like this has to do nice things for his confidence, so hopefully that helps him in more hectic games.
The Organ Player: Yes, you heard me. The organ player was pretty solid last night, playing tunes how they're supposed to be played, for the most part. He still has some work to do on The Addams Family, but I'm confident he'll improve. Overall, not a bad offseason pickup for the team. Maybe he just needed some development.
The Bad
Penalties: The Avs are still taking unnecessary penalties in most games, which is causing issues. Winnipeg's game-tying goal came on the powerplay on a beautiful set up to Mark Scheifele. Given how the Avs were playing at even-strength all night, I doubt this game would have gone to overtime.
No Regulation Win: Obviously, a win is a win, and we'll take the two points. However, against division and conference rivals, the boys need to start putting games away in regulation. Allowing other wild-card level teams to pick up a "loser point" will make things difficult down the stretch, as we saw last year.
The only time I was frustrated watching this game was in the last minute of regulation, where neither team really seemed to be pressing for the regulation win. The Avs put their third and fourth lines out, and they slowly skated the clock to death. I've got to disagree with Bednar's decision not to go for the kill here.
Still, they played a solid 59 minutes before that, and were beautifully aggressive in overtime. A win is a win, and this was a good one.
Well, here's to two more points, Avs fans. Let's hope tonight is a glimpse at what is to come!
More from Mile High Sticking
This article originally appeared on