Colorado Avalanche Must Play Full 60 Minutes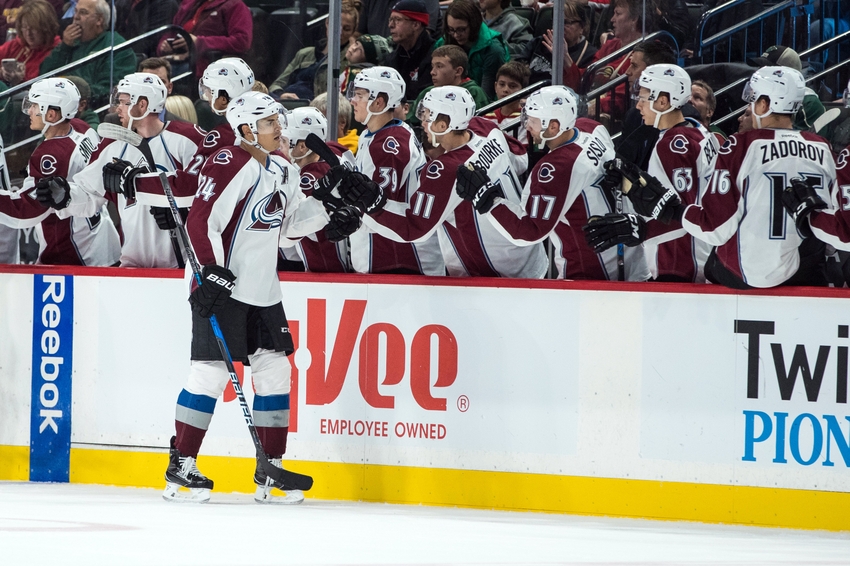 The Colorado Avalanche must come out strong, rely on their best players and play as a team to win against the Minnesota Wild tonight.
Here's the thing: You can look back over the last couple years and find us saying the Colorado Avalanche need to play a full 60 minutes. In fact, I remember quoting winger Alex Tanguay to that effect.
Perhaps this is true of any team, but saying the players must remain focused for the entire game is getting to be a cliche for the Avalanche. We've all seen time and again what can happen when they are on. They're speedy and skilled. There's more than a little grit. And the goalie can be a brick wall.
Here's Andreas Martinsen delivering the muscle and Nathan MacKinnon the gold:
We've seen what happens when they fall off their game, too. They skate around with no connection between players. No one can complete a pass. Players take dumb penalties. The goalie lets soft goals in.
Well, tonight the Colorado Avalanche face their arch nemesis, the Minnesota Wild. What's more, the game is in Xcel Energy Center, which is always death. Colorado is already two games under 500, and they're dead last in the Central Division, second to least in the Western Conference.
Games in the Xcel Energy Center are always death — cloggy and horrible. Tonight, though, the Avalanche can't afford to throw one away. Here are some keys to their success tonight.
Come Out Strong
It's tough to battle back from a deficit — unless you're an opponent playing last year's Colorado Avalanche. As we saw on Thursday, it's even tougher to battle back from a 3-0 deficit.
It's impossible for Colorado to battle back from a deficit in Minnesota. I don't remember the last time I saw them do it. I do remember seeing them go down 1-0 in the playoffs and never recover.
So, Colorado must come out fast tonight. It's true that Minnesota is a pretty speedy team, too, but it's hard to keep up with the Avs when they have their legs going.
What's more, the players must press without taking penalties. Here's Jared Bednar had to say about all the penalties Colorado took against the Dallas Stars:
"We took seven. I mean one guy had three. You're taking three, you're not doing something right."
No more "hookin', holdin' and slashin'" — that means you, Nikita Zadorov.
Best Players Play Well
More from Mile High Sticking
Your best players have to be the best day in and day out. We all loved when Joe Colborne got a hat trick on opening night, but he basically blew his wad on that game. He hasn't scored a goal since — but then, Colborne was never meant to be our multi-point night player.
At the time of writing, there was no news about Matt Duchene or Gabriel Landeskog returning. However, the team still has Nathan MacKinnon. He was a lone bright spot in Thursday night's game.
If Duchene and Landeskog are still out, it will be time for Tyson Barrie to show his stuff. Scratch that — whether Duchene and Landeskog are in the lineup is irrelevant. Barrie needs to contribute offensively.
It would be nice if Erik Johnson got his first one (or three) of the season in his hometown.
Team Effort
Ultimately, the Colorado Avalanche need to play like a team every shift. No matter what happens during a shift, the players cannot react.
If Minnesota scores first, don't give up right away. If Minnesota gets a couple, don't start skating around like you can solve the problem yourself. Hockey is a team game.
And if Colorado scores first, the players can't let them off the ropes. Any time they have anything less than a… five-goal lead, they should play with the intensity of a tied game. And, as Peter Forsberg once showed the world, even a five-goal lead isn't always enough.
One last thing. Mikko Rantanen needs to stop falling down. Apparently it's a thing.
Games against the Minnesota Wild are always huge. Tonight is not a must-win for the Colorado Avalanche — not this early in the season. However, if they're going to gain ground in the Central Division, they need to do so against Central Division rivals. That mean Minnesota. This is already their second game.
Indeed the Colorado Avalanche are already 3-5-0 against Central Division opponents. 4-5-0 is a lot better than 3-6-0. And one game under 500 is better than three,
So, not a must-win tonight. However, victory against the Minnesota Wild will give the Colorado Avalanche a much-needed confidence boost.
This article originally appeared on