Colorado Avalanche Most Likely Trade Bait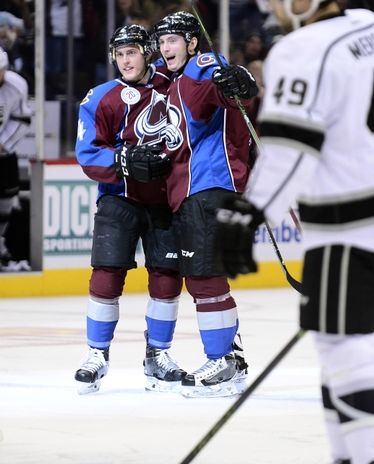 With a record that's good for dead last in the NHL, the Colorado Avalanche may be looking to make a trade. Three players are the team's best trade bait.
Strap yourselves in, Colorado Avalanche fans. The team is likely to make a trade, and it's sure to be more painful than the Ryan O'Reilly trade. We're talking more along the lines of Chris Drury or even Peter Forsberg.
After an embarrassing home stand that saw Colorado earn just one point out of 10 available — two of the games were even against Central Division opponents while two others were against Western Conference foes — the team needs a change.
And that change may well come in the form of a trade.
Surety of a Trade
I don't have Joe Sakic — or asssistant GM Chris MacFarland — on speed dial, so I don't actually know that the Colorado Avalanche are going to make a trade. However, here's the reasoning that leads me to think they will.
First of all, the Avs are dead last in the entire NHL 23 games in. Yes, it's true there's still lots of hockey for them to play — 59 games, to be exact. However, nothing in their recent play suggests they're ready to make a playoff run.
The last two seasons, Sakic has talked a lot about putting the pressure on his core group of players. At the conclusion of last season, here's what he had to say:
"We have to look and see if the players are going to buy into what it takes to win. Not just trying to do it the easy way and try and score five goals a game."
The implications were clear — the team only wants players who are buying into the system. Well, it's time for Sakic to do what Patrick Roy once suggested and put it all on the table. He needs to show commitment to the team by "doing what it takes to win" — including blowing up the core.
What's more, Einstein's definition of insanity is to keep doing the same thing but expecting a different result. Well, the Avs have put their faith in this core for three years at least, and nothing's come of it.
Finally, recent moves have made it seem like Colorado is trying to find cap space for a new player. The Avalanche put first John Mitchell then Eric Gelinas on waivers, expressly as "cap relief." Colorado currently has $2.4 million in cap space — so they must be looking at a great player.
And that almost certainly means trading a core player to get him.
Colorado Avalanche Core Players
More from Mile High Sticking
The core of the Colorado Avalanche hasn't really changed since the Ryan O'Reilly trade. Who's the central core player — or franchise player — depends on who you ask. It's long been Matt Duchene, but it seems like a transition of power is happening to fellow center Nathan MacKinnon.
The other forward in the core is also the captain, Gabriel Landeskog. Up until last year, there was only one defenseman, Erik Johnson, in the list. However, Tyson Barrie is usually considered core now, too.
Goalie Semyon Varlamov rounds out the list.
So, when the Avs talk about the need for their core players to be the best night in and night out, those are the six men they're talking about.
Sakic has said that no player is untouchable. However, general wisdom has it that MacKinnon won't be traded. If he's not the franchise player now, he's the future of the franchise.
Avs insider Adrian Dater also proposes Colorado wouldn't trade Mikko Rantanen. That makes sense — he's just a rookie. He hasn't done much yet, so you probably wouldn't get much for him in return. Yet he has so much potential, so it's worth keeping him.
On that note, this post is about trade bait. The Colorado Avalanche really need to make a big move — so unloading an unwanted player (like Cody McLeod or the two players who cleared waivers, John Mitchell and Eric Gelinas) won't do much.
Like I said, the trade is going to hurt. Let's look at the three most likely trade bait players.
Trade Bait
The list shouldn't be a big surprise:
Matt Duchene
Tyson Barrie
Semyon Varlamov
Both Barrie and Duchene were the focus of trade rumors last year and into the summer. Varlamov not as much, but it's been coming up more frequently.
Adrian Dater had the most compelling reason for moving Duchene — essentially that it's time for him to have new surroundings while the team needs more of a difference-maker.
Dater also pointed to Varlamov as trade bait because of his talent. The Avs would want to get him off the books because of his hefty price tag — $5.9 million cap hit. Plus they can only protect one goalie in the expansion draft.
The shine has come off Barrie somewhat as he's not had a good start to the season. However, he's still the speedy, puck-moving defenseman that made him so alluring this summer.
I hate the Duchene move the most. He's usually the Avalanche's best player on any given night. He never disappears on the ice, and a Dutchy breakaway is a thing of hockey beauty. However, he'd probably also yield the highest return — a true puck-moving defenseman.
But then, wouldn't that make Tyson Barrie redundant? In a word, yes. If a true puck-moving defenseman is what the Avs want to trade for, they'd be better off bundling Barrie with a prospect. Again, it might hurt — we're talking AJ Greer here.
Trading Varlamov would be the best scenario, again for a talented defenseman. Colorado just needs to find a team that has an extra d-man but lacks in goal tending. (Maybe Minnesota?)
For now, the other untouchables would be Erik Johnson and Gabriel Landeskog. The Colorado Avalanche simply couldn't get enough return on an injured player. If Landeskog comes back soon, though — he might be a prime target for trading. Colorado seems to be lacking in leadership, and he's the captain.
Who do you think is the most like trade bait for the Avs?
This article originally appeared on