Colorado Avalanche, Is the "Job" too big for Joe?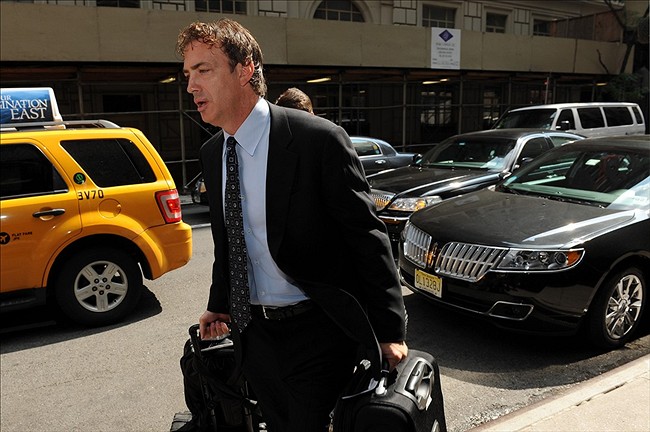 Colorado Avalanche GM and Executive VP in charge of hockey operations  Joe Sakic — is he the right guy to rebuild the Avs into a contender?
Joe Sakic's continued tenure as Colorado Avalanche general manager and vice president in charge of hockey operations begs a few questions. For example, was Patrick Roy's leaving a sign of deeper problems? While a great guy and a great Avalanche player, can Joe Sakic take a team that was fundamentally flawed, had little to nothing in the prospect tank and return them to NHL prominence?
Joe Sakic Executive VP of Hockey Operations and GM
The Colorado Avalanche and former coach and VP Hockey Operations Patrick Roy parted ways. The stated reason was Roy saying that VP of Hockey Operations "must have a say in the decisions that impact the team's performance, these conditions are not being met." How are they not being met? While Roy didn't elaborate, can you imagine a scenario where Sakic wouldn't listen to Roy?
While I had confidence in a Sakic/Roy team approach to rebuilding the Av's, Roy's leaving removes some of that confidence. Part of the reason is I can't imagine those two disagreeing on anything major except pace of rebuilding. Even that is questionable.
Sakic is new to his duties as Executive VP of Hockey Operations and very new to his General Manager duties. Serving as VPHO since May of 2013, he was promoted to GM in September of 2014.
Joe Sakic, The Player
More from Mile High Sticking
Colorado Avalanche fans naturally remember forward Joe Sakic the player. He was the man who captained the Avs to two Stanley Cup championships, scoring 625 goals, 1,016 assists, resulting in a Hall of Fame induction in 2012. Along the way he played in three Olympics and four World Cups. Statistically speaking he's the Avalanche's greatest forward.
Sakic's playing career was a wonder to behold.  There's no one I would rather have had the puck on his tape with the  game tied and the Stanley Cup on the line then Joe.  But this isn't hockey playing, this is building a hockey  team.
There's been a lot of bringing back a former star player to GM a team, building a championship team and perennial winner. Former Detroit Redwing forward Steve Yzerman comes to mind. Not everyone can handle the stress and challenge of the job.
I'm not saying Joe Sakic isn't a good GM; I'm saying I'm starting to worry if the job isn't too big for him.  Simply put I have a lot more faith in a Sakic/Roy team then I have in either of them alone.
Joe Sakic the Talent Evaluator
When it comes to forwards there's not many, if any decisions that Sakic has made that I've disagreed with.
Where he and I differ is when it comes to defensemen. I'm not sure re-signing Erik Johnson for seven years was a good idea. I'm concerned about the other guys he signed this off season, as well. Let's face it, he didn't get Nashville's defenseman P.K. Subban or LA's defenseman Drew Doughty.
Defenseman Fedor Tyutin was signed to a one year deal, I'm sure in part due to the Avalanche having to buy out defenseman Brad Stuart's contract. At least he's learning from his mistakes.
Going Forward
As I said before at least Joe Sakic is learning from his mistakes. I'm willing to give this more time because he's learning and there was so little talent depth. It's going to take some time to fix.  We'll see if Joe can pick up the pieces.
This article originally appeared on