Colorado Avalanche Have 2 Defensemen on Exempt List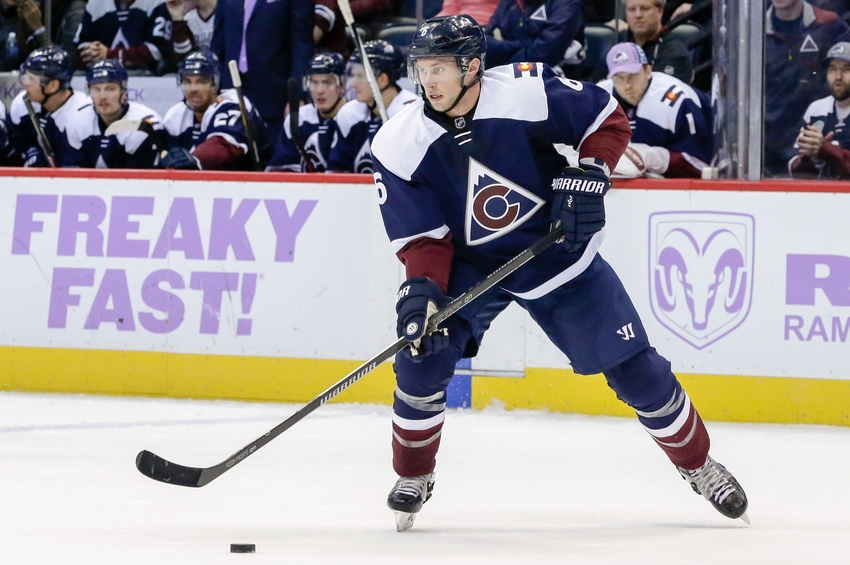 Two Colorado Avalanche players, both defensemen, have No Movement clauses in their contracts. That means they're exempt from the expansion draft.
The next time the Colorado Avalanche go to Las Vegas, they can beat an actual Vegas team instead of the usual Frozen Fury trouncing of the LA Kings. (Ok, they sometimes lose — after last night's game, we need a bone, though, right?) When next the Avs head to Vegas as a team, they'll be facing the Las Vegas Golden Nights. (Actually, Knights, but Golden Nights makes the name more Vegasy.)
In the meantime, the news is all about the expansion draft and who teams can protect. Las Vegas will get to select one player from each of the existing NHL teams — specifically 14 forwards, nine defensemen and three goalies.
On the other side, teams can choose to protect between nine to 11 players. They can either choose to protect seven forwards, three defensemen and a goalie or eight skaters and a goalie.
Now, due to contractual obligations, some players must remain protected. This is because they have a No Movement clause.
According to Sportsnet, there are only two Colorado Avalanche players who fall into that cateogory:
Two things caught me by surprise in that list. The first is that Jarome Iginla isn't on it. His contract doesn't run out until the end of June 2017, but the expansion draft takes place on June 20, so technically Iginla would still be under contract. Maybe he's expected to waive the No Movement clause because he's also expected to retire after this season.
The second thing that caught me by surprise was the inclusion of Beauchemin. I don't think a lot of fans remembered his No Movement clause, but looking at Cap Friendly, yep, it's there.
That's a bit of a tough nut for the Colorado Avalanche. Beauchemin is 36, and his best years are behind him. What's more, he carries a cap hit of $4.5 million.
It also means that the Colorado Avalanche can't protect one of their young defensemen. They only get one more protected defenseman, and that will go to Tyson Barrie. I think most Avs fans thought Colorado could protect Nikita Zadorov or Eric Gelinas, both of whom will be restricted free agents next summer.
The inclusion of Johnson on that list isn't at all surprising — I remember that a condition of his signing was inclusion of such clauses in his contract. (He also has a modified No Trade clause.) That's why he gave the Avs a discount — he could have gotten a lot of money on the free market this summer.
Though they don't have No Movement clauses in their contracts, I think it's safe to say the following players also will not be exposed:
More from Mile High Sticking
Mikko Rantanen is exempt because he'll be just a second-year player — that's why he got such limited playing time last season. Any other first- or second-year players, as well as unsigned draft choices, are exempt. This means all the prospects bouncing between Colorado and San Antonio — namely AJ Greer at this point.
So, the Colorado Avalanche will have five more protection spots open — four forwards and one goalie. The team doesn't have to submit its protection list until June 17, 2017, and a lot can happen between now and then. However, if they had to submit it today, I think Carl Soderberg and Joe Colborne would be safe. Maybe Andreas Martinsen, too.
Based on play, Rene Bourque is a valuable member of the team. But the Avs might gamble that Las Vegas wouldn't select a mid-30s player whose contract was about to be up anyway.
They might choose to protect Mikhail Grigorenko, but he's hardly been worthwhile at this point.
The toughest choice is actually going to be which goalie they protect. The starting goalie, Semyon Varlamov is the obvious choice, but Calvin Pickard has so much more future potential. And his $1 million cap hit is a lot friendlier than Varlamov's $5.9 million.
That may be the reason the Colorado Avalanche would expose Varlamov — in the thought that Las Vegas wouldn't want to select an inconsistent goalie with such a high cap hit. However, it would largely depend on which other goalies were exposed.
I do hope Colorado would protect Pickard because I think it he's available the Nights/Knights will select him. And that's a loss for the Avs.
Anyway, according to NHL.com, here's how the scheduling is going to work next season for the Colorado Avalanche:
Within the Central Division:
 4 Teams: 2 Home / 2 Away
 1 Team: 3 Home / 2 Away
 1 Team: 2 Home / 3 Away
Against the Pacific Divison:
 4 Teams: 2 Home / 1 Away
 3 Teams: 1 Home / 2 Away
So, they'll face Las Vegas three times, either twice here or twice in the new T-Mobile Arena.
This article originally appeared on