Colorado Avalanche Free Agent Signing Check-in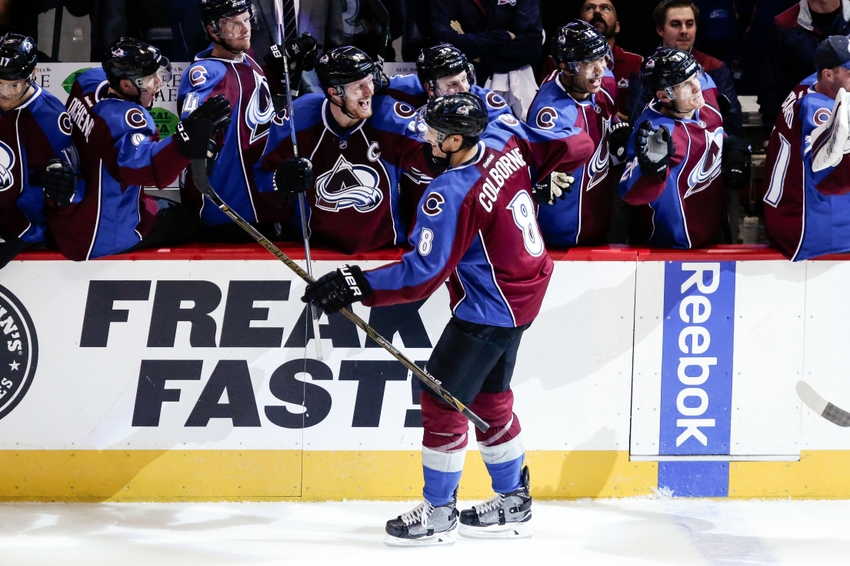 The Colorado Avalanche signed three free agents for the big club during the offseason, let's do a little check-in on their performances so far.
After starting the season 3-1, and getting set for the final game of a four game road trip on Saturday night, the Colorado Avalanche are looking to start the first five games strong.
Some players that have contributed to that success are of course the core of the Avalanche, but the free agents have also been chipping in as well.
Patrick Wiercioch
Hello Mr. Patrick Wire Coch man, how are you doing today, and how do you feel about your performance so far?
He doesn't like the way I pronounced his name; he just looks at me… So I start talking to no one in particular while Patrick just kind of nods and smiles.
Wiercioch has been the Avs best offensive defensemen, but that's not really saying much as the Avalanche defense has combined for a total of 16 points in the first 4 games.
Nonetheless, Wiercioch has put up a respectable 4 points in his first 4 games for the Colorado Avalanche. He's also a +2, and is averaging only 15:19 in time-on-ice, so he's making good use of his minutes.
More From Mile High Sticking: Avs Responses to Losses Will Be Important This Season
Wiercioch is also getting more defensive zone starts then he ever has in his entire career, with an average of 53.5 percent of his starts beginning in his own zone. He hasn't been as good possession-wise as he has been in the past, but he's still a somewhat respectable 41.5 percent in his Corsi for percentage.
Those aren't the numbers Wiercioch was putting up in Ottawa as far as possession is concerned. However, he's playing tougher minutes, and is bringing on the offense a lot more than he has in recent years with the Senators.
He's playing on the bottom pair with Fedor Tyutin, although Tyutin often gets situational minutes on the top pair with Erik Johnson.
Speaking of Fedor Tyutin, let's knock on his door.
Fedor Tyutin
Hello sir, how are you, and how are things going for you this season?
He doesn't respond, so I am forced to fill in the interested parties. Which, happens to be everyone with a heartbeat that goes to the rhythm of "Go Avs Go" — shaky rhythm, but that's okay.
Tyutin has had a pretty good season for the Colorado Avalanche so far, in that he's not playing outside his role. He's been staying at home, and working hard in the corners. Nonetheless, he's put up two points this year — both on assists — and is playing some important minutes late in games.
More From Mile High Sticking: Three Avs Players Who Need to Improve for the Team
Thus, his role helps to alleviate some of the defensive responsibilities for Nikita Zadorov when it matters most, and he hasn't looked out of place.
He's averaging 18:32 in time-on-ice, with a whopping 64.3 percent of his starts beginning in his own zone. He's a respectable even +/- on the season, especially with those defensive zone start numbers. And, he's playing somewhat average possession hockey, with a 42.9 Corsi-for percentage.
He hasn't been stellar or outstanding in anyway, but his experience and ability to play tough minutes in his own zone makes him a nice addition for the Avs.
Let's move onto the last man on today's door-to-door interrogation, which really just means me talking about the players while they listen and nod.
Joe Colborne
Joe… Joe! Hey, Joe, I just need to ask you a few questions. How do you feel about your performance so far?
Once again, this is an apostrophe exercise, or basically just talking to oneself while you pretend to talk to someone.
Colborne has been a real nice depth addition for the Colorado Avalanche so far. And, even though he only has 1 assist in three games since his hat-trick on opening night, he's provided some scoring depth to the Avs.
Both Wiercioch and Colborne — Denver University Alums — are tied for second in team point totals.
More from Mile High Sticking
Joe has been playing third line center for the Avs, and he is averaging 14:17 in time-on-ice so far, so he's also making good use of his minutes, like Wiercioch. He's also an even +/- on the season which is good considering his defensive zone starts (below).
Furthermore, he starts an average of 55 percent of his shifts in the defensive zone. Which is also — like Wiercioch — the highest percentage in his career since a 55.8 percent start average in a ten game season with Toronto in the 2011-12 season.
Out of the three players in this article, Colborne has the best possession numbers with a 45.7 percent Corsi-for percentage.
The Avs have been getting some contribution from the free agent signings, and Joe Sakic has to be pleased with his savvy general manager skills in that regard.
Conclusion
The Colorado Avalanche are set to play the Florida Panthers on Saturday night, and each member of the free agent class will have a chance to solidify the numbers mentioned above.
Joe Sakic looks to have made some good signings so far, and hopefully that becomes more and more true as the season moves along.
Keep an eye on these players as the season moves along because they should only get better with more time spent within Bednar's systems. However, that is true for any player on the Avs.
Nonetheless, free agents are generally scrutinized more, and so far Sakic seems to have come out on top.
That's all for today folks, thank you for stopping by.
This article originally appeared on