Colorado Avalanche Forward Nathan MacKinnon Needs to Shoot More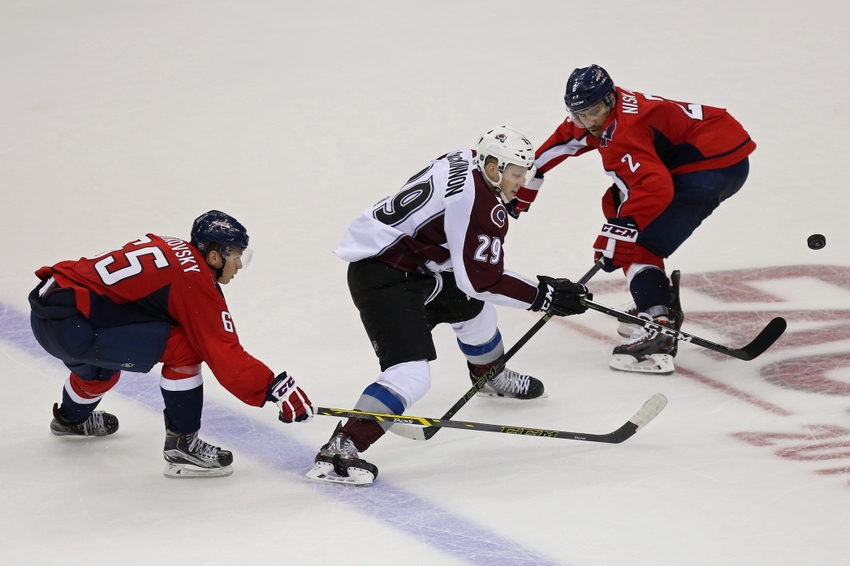 Colorado Avalanche forward Nathan MacKinnon has had a real successful season so far, as he leads the team in points. However, he needs to shoot more.
Colorado Avalanche forward Nathan MacKinnon has been no slouch so far this season, but if he were shooting more he could be taking the league by storm.
But you say to me, how could you think he needs to shoot more? He is second on the team in shots with 10, only behind Erik Johnson who has 12. Because as good as EJ is, a forward should never be outshot by a defensemen unless that forward is on a team with Erik Karlsson.
Benefits of Nathan MacKinnon Shooting More
He's scored one goal on the season, on the power play, and it was an easy goal into a yawning net.
He's had some other really close opportunities to score, but the goalies have made some real good saves.
More from Mile High Sticking
I'm thinking of the save that Philipp Grubauer had on Nathan MacKinnon in the Caps game after he made that delicious two-time toe drag. Or, when he skated hot through the neutral zone, and Grubauer was able to get over on a real nice shot MacK had from just below the right dot.
It's not like MacKinnon has looked out of place. In fact, he's easily been the best forward on the ice for the Colorado Avalanche. But, if he was shooting more I really think MacK would take off.
More From Mile High Sticking: The Shots on Goal Mystery
Maybe this is just coming on the heels of a game where MacKinnon didn't register a single shot (the Lightning game). But when MacK is shooting he is one of the most dangerous players in the league.
It's curious that the only game he has scored in was the Dallas Stars game, when he registered 1 shot on net. However when he pushed five and four shots against the Penguins and Capitals respectively, and was easily the best player on the ice for the Avs, he didn't register a goal.
More From Mile High Sticking: Avs Response to Losses Will be Important This Season
It's early, and any and all analysis is bound to be overblown by the fact that it is still early, but I would like to see MacK shooting more.
This is his league to dominate, and the sooner he figures that out, the better.
Conclusion
I know! It's a short one, dammit you say! Well, that's just kind of how it works sometimes.
Nathan MacKinnon is clearly on his way to becoming the best Colorado Avalanche player in a long time. But if he figures out to ensure that more shots come off his stick in games, he's going to dominate.
That being said, Nathan MacKinnon lead the team in shots last season with 245 — 45 more than Matt Duchene — and he missed ten games on the season.
Nathan MacKinnon knows how to shoot the puck, and he knows how to get it on net, so I don't really think this is an issue that needs to be harped with any sort of regularity.
However, it is something to keep an eye on as the season moves forward, especially since Avs fans are expecting a big season from Nathan MacKinnon.
That's all for today folks, thank you for stopping by.
This article originally appeared on