Colorado Avalanche Forward Nathan MacKinnon Making Presence Known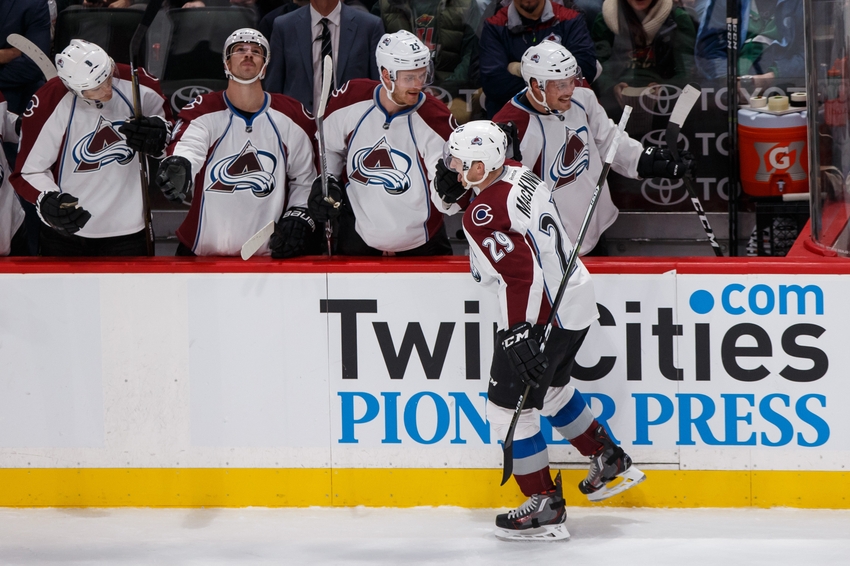 Colorado Avalanche forward Nathan MacKinnon has been on a tear recently.
Nathan MacKinnon has been killing it recently for the Colorado Avalanche. With a continued lack of top-six forward depth ailing the Avs, his point production is becoming increasingly more important.
Fortunately for the Avs, Nathan MacKinnon has seven points in his last four games. He is stepping up in a huge way for the team. And, he is certainly making his presence as one of the premier forwards in the league felt.
Meanwhile — contrastingly unfortunate for the Avs — the team is having difficulty producing wins at any consistent rate. They currently sit three points out of the last wildcard spot, and have a goal differential of minus 13, which is tied for fifth worst in the league.
The most games they have won in a row is two the entire season, and they are having a real hard time scoring the first goal, doing it only six times this season.
More from Mile High Sticking
Suffice to say, the Colorado Avalanche need some consistent contributors to offset the canted nature of their inability to win games consistently — sort of like a see-saw, except hopefully with less flip-flopping back and forth.
Enter Nathan MacKinnon.
Is Nathan MacKinnon Learning How to be Less Streaky?
Nathan MacKinnon has been a streaky player for most of his career. Last season, he started the year on a tear, notching 24 points in his first 23 games. However, he then finished the year with just 28 points in the final 49 games.
This year, he's done much of the same, with just fewer amount of games for the sample size. However, he started the season with five points in his first four games, and then went on a streak of just one point in seven games. Since then, he has nine points in eight games.
So, the question is whether or not MacK is learning how to be less streaky and more consistent, or if this is just another example of his streakiness as a scorer.
That's a rather difficult question to answer because the true answer will come in the consistency of his performance throughout the remainder of the year.
However, signs are pointing to a more consistent Nathan MacKinnon that is starting to realize his catalyst-potential as a player.
More From Mile High Sticking: Calvin Pickard's Case for the No.1 Goalie Position
In other words, he's driving the middle of the ice with little remorse, he has put up 35 of his 67 shots in the last eight games, and is starting to put the puck in the net rather than just notching assists — three of his five goals this season have come in the last four games.
Nonetheless, that could just be another example of his streakiness laid threadbare for all to see.
Hopefully that is not the case because the Avalanche need a dominate force on the ice every night like a toddler needs coddling.
Conclusion
I am personally of the ilk that says Nathan MacKinnon is finally learning how to produce consistently, but there is certainly plenty of reason to think otherwise. As I said earlier, MacK has been streaky his entire career, so it leads you to wonder if that is the norm for his production.
I also believe that MacK has been producing at a higher rate recently because a lot of the onus to produce is currently residing on his shoulders.
Furthermore, he is also playing on a line that allows him to be the catalyst he is capable of being. In other words, all offensive play goes through his stick, even though Mikko Rantanen is a resident of his line.
And that brings me to my final point. Rants and MacK seem to be developing some serious chemistry which just makes me — as a writer who covers the Avalanche — all giddy and warm inside.
If the Avs can start to develop some productive offensive pairings, then this team has a pretty high ceiling for success methinks. However, that ceiling requires consistency not only from the players, but also from the team as a whole. Hopefully both examples of consistency start to make an appearance because it's tough watching this team muck around in the bottom of the well.
Next on the docket for the Avs is a Saturday Night Special with the Vancouver Canucks. Puck drop is at 8:00 pm MST at the Pepsi Center.
Hopefully Avs fans get a better showing than the strangely reflexive nod to last season the Avs gave in the third period against the Oilers on Wednesday night.
In other words, that kind of nonsense needs to be nipped in the bud immediately so it doesn't start to manifest and grow into what it became last season.
This article originally appeared on