Colorado Avalanche Forward Nathan MacKinnon is Back (For Now)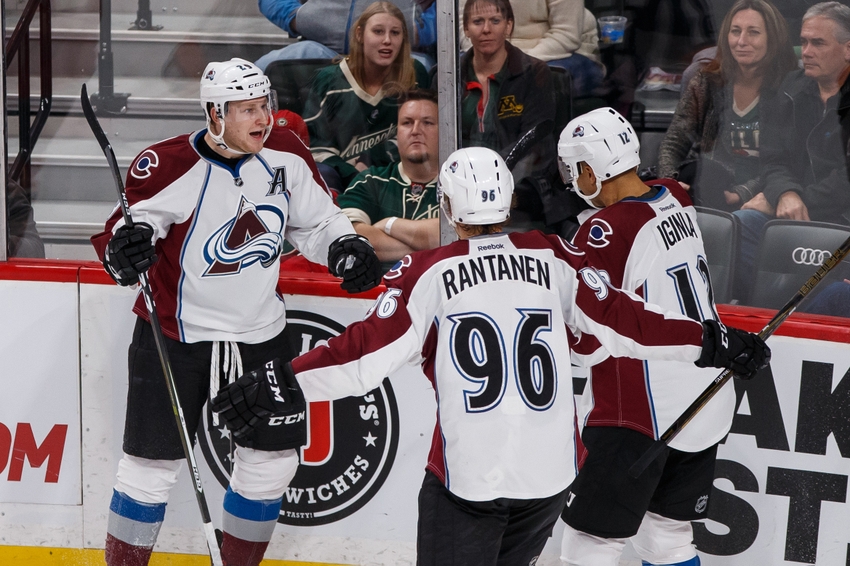 With the absence of Matt Duchene and Gabe Landeskog, Colorado Avalanche Center Nathan MacKinnon seems to have found his form.
When Jared Bednar came on board as head coach of the Colorado Avalanche, many had hope that Nathan MacKinnon would have a big breakout year. A more possession-driven system would give MacK more opportunities in the offensive zone, leading to more goals.
This unfortunately had not been the case up until recently. While MacKinnon has led the team in shots(63), and posted the second-best CF% (56.7), nothing seemed to be going in for the former first-overall pick. This has likely been frustrating for arguably the best player on the team.
But when the Avs needed him most, MacKinnon found his game. With two of the "Top-3" out in Gabriel Landeskog and Matt Duchene, it's been up to MacKinnon and the depth guys to provide the offense.
MacK has done just that, completely taking over both the failed comeback effort against Dallas and successful third period rally against the Minnesota Wild. The Avs have beaten the Wild in both of their meetings this season, which feels really, really good to say.
So what changed to make MacKinnon suddenly activate beast-mode? I have some theories.
Drive the Middle
Honestly, I think part of MacK's success lately has come from not being afraid of getting in Duchene or Landeskog's way. MacKinnon has driven the center of the ice with speed and force, showing many of the qualities we loved from his rookie season. Remember the "ankle-breaker"?

Well, MacK may have one-upped himself Saturday, when he drove through literally the entire Wild team for the game-winner:
Many of MacKinnon's shots have come from low-percentage areas this season, despite him having the speed and skill to power into the slot. He's simply been working towards the high-percentage areas a lot more recently.
These types of goals are what teams expect out of their stars: an ability to create scoring chances out of nothing. If MacKinnon keeps skating without fear and keeps playing with confidence, we may find his year has just begun.
Support Cast as Linemates
Putting Nathan MacKinnon on a line with Matt Duchene has a tendency to benefit Duchene's goal numbers in a big way, but often at the expense of MacKinnon's. I feel this is because MacKinnon is a slightly less selfish player, so his abilities help set up plays that Duchene is able to finish on.
But when MacK is on a line built out of other supporting players, he is pressed harder to step up and be "the guy". This has been especially evident in his play with Andreas Martinsen.
Martinsen is better-known for using his size to dish out big hits. However, when playing with MacKinnon, he has used it more as a means of setting Kiddo Mack up.
Marty brought the muscle. MacK brought the goal. pic.twitter.com/xZtWCp29VI

— Colorado Avalanche (@Avalanche) November 18, 2016
AJ Greer and Mikko Rantanen have also been solid linemates to MacKinnon, and their combined efforts have made for a successful couple of games.
Will it stick?
With Matt Duchene's return made against the Columbus Blue Jackets on Monday night, MacKinnon might have slowed down again, but he did not. He registered an assist, and was flying all night for the Avs.
He played on a line with Martinsen and Rantanen on Monday night, and also played on a line with Rantanen and Greer, and they continue to show chemistry. Now, it just comes down to MacK staying confident and being the star we've all seen him be.
Let's hope for another big night from MacKinnon against the Oilers on Wednesday night. Puck drop is at 8:00 pm MST in the Pepsi Center, and the Avs will try to get back over .500.
More from Mile High Sticking
This article originally appeared on