Colorado Avalanche Forward Lineup Needs Some Offense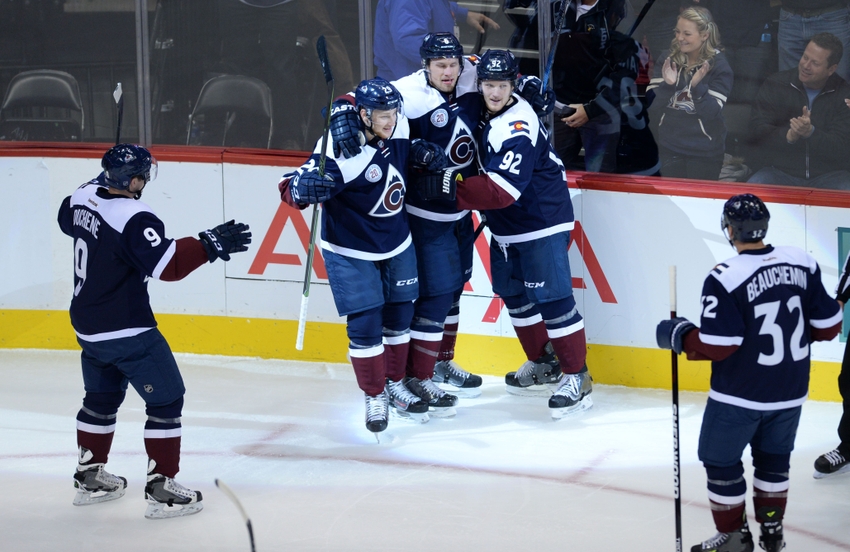 The Colorado Avalanche need to seriously consider upgrading the offense in the forward lineup. Plain and simple.
The Colorado Avalanche are currently last in the league in goals scored per game.
HOW IS THAT POSSIBLE?
Do the Avalanche actually need defensive help? Surely they could have scored some more goals right?
Yes indeed. The defensive structure is there — although shot totals like the totals in the Boston game would suggest otherwise — there just needs to be more offensive production. Good offense will create more zone time, which will create less pressure on the defense.
Now, that either means some sort of system-based facilitation toward that change, or the injection of some fresh offensive talent into the lineup.
I'm going to posit the second, mostly because it's more controversial. And, because I also think that the Avs could benefit from another natural winger, instead of a center playing wing.
I've already noted the suspicious nature of John Mitchell's waiver debacle in another post:
That was the tip of the iceberg folks, it's time to take a dive beneath the frigid water and check out the underbelly.
Why the Avs Should Make a Trade
Well, they currently have two bona-fide first line centers in their arsenal with Nathan MacKinnon and Matt Duchene. And, they also have two centers who can play second line minutes with Mikhail Grigorenko and Carl Soderberg. Heck, they even have Mikko Rantanen, who is very capable of playing the center position as well.
More From Mile High Sticking: Matt Duchene Deserves Some Praise
They also have Tyson Jost, who has been having a real good year as a freshman for the North Dakota Fighting Hawks. And, he's billed as a captain material type of center — by none other than Joe Sakic, former center and captain of the Avalanche.
In other words, the Colorado Avalanche have a wealth of depth at the center position. Meanwhile, their only true wingers are Gabe Landeskog, Mikko Rantanen, Rene Bourque, Andreas Martinsen, Blake Comeau, Cody McLeod and Jarome Iginla.
Gabe Landeskog is the only proven top six NHL talent that is still kicking out of that group. I.e. Rantanen has not proven he is capable of shouldering the load of a top six role, and Iggy is no longer capable of handling said weight.
More from Mile High Sticking
In other words, the Avs could use at least one more top six winger, if not two more. That would obviously mean the departure of some well-loved Avs players. However, the Avs might be able to get away with the acquisition of one quality winger without losing too much on their end.
Let the Carl Soderberg and Mikhail Grigorenko Trade Talk Begin
Ha! I bet you guys thought Duchene's name would be in that header. Nope, but maybe some day. Maybe when Tyson Jost establishes himself down the line.
For now, Soderberg and Grigorenko will be the figurants of this trade conversation for a few different reasons:
Both are most likely on the outside looking in as far as protected skaters in the expansion draft are concerned.
Both have second line center capabilities, and if packaged they may be able to bring in a quality winger, as well as a pick, or a bottom six winger.
And, their cap combined equals out to $6,050,000, which is plenty of money to pick up a quality winger. And, it's also the necessary money that needs to be cleared from the cap to pick up said winger.
Furthermore, Grigorenko can at least play the wing, and he's still young enough to mold into a good winger. In other words, he's a versatile trade asset.
Finally, Soderberg has proven that he is an offensively productive center. And, he's also a very valuable specialty teams player; he can play extensive minutes on the power play and the penalty kill.
Obviously, Duchene and MacKinnon would play centers 1a and 1b in the case of a trade like this. And the bottom six centers would most likely be Joe Colborne and John Mitchell, the roles that are the most emblematic of their playing styles.
I hate trading Grigs, trust me. He has been the subject of many of my articles, and I've always addressed his playing style in a positive light.
More From Mile High Sticking: Avs Need to Fear Failure
I think his potential is still sky high too, and he could end up becoming a great player one day. Which is why he is that much more valuable as a trade piece. His inclusion in a Soderberg trade would give the Avs a lot of flexibility with the return of said trade.
Conclusion
I like writing articles, I really do. Obviously that's why I'm here. However, as much fun as it is to speculate about trades, this is not the type of article I want to write.
Nonetheless, the lack of offense from the Colorado Avalanche must be addressed, and a trade of some sort may be the only way to address something of the sort.
There is no trade that I have in mind particularly. However, I do believe that the above figures would make great trade assets this season. And, a trade for a quality winger needs to be considered sooner rather than later.
This team is flush with center depth, but their wing depth is lacking right now. Good centers develop chemistry with good wingers.
That does not mean that centers can't adjust to becoming wingers, I just think that the Avalanche have too many players trying to make that adjustment. A trade of two centers might allow for some more congruency in the lineup.
Whatever comes to be, there is obviously a serious issue with offensive production. Something will have to be done eventually.
This article originally appeared on