Colorado Avalanche F Rene Bourque Adds Veteran Presence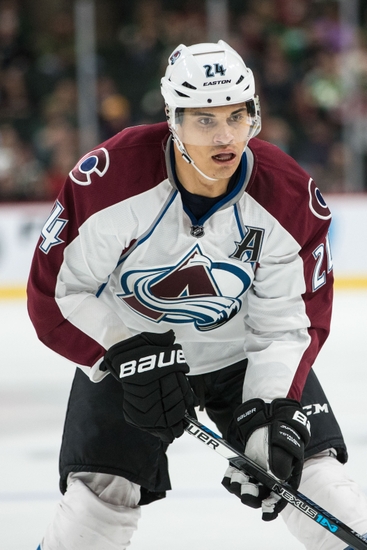 The Colorado Avalanche's newest winger, Rene Bourque, should offer veteran leadership as well as versatility to the team.
Right wing Rene Bourque came to the Colorado Avalanche training camp ready to impress. He played in five of Colorado's six preseason games.
The 34-year-old forward was coming off a year in which he played 49 games with the Columbus Blue Jackets and only made an impression because he creamed coach John Tortorella during practice. His three goals and five assists in 49 games certainly weren't going to impress. Indeed, he got half that many points (1 goal, 4 assists) in his five preseason games.
The Avalanche rewarded Bourque's hard work by signing him to a one-year, one-way contract worth $650,000.
About Rene Bourque
More from Mile High Sticking
Bourque is a solid forward at 6-foot-2, 217 pounds. His career stats are 660 games played with 151 goals and 147 assists. He was undrafted, but the Chicago Blackhawks signed him in 2006.
Since the 2005-06 season, Rene has made the rounds of NHL teams, including the Blackhawks, Calgary Flames, Montreal Canadiens, Anaheim Ducks and, most recently, Columbus Blue Jackets.
Bourque is known as an edgy winger with a hard shot and decent offensive instincts. He can be inconsistent, but he plays a solid two-way game.
On a personal note, Rene Bourque is from Lac La Biche, Alberta. He's of Métis heritage, which is an Aboriginal tribe primarily found in western Canada. Bourque has initiated charities in his home state geared towards helping aboriginal children and rural youth afford to play hockey.
Rene did a lot of his best work with the Canadiens. He knocked the gigantic Zdeno Chara to the ice with a legal hit:
He got some pretty good licks in against Matt Hendricks in a fight:

Oh, and one time he got a hat trick — a playoff hat trick no less:

The Colorado Avalanche could use a little of that!
Rene Bourque's Role with the Colorado Avalanche
Jared Bednar has chosen to buck the convention of the last several years of keeping eight defensemen and 13 forwards on the roster in favor of 14 F, 7 D. Anyway, that gives Rene Bourque the added chance of at least being on the roster.
Considering his solid preseason run, it looks pretty good that Rene Bourque can be on the opening night roster this Saturday. Indeed, Bednar said of him on the Avalanche website:
"Rene Bourque, I think he's worked real hard at his defensive game. He's been an impact player there. He's killed some penalties for us through exhibition and found a way to contribute and is a guy that can move up and down the lineup on the right side."
In fact. Rene himself thinks his versatility is a big asset to his game:
"I think I can play up and down the lineup. Wherever they put me, I just have to make sure that I play my game."
I see Rene Bourque as this season's Jack Skille. He's going to be a veteran presence who's supposed to work extra hard in every practice and game. Since the defensive side of his game, especially when it comes to killing penalties, is what caught the coaching staff's attention, that's what he should probably focus on.
I'd see him on the fourth line. Get him in there with the big boys, Andreas Martinsen (6-foot-3, 220 pounds) and Joe Colborne (6-foot-5, 221 pounds). That would be one heck of a checking line that could even chip in a few goals — or a chip a few teeth.
In any case, Rene Bourque could very well have a career season as he tries to prove he still deserves a spot in the NHL. And that's good news for the Colorado Avalanche.
This article originally appeared on