Colorado Avalanche EA Sports NHL 17 Player Ratings Released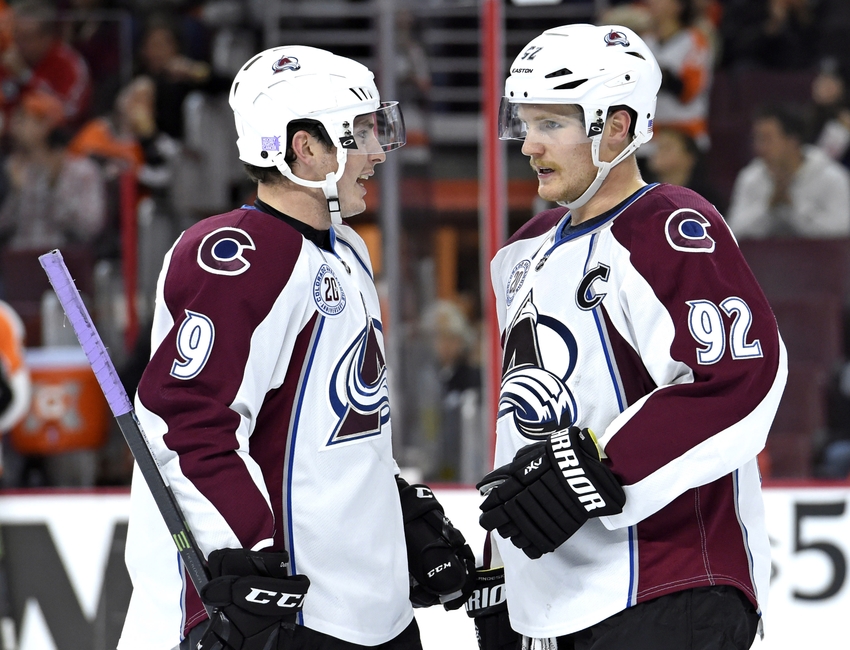 The Colorado Avalanche will hit virtual ice in less than a week, Tuesday September 13 to be exact, and the player ratings have finally been revealed.
The Colorado Avalanche may not be on the ice for a meaningful game until October 15, but anyone interested in the NHL video game franchise can see them on the "ice" as early as September 13.
It seems that a few lucky people have already acquired early copies of EA Sports NHL 17, and so some ratings videos have been leaked on Youtube.
A few weeks ago, I released an article detailing my best educated guesses for player ratings on the Avalanche, but now we get to see how accurate I really was.
As I said in that post, I only postulated on ratings for players I am pretty sure will make the opening night roster — or at least challenge for one* — and that won't change this time around.
So in case you're curious what I think that roster will look like, then take a gander:
*editors note: I left Chris Bigras out of the previous rankings, and I won't do that again this time around. I'll also leave out players that are joining the team on PTOs just because I didn't rank them in my previous post. I also had to go through a lot of video for this, so if my ratings don't match yours when you get the game, then you know why. Also, I couldn't find Rocco Grimaldi or J.T. Compher, so their rankings won't be included either.
Forwards:
(LW) Gabriel Landeskog
(LW/RW) Joe Colborne
(LW/RW) Mikhail Grigorenko
(LW/RW) Mikko Rantanen
(LW) Cody McLeod
(C) Matt Duchene
(C) Nathan MacKinnon
(C) Carl Soderberg
(C) John Mitchell
(RW) Jarome Iginla
(RW) Blake Comeau
(RW) Andreas Martinsen
Defense:
(RHD) Tyson Barrie
(RHD) Erik Johnson
(LHD) Francois Beauchemin
(LHD) Fedor Tyutin
(LHD) Patrick Wiercioch
(LHD) Eric Gelinas
(LHD) Nikita Zadorov
(LHD) Duncan Siemens
(LHD) Chris Bigras
Goalies:
Semyon Varlamov
Calvin Pickard
Now that I've gotten that out of the way, I have just one more note for you. Since I now know the rankings for Avalanche players there is no reason to include their ranking from NHL 16. Instead, I'll be including the guess rankings — in paranthesis — I made in my first post about NHL 17 player ratings.
Without further adieu:
Gabe Landeskog: 88 (My guess: 89)
This one is somewhat bothersome to me because Landy leads his draft class in points, he's reached the 50 point mark in every season except for his injury shortened one, and he only had a 6 point dip in production last season. However, EA Sports' NHL player ratings have never been very accurate.
Joe Colborne: 84 (My guess: 86)
Colborne did get a boost in rating, but not as high as I thought it would go. In my previous post, I also couldn't decide whether or not he should be a right winger, or a left winger — I put him as a right winger. NHL 17 decided for me, and placed him on the left wing with a one point increase in rating.
Cody McLeod: 80 (My guess: 79)
I guessed 79 because I didn't know how McLeod had that ranking to begin with; I figured he wouldn't drop in rating from NHL 16. So, imagine my surprise when he got ranked higher in NHL 17. This ranking makes no sense to me.
Matt Duchene: 88 (My guess: 89)
I really figured that Duchene would get ranked higher because of his 30 goal season, but instead he kept the same rating. I don't think that makes much sense, but I'm also not the one doing these ratings.
Nathan MacKinnon: 87 (My guess: 88) 
Nathan MacKinnon did get bumped in rating from 86 to 87, but I figured he'd get one more rating point. I suppose I don't have legitimate reasoning for that just because he hasn't matched the point total from his rookie season yet. Either way, he should be primed for a big year this season, and if you want to see something filthy, then I leave you with this. Yeah…
Carl Soderberg: 86 (My guess: 86) 
Soda's rating is the first one I have been accurate with, and I appreciate NHL 17 giving accolades where it is due. Soderberg is a huge part of this team, and if he's bumped to play second line center next season, Avalanche fans could be in for a real treat.
John Mitchell: 80 (My guess: 80)
Another one I got right, woohoo! Anyway, Mitchell is on the decline, he's in his contract year, and the Colorado Avalanche have a lot of young depth at center on the rise. I predict he'll be traded this season, and that he'll have to fight tooth and nail for a roster spot during training camp and preseason.
Jarome Iginla: 84 (My guess: 84)
Yeah, I was right with this one too — pretentiousness overwhelming — but that's honestly a bad thing for the Avalanche. Their lack of depth at the right wing position is palpable, and Iginla topping those rankings for the Avs is a disconcerting thing.
Blake Comeau: 83 (My guess: 83)
At this point, it's really not hard to be accurate with rankings. Any time a depth player comes into question it's safe to assume that a pretty similar ranking will ensue (unless you're Cody McLeod apparently). Anyway, Comeau is a great penalty killer and forechecker, his presence will be crucial to the Avalanche this season.
Mikhail Grigorenko: 82 (My guess: 83)
I honestly think that Grigs deserved more of a bump than just one point, but hopefully he'll earn that bump this coming season. This is a prove-it year for Grigorenko, and the success of the top six for the Colorado Avalanche could hinge on how much of a progression he makes this season.
Mikko Rantanen: 81 (My guess: 77) 
Ahhhhh, this rating is pleasantly surprising, and I don't care how far off I was in my guess. Rantanen received "elite" potential — albeit of the low variety — from NHL 17, plus a 7 point bump in rating from NHL 16. Hopefully he's able to produce at the NHL level next season.
Andreas Martinsen: 80 (My guess: 79)
Of course I am alright with a certain player exceeding my rating — unless you're McLeod — but I am not sure that Marty deserves this rating. Now, there is little difference between 79 and 80 obviously, but Marty is an uncertainty. Still, he'll probably make the team, and an 80 is not a bad rating for the man.
Tyson Barrie: 88 (My guess: 89)
Barrie is going to be in the 90s next season, I am almost sure of that. He received a one point bump this season, and that number will continue to go up. A new system, a different style of play, and an older Barrie is going to manifest into a huge season for Barrie.
Erik Johnson: 87 (My guess: 87) 
Yeah, Erik Johnson will have to have a good season for the Colorado Avalanche if he wants to avoid a drop in rating next year. Johnson wasn't the only one who struggled on the blue for the Avalanche, but it was certainly one of his worst years. Here's to hoping he improves next season.
Francois Beauchemin: 84 (My guess: 84)
Beauch tied a career high in points for the Colorado Avalanche last season, and his defensive production wasn't bad either. Still, he didn't deserve a bump in rating, but he also didn't deserve a decrease, so I'm glad they left him alone. Maybe they gave him some more offensive skills, who knows.
Fedor Tyutin: 83 (My guess: 83) 
Tyutin drops a single point in rating, and I think it is well deserved because he hit a brick wall last season. However, with a revival in the way of a new team, and a chance to play in the top-four, I wouldn't be surprised to see Tyutin rejuvenated this season.
Patrick Wiercioch: 83 (My guess: 82) 
Patrick Wiercioch also saw a single point drop in rating, but he has a lot of upside. If he can figure a way to combine offensive production with his already sterling possession stats, then he could be a real x-factor for the Avalanche this season.
Eric Gelinas: 83 (My guess: 82)
Gelinas figures to be one of the bottom pairing defensemen for the Avalanche this coming season, but he'll have a lot of competition in training camp. He also saw a single point drop in rating from NHL 16, but he still has a booming shot, and a lot of upside for the Avalanche. Hopefully he's able to contribute to the team this season.
Chris Bigras: 82 (My guess: ??)
I couldn't fabricate a guessed rating for Bigras objectively, so that one gets question marks. However, I do have to say that I would have never rated him that high. Furthermore, Bigras also got bumped from "top four" potential to "elite" potential — low variety — and is now the future of the Avalanche, in the game at least.
Nikita Zadorov: 82 (My guess: 81)
Zads gets a two point bump in rating from NHL 16, and deservedly so. His time in the NHL was certainly of the unpredictable and inconsistent variety, but he looked good nonetheless. It's interesting to note that Zadorov maintains his "top four" potential rating, while Bigras got upgraded to "elite" potential rating.
Duncan Siemens: 75 (My guess: 78)
I may have been a bit optimistic with Siemens' rating. But, he had a good year in the AHL and was finally able to stay relatively injury free. I know that doesn't spell a huge increase in rating, but he should have at least been bumped a point.
Semyon Varlamov: 88 (My guess: 87)
I don't think Varly deserves that rating, but I suppose a two point dip in rating is a lot in this game. He still gets pinged one point from NHL 16, and unless he is able to find the same form from the 2013-14 season, then he'll continue to dip in rating.
Calvin Pickard: 82 (My guess: 83)
I am a bit peeved about this rating for a couple reasons. One, I think that Picks has proven himself enough to at least get the ranking of a normal backup in the NHL (83-84 at the least), especially now that he is a backup for the Avalanche. Two, I think that he should move beyond his "starter" potential into the realm of "elite" because he is so young and has proven that he can handle NHL competition. Still, I'll take the three point increase from NHL 16.
Conclusion
The Colorado Avalanche's top players are: Landeskog, Varly, Duchene, and Barrie — all with 88 overall ratings.
A couple of the young up-and-comers got a huge bump in rating. Mikko Rantanen and Chris Bigras were the biggest benefactors in that regard with seven and 16 point increases respectively.
NHL 17 has yet to release ratings for J.T. Compher and Rocco Grimaldi for some odd reason. I can understand the Compher mishap because he's coming from the NCAA and NCAA players have never been rated in the past. However, I couldn't find anything on Rocco Grimaldi, even from his previous AHL affiliate.
There are some other current prospects not ranked by NHL 17, like Tyson Jost (NCAA), A.J. Greer (for some reason), and others like Julien Nantel, Sergei Boikov, and J.C. Beaudin. NHL 17 is the first edition of the franchise to implement ECHL (East Coast Hockey League) rosters, so perhaps those ratings could be found on the Colorado Eagles roster, but I couldn't find any video on the ECHL.
Anyway, I figured fans might be looking for a condensed version of how the Colorado Avalanche rank on NHL 17. So, here you go folks, let me know what you think of the ratings in the comment section. And, particularly if you're familiar with the "potential" aspect of the ratings, and how that correlates with "high, medium, and low".
This article originally appeared on