Colorado Avalanche Defenseman Cody Goloubef Gets Shot with Big Club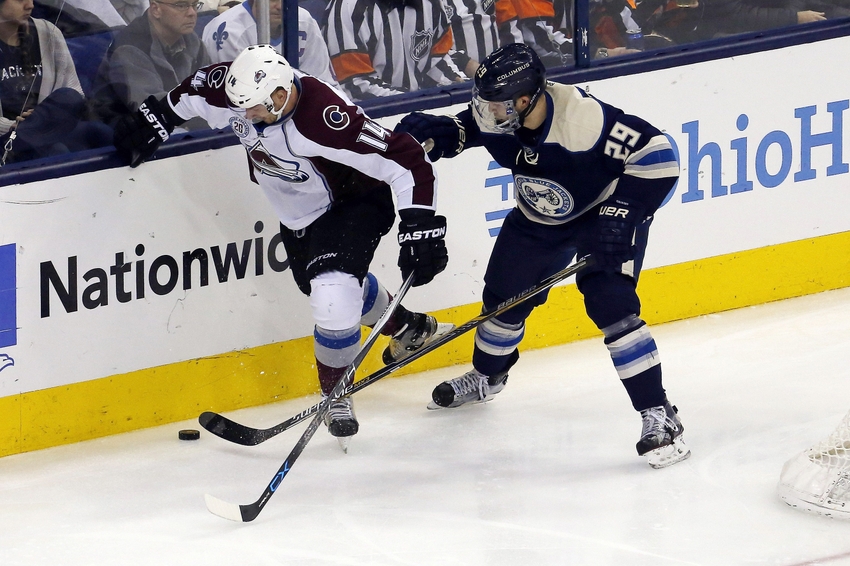 The Colorado Avalanche have recalled San Antonio Rampage defenseman Cody Goloubef in the wake of Erik Johnson's injury.
Well, I thought the Colorado Avalanche would recall Chris Bigras, but it turns out he is injured with an undisclosed injury. So, instead they recalled right-shooting defenseman Cody Goloubef of the San Antonio Rampage/Cleveland Monsters this season.
So far this season, Goloubef has eight points (2g, 6a) in time split with the Monsters and Rampage. The Colorado Avalanche acquired Goloubef from the Columbus organization on Nov. 28; the trade involved former Rampage defenseman Ryan Stanton.
In a total of 96 NHL games — mostly over the 2014-15 and 2015-16 seasons — Goloubef has 18 points and is a +7. He has yet to skate in an NHL contest this season though.
When he was picked up from the Columbus organization, Bednar had a few insights to offer on the young man:
He was a real good American League player for us through his development years and got recalled and spent the last couple years in Columbus. I know of him more as an American League player. He kind of does a little bit of everything. He's a good skater, can play power play, penalty kill. Was an all-star in the American League when they only picked six guys to play. So he's a top-end player at that level and he's had some moments at the NHL level where he's a real good player as well. Things haven't worked out for him in Columbus, [but] right now he's a veteran guy, with a lot of experience, who can go in and help San Antonio, and is a real good depth option for us.
Remember, Bednar is very familiar with the AHL talent in the Columbus organization.
What Should We Expect out of Goloubef?
Bednar is really just familiar with all the talent in the Columbus organization. So, hopefully he'll know the best way to utilize Goloubef on Tuesday night against the Nashville Predators.
Obviously it's also helpful that he's a right-shooting defenseman because EJ is right-handed. However, he is by no means ready to step into the vacancy that EJ is leaving behind.
More From Mile High Sticking: Patrick Roy was Right About the Core
Johnson was by far the most defensively productive defensemen on the Colorado Avalanche, so his vacancy is a void that can't be filled.
Nonetheless, Goloubef does have some enticing intangibles. And with the help of some other defensemen stepping up for Colorado, he could end up being a rather good option.
In other words, he can skate, and he has a pretty big shot from the point. Witness:
That was just a little half-slapper too. Anyway, he also likes to fight:
Troy Brouwer is no small man either, and he's also a pretty experienced fighter.
Anyway, those two videos should give you a rather base idea of what Goloubef brings to the ice, and what you might expect from him come Tuesday night.
He's only twenty-seven years old, so he definitely still has the opportunity to find a home in this league.
Conclusion
The Colorado Avalanche have had a real rough start to their season, and the injury to Johnson is just another symptom of that. Unfortunately that means some players are going to have play roles they are not accustomed to. However, the injury also gives players like Goloubef a chance to play in the Big Time.
Goloubef definitely has some promise, and he now has the opportunity to prove that he belongs in the NHL.
It will be interesting to see if the Avs call up some other defensemen during the two months Johnson is likely to be out. I'm sure they will give some opportunities to other players as well.
However, you have to hope that one of those players eventually comes up and sticks. It hasn't happened with Sam Henley yet, and it certainly didn't work out for Rocco Grimaldi. However, I believe that Goloubef will stay with the team a bit longer.
Finally, the Avalanche are heading back out on the road, where they have a respectable 5-5 record this season. The relief from their failure to be successful on home ice should be good for the team. Hopefully they'll return to home ice with confidence, and be able to build on some success there as well.
Cheers everybody, and try and keep your heads high.
More from Mile High Sticking
This article originally appeared on