Colorado Avalanche: Cody McLeod's Swan Song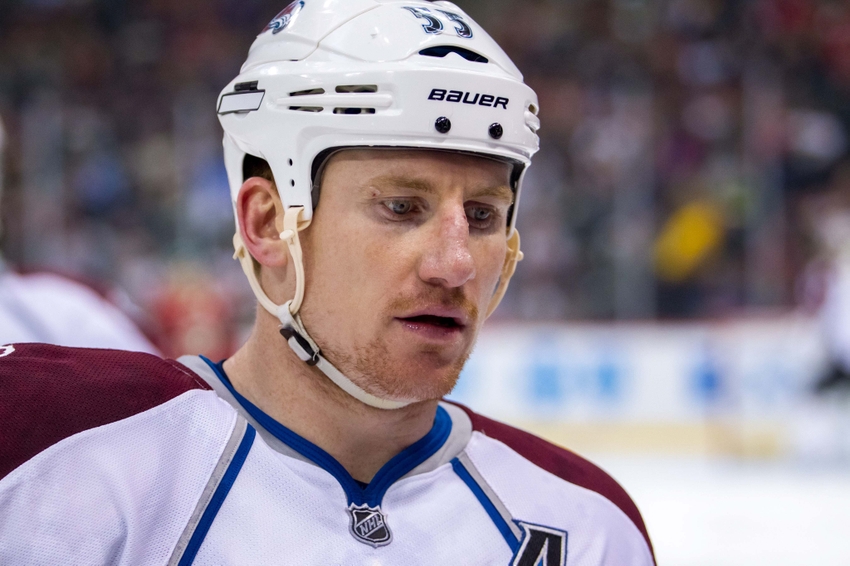 Colorado Avalanche forward Cody McLeod has been a leader and enforcer on the team for nine years. How much time in the NHL does he have left?
I'm pretty sure that Colorado Avalanche winger Cody McLeod would hate the term "Swan Song."  This is the guy, after all, who in his rookie season with the Avalanche picked an octopus off the ice at Joe Louis arena during the pre-game against the Detroit Red Wings, and, after shaking it at the fans, threw it into the stands.  
This is also a guy who's racked up 1307 penalty minutes in his career, including a mind-boggling  121 fighting majors.  
This is also a guy who's been a member of the Colorado Avalanche since Joe Sakic was its captain.  Since then, he's seen the team through the dark years in which the Avs have missed the playoffs six of nine seasons and won only one playoff series during that time.
In the last three seasons, McLeod has served as an alternate captain for the Avalanche, while playing in 235 out of 246 regular season games.  In fact, Cody ranks fourth overall in total games played for the Colorado Avalanche, sitting behind only Adam Foote, Joe Sakic and Milan Hejduk.  
Whatever way you look at it, McLeod is clearly a leader for this team, and has been for awhile.  The term "franchise player" is usually reserved for All-Star caliber players, but in a way, McLeod has fulfilled this role for the Avs in the post-Glory Days era; a time in which the Avalanche lacked a strong franchise identity and descended into the lowest ranks of the league.
Colorado Avalanche: Avs' Strength on Display in Toronto
As the 2016-17 season is set to begin, McLeod will be playing for his fifth coach as a member of the Colorado Avalanche.  However, how much playing time he will get has yet to be determined.  
Currently, the Avs preseason roster has sixteen players on it, plus two guys on proffessional tryout offers (Gabriel and Rene Bourque).  Right now it's likely that Rene Bourque will be offered a contract, putting the forward roster at sixteen.  Between now and the start of the regular season, the Avs management and coaching staff will have to reduce this number to thirteen or fourteen.  
One of the key achievements of Joe Sakic's tenure as GM has been to replenish the depth of the Avs organization.  This summer alone, Sakic signed eleven free agents, eight of which are primarily AHL players.  With this newfound depth at the AHL and NHL level, each roster spot becomes more and more competitive, putting the role of Cody McLeod on the Avs this year in doubt.  
Anyone who's watched McLeod play once likely has an understanding of the way he plays every night.  His grit, energy, dedication to finishing checks, passion for getting in opponents faces after the whistle and his unquestionable effort are evident in every shift he ever plays.  This consistency and dedication are key elements that have allowed him to become a leader for the Avs over the years.  However, his game does not go much further than these elements, and his time as an effective contributor at the NHL level may be coming to an end.
Under Patrick Roy, McLeod continued to serve as an alternate captain, seeing time on the penalty kill and occasionally the power play.  Under new head coach Jared Bednar, this is likely to change.  Furthermore, it's unclear whether McLeod has much of a future left as a roster player for the Colorado Avalanche.  
Although there have been no press conferences or newspaper updates about it, undoubtedly Cody's future with the Avalanche has been discussed.  Despite his passion, energy and dedication, the unfortunate truth remains that McLeod's type of hockey is dying out in the NHL.  
Yes, NHL teams still need energy lines and physical players, but to keep up with the competition, these players also need a higher degree of skill than enforcer type player of the past.  It is simply unacceptable to maintain a roster spot for a designated enforcer that can't contribute in both ends of the ice in today's game. 
McLeod's leadership and ethic make him much more than an enforcer, but in all honesty, that's the role that he performs and the game he plays.  Currently, he has twice as many penalty minutes as he does games played, roughly ten times as many penalty minutes as he does points, and incredibly, six more fighting major than he does points (121 fights, 116 points).  
The modern NHL is based on speed, discipline, pressure and strong systems.  In that there is no room for players who draw needless penalty minutes or can't improve possession numbers for their team.  The sad truth – there's no room or no need for Cody McLeod as a roster player for the Colorado Avalanche.  
We know that if Cody makes the Avs opening night roster, it will likely be in a fourth line role.  This means that at the moment he's competing with guys like John Mitchell, Ben Smith, Andreas Martinsen, Mike Sislo, Trent Vogelhuber and potentially Rene and Gabriel Bourque for a spot.  Although I don't know much about Sislo or Vogelhuber, and we don't know if either Rene or Gabriel Bourque will get signed, it's hard for me to make an argument that McLeod deserves a spot over these other guys.  
On one hand, he has is experience and leadership going for him, as well as being on a one way contract that doesn't expire until the end of the 2017-18 season.  But, when compared to Mitchell, Smith, Martinsen, Sislo, Vogelhuber and maybe one or both of the Bourques, McLeod might be at a disadvantage when it comes to speed and skill.  
Obviously, Cody is a fan favorite and is respected highly in the Avs organization.  Maybe this is enough for him to hold onto a roster spot.  But when I look at the scenario objectively I can't help but see Cody as an odd man out and a likely candidate to start the year either as a healthy scratch or as a starter in San Antonio, if he passes through waivers.  
Part of me hates to write this article because of the incredible leadership and dedication Cody has shown to the organization.  Also, for all I know, Cody may continue to be a leader for the Avs, finish his contract and be re-signed.  However, the other parts of me thinks that Sakic and Bednar, who has no prior relationship or personal connection to McLeod, are likely reaching similar conclusions about McLeod and other enforcer type players, which is that McLeod is more of a liability than an asset to the Colorado Avalanche in the modern NHL.
Either way, while I'm writing about McLeod's game being outdated, this is also an opportunity for me to celebrate guy who's been a leader of the Colorado Avalanche for almost a decade.  In my opinion, he's been close to a "franchise player" in his own right, providing the Avs with consistency, heart and determination during the darkest years of the franchise.  Whether he gets cut this year, or the next, or the one after that, I believe he's earned himself a spot on the Avs all-time team.
The Colorado Avalanche wrapped up their pre-season Saturday, October 8th in Las Vegas at the eighteenth annual Frozen Fury against the Los Angeles Kings.  It was the last best chance for Smith, Sislo, Vogelhuber, Martinsen and both Bourques to prove they deserve a spot over McLeod, and vice versa.
Given his experience and role in the organization, I think it's entirely possible that McLeod hangs onto his fourth line spot.  However, with a new head coach and a new philosophy, it's entirely possible head coach Bednar decides to look to other options on the fourth line.  Personally, I'm not ready for McLeod's time with the Avs to end, but I'm also ready to see the Avs become competitors again.  It will be up to Sakic, Bednar and the rest of the Avs management to decide if Cody is a part of this.
Either way, I hope Cody gets the recognition he deserves as a franchise player that guided the Colorado Avalanche through the worst years of the organization.
More from Mile High Sticking
This article originally appeared on