Colorado Avalanche Alternate Captains Right for the Team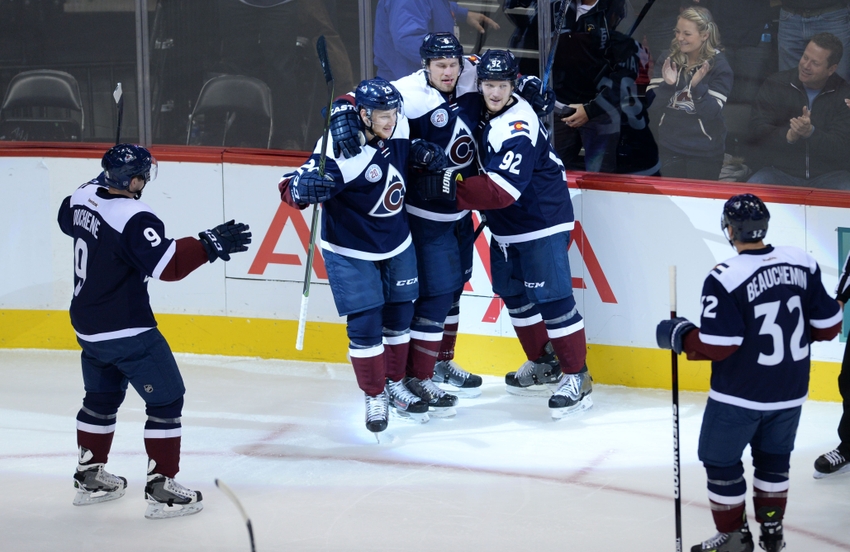 Just before opening night, Colorado Avalanche Coach Jared Bednar announced the three Alternate Captains for the coming season.
Coach Bednar announced that the Alternate Captains for the Colorado Avalanche will be Francois Beauchemin, Nathan MacKinnon, and Matt Duchene on Thursday, as the Avs prepare to start their new season. Beauchemin will be an alternate for every game, while MacK and Dutchy will alternate, likely based on if they're home or away.
While several players on the team are certainly leaders, I think these choices are the right call for the team going forward.
Francois Beauchemin
Beauch is a Stanley Cup champion and one of the top defensemen on the team. His experience and ability makes him a natural leader, especially as a mentor to younger Avs. He has clearly shown a willingness to sacrifice for the team, as he led the league in blocked shots last season. Hopefully he's not forced to do that this year within the new system.
He has also been a strong media voice for the Avs. Beauch doesn't always sugar-coat things or tow the party line, but he's very vocal about what it takes to win in this league. He should know.
In order to instill a Stanley Cup Attitude in the team, having a Stanley Cup Champion as a leader certainly doesn't hurt, and that's why Beauchemin get an A.
Matt Duchene
Matt Duchene's alternate captaincy is probably the most controversial of the bunch. Despite being on the team the longest, and despite professing his undying love for the Burgundy and Blue, many fans question Duchene's leadership capabilities.
One question often raised is Duchene's inconsistency. As we've seen over his career, Dutchy sometimes has goal-less droughts, and struggles to put up star-level production.
More from Mile High Sticking
But we've also seen that Duchene is one of the hardest workers on the team. When he struggles, he doesn't just hope that things turn around soon. He finds out what's wrong. He gets a sports psychologist. He watches tape. He works with Tim Army to find flaws in his game.
Leaders should lead by example, and Duchene's work ethic is why he is more than deserving of an A.
Nathan MacKinnon
They sure do grow up fast, don't they? "Kiddo MacK" is probably the most soft-spoken of the captains, but his vision on both ends of the ice makes him a capable leader.
We saw this at the World Cup, with MacK making sure Johnathan Drouin's head is in the game. His vision is also evident in the numbers department. As a center, MacKinnon has quietly become an excellent two-way hockey player, amassing the best iCorsi rating on the team last year… by a long shot. MacK is definitely not a liability at either end of the ice, and was even a prominent penalty killer this preseason.
As Ryan Schillinger mentioned in a comment, it's also worth noting that after Landeskog's illegal hit led to his ejection, MacKinnon was the player to discuss the situation with the refs, NOT then-alternates Cody McLeod or Jarome Iginla.
MacKinnon's attention to detail and vision are qualities that every teammate should aim to imitate, and that's why he's deserving of his A.
The Snubs
Now, with the new captains in place, it's natural to question why certain players were not given a letter. Our editor, Nadia, was upset Erik Johnson didn't receive a letter:
Given what I know about Erik Johnson, I must say that I agree that he deserves a letter. He's proven to be a leader on the ice and in the media, and has been the cornerstone of the team's defense for years.
However, I also see Bednar's logic in holding off on the letter. EJ has proven that he doesn't need a letter to be a leader, and we can assume he will continue to be. It's also likely that after Beauchemin retires/leaves, EJ will be first in line for the A. While Johnson is a great leader, he's not yet a Stanley Cup Champion, and not as comfortable being a mentor as Beauchemin.
Cody McLeod had a rough Thursday, as he saw his A stripped away, and was scratched for the home opener. Cody previously earned his A by giving his all in every shift, firing the team up with big hits, and providing a powerful locker room voice.
Unfortunately, McLeod's abilities on ice were born of a different era, one where physicality and fisticuffs were a bigger part of the game than scoring goals. While solid in his fourth line role, his style may not have been well-suited for Coach Bednar's speedy system.
Bednar likely wants leaders who will work well within his system, and can help others improve their execution. Cody's on-ice abilities don't fit the bill, but he can still provide a voice without a letter.
Finally, future Hall of Famer Jarome Iginla saw his A stripped away this year as well. This one honestly surprised me. I really expected Iggy to serve out the last year of his contract with an A, before retiring or moving on.
Still, this does fit with Bednar's "nothing is sacred, everyone must earn their keep" mentality, and it makes sense to instill the culture he wants as soon as possible, rather than wait for things to become convenient.
By Jarome Igninla standards, he had a bad year last year, and looked like age had slowed him down. Slow does not work well with a system based on speed, so it's likely Bednar wanted captains who can see the game in a modern style.
Iginla, however, will always be a leader, no matter what team he's on, and is still a fantastic player. I doubt seeing his letter go to the young guard will sour his attitude, and I expect he'll do whatever he can to achieve his goal: winning a Stanley Cup.
Conclusion
The new captaincy structure makes sense, and each member of it is deserving. They each bring different leadership qualities, and show a solid understanding of the new system.
Other candidates may have been equally deserving, but ultimately, Coach Bednar believes Gabe Landeskog, Francois Beauchemin, Matt Duchene, and Nathan MacKinnon are the best choices to lead this team.
This article originally appeared on