Chris Kelly Takes On The Boston Bruins In Ottawa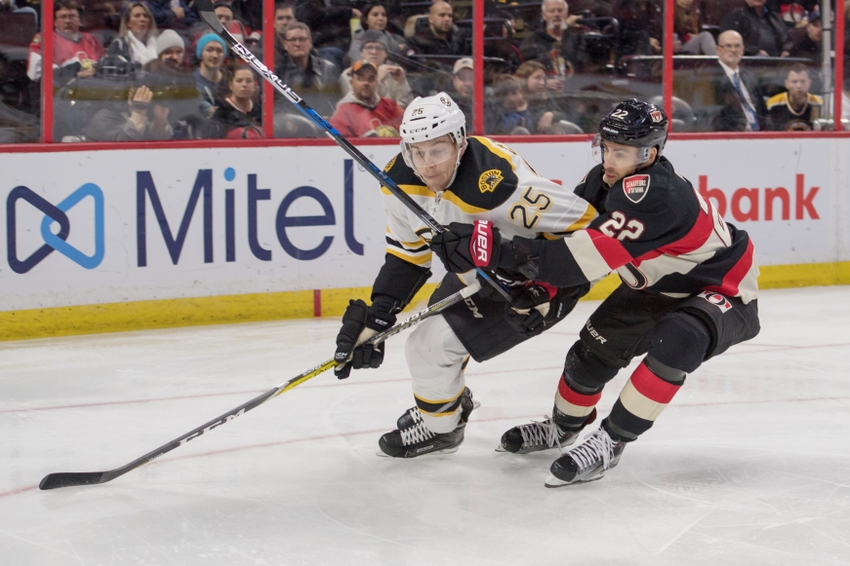 Ottawa Senators forward Chris Kelly is playing in his first game against the Boston Bruins since signing with the Senators in the offseason. The Senators defeated the Bruins 3-1 in Ottawa.
Chris Kelly joined the Bruins at the trade deadline in February 2011. His reliable work on the penalty kill and stable presence on the ice helped the Boston Bruins win the Stanley Cup later that year. Kelly went on to play five more seasons in Boston before going back to Ottawa this offseason.
"It's a strange thing coming back to the team you played with before," said the 36-year old Kelly to the media after the Senators practice Thursday morning. "It's a little familiar, but ultimately it's a new team. The changeover in this league is unbelievable and I think there's only three guys left from my previous. I'm still trying to feel guys out and they're still trying to figure me out, but it's been good."
Kelly had a strong second season with the B's in 2011-12, putting up 39 points and 20 goals for Boston. He was unable to crack double digits in goals for the remainder of his career in Boston. He suffered a broken leg early last season, and only played 11 games for the Bruins. It was considered unlikely that he'd be back in a Bruins uniform after that.
Chris Kelly's summer residence was in Ottawa, so it made sense for him to go back to the team he played with before (and possibly end his career).
"Yeah, it was a difficult decision," said Kelly of the move. "Obviously when you leave some place where you've had so much success and made so many great friendships, and truly loved playing there, it's always hard. But it was just one of those things that didn't work out for either side. I think both sides parted ways, not happily, but there was no bad taste either way. And both sides moved on. That's the way it goes sometimes."
While Kelly is happy to be back in Ottawa, a part of him really does miss the Bruins and the city of Boston.
"You miss the guys and the team. I still find myself extremely fortunate to be able to have lived in Boston," said Kelly. "It's such a fantastic city, and to have lived in the city and experience that for the years I did was something I feel blessed to have experienced. You miss the city. And all the great restaurants."
Some of the Bruins miss Chris Kelly equally. Kelly's status as an alternate captain made him a leader off the ice, and a supplemental coach on it. He was able to guide young Bruins players and mentor them into becoming better NHL players.
"It was always fun with Kells," said Bruins forward Brad Marchand. "Every day he's on the ice, he wants to get better and he pushes you to want to get better as well. When you're good friends, you want to compete against each other and push, and you want to beat a guy a little more. It was always fun going against him in practice, but it'll be a little different playing against him tonight."
The Senators 3-1 win over the Bruins marks the first time the B's have lost two games in a row in over the month. The Senators now have a three point lead over the Bruins in the standings.
This article originally appeared on