Chicago Blackhawks' Who's Hot, Who's Not: It's Marian Hossa Again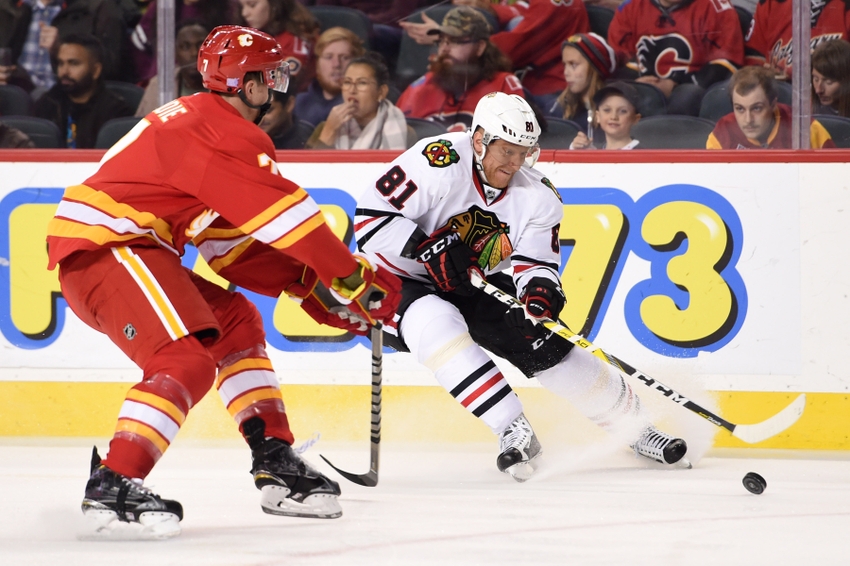 There are ebbs and flows throughout every NHL season, and while the Chicago Blackhawks are struggling right now as a whole, they still have players performing well … and not performing well

The Chicago Blackhawks are four games into their Circus Trip, and they have won two games and lost two games.  Breaking even is not all that bad, right?
But if you delve a little further, in two tilts the 'Hawks were unable to score (Winnipeg and Edmonton).  In another one (Vancouver), they were outplayed for two periods before turning it around in the third.  And in the best game of the trip so far (Calgary), they allowed their opponent back into the game in the second period, and had to pull out a last-minute goal in order to get the win.
It's a long season, and this is obviously a rough stretch of it for the team overall.  But there are still a few individuals who are standing out.  Let's take a look at who's hot right now.
Marian Hossa
For those of you that are diehard Blackhawk Up fans, you may recall that Hossa has been featured as a hot player for the last two weeks.  Well, I don't care; he deserves it for a third week!
It was Hossa who provided the game-winning goal Friday, and the game-winning goal Saturday.  The latter also marked his 81st career game winning goal.  Just think, if Hossa doesn't score these two goals, the Hawks could easily be 0-4 on the Circus Trip.
The 37-year-old everyone thought was declining now has 11 goals for the year, and its only November!  To give you some perspective, during the entirety of last season, he scored 13 goals.  What a success story.  Keep it rolling, Hossa!  This man has every Chicago Blackhawks fan (both female and male) in love with him right now.
Nick Schmaltz
Schmaltz has been given another go as the left wing on the top line for the last two games.  It's not easy to keep up with the likes of Jonathan Toews and Patrick Kane, but Schmaltz has not looked out of place.
First off, his speed allowed him to keep up, and he's been able to complement Toews on the defensive end with some very aggressive backchecking.
Schmaltz has been criticized for being too hesitant, and not shooting the puck.  But during the Edmonton game Monday, he looked a lot more confident and registered two shots on goal.  If he can continue to be strong both offensively and defensively, this could lead to positive things for a struggling first line.
Brent Seabrook
While forwards are usually judged for their scoring ability, with defensemen we look at their ability to break up the opponent's offensive play.  Seabs has been very consistent of late in this area.  He's made some very smart and timely defensive plays, using his stick well, blocking shots and providing that physical element that can be so important for the Chicago Blackhawks.
While the other two defensive pairings are struggling and seem to be in a state of flux, Seabrook and partner Michal Kempny have found a chemistry that has allowed them to be very solid and reliable.
And let's not forget that Seabs provided a ripper of a shot for a powerplay goal against Calgary on Friday.  It was only his second goal of the season, but that's not from a lack of trying.  He loves to unload the puck from the point.  I'm sure it's the second of many more to come.
Marcus Kruger
The long and the short of it is that Krugs needs to work on his discipline.  For the last three games in a row, Kruger has committed a penalty and sat in the box for two minutes instead of helping to kill the penalty.  Krugs is one of the best penalty killers on the team.  He needs to be killing penalties, not committing them.
Interestingly, Kruger only played 8:48 against Winnipeg last Tuesday.  This is very low ice time for him.  In Vancouver on Saturday, the usual center didn't take any draws.  Something just doesn't seem right here.  Is Krugs nursing an injury?  Either way, he's not contributing as he should right now.
Jordin Tootoo
Many people don't understand why Tootoo is even a member of the Chicago Blackhawks, and why he has actually played in 17 of their 20 games.  When he plays, he usually has minimal ice time, and this negates the ability to roll four lines with relatively balanced ice time.
But Tootoo also has managed to do the most he can with his limited time on the ice.  He has only been on the ice for one goal against this entire season, and he's usually able to generate numerous shots on goal, keeping his possession numbers high.  Is this enough to continue to give him a roster spot?
Well, for those of you who don't think so, you may be on to something.  Tootoo has been a healthy scratch for the last two games.  With rookies such as Schmaltz, Vinnie Hinostroza, Ryan Hartman and Tyler Motte finding their way, we may not see much of Tootoo in the foreseeable future.
Gustav Forsling
Forsling has looked good at times, but more often than not he's stood out in a bad way, especially recently.  He is constantly on the ice for goals against, and the goal usually has something to do with him.  And he appears to be bringing down his usual defensive partner, Niklas Hjalmarsson.  Forsling was a healthy scratch last Saturday in Vancouver.
It takes defensemen longer to develop than forwards, and Forsling needs to play and learn from his mistakes in order to get better.  But Trevor van Riemsdyk is on the verge of coming back from an injury, and Michal Rozsival is chomping at the bit to get back in the lineup.  If Forsling wants to stay in the lineup, he better pick things up.
The remainder of the Circus Trip looms large, with the Chicago Blackhawks taking on the San Jose Sharks tonight, the Anaheim Ducks on Friday and the L.A. Kings Saturday.  Who will stand out as hot, and who will struggle with not in this next week?
This article originally appeared on