Chicago Blackhawks' Trade-Deadline Deals Have Been Hit And Miss
Aaron Goldschmidt/FanSided via Blackhawk Up

Fansided
As the Chicago Blackhawks approach the NHL's trade deadline, it is assumed they will be buyers yet again
Every year, Chicago Blackhawks fans quarrel on message boards and fan threads about who stays and who goes on the roster. Everybody has their opinions and usually they can be pretty harsh.
But many are right when they say that "business is business." Teams that want to sustain a winning culture maintain their core and continually build around it.
Blackhawks management understands this, which is why it puts so much emphasis on scouting and development. It has committed to two superstars that take up 30 percent of the salary cap, so mid- to late-round picks must be hits in the hope they develop to fill in roster spots with their low entry-level contracts.
I wrote an article earlier this year on the Blackhawks' ability to get their young players' trade value up by playing them with a handful of future Hall of Famers. This cycle of developing late first- and second-round picks and selling them and their upside at the deadline for veteran NHL players is genius. But not all of their deadline trades have worked out.
We've analyzed the Blackhawks' deadline trades from the last five years to see if we are indeed "sacrificing the future" or capitalizing on the "win now" window.
February 27th, 2012: Blackhawks trade 2013 second- and third-round picks to Winnipeg in exchange for Johnny Oduya
This trade was an absolute slam dunk considering Oduya was a huge part of both 2013 and 2015 Stanley Cup teams. His stout defense and quick outlet passes on the breakout gave Blackhawks forwards ample opportunities on the rush.
Oduya was paired with his fellow Swedish countryman Nicklas Hjalmarsson, which on many teams would be a top pairing. They weren't known for their offense even though both guys have an underrated shot from the point.
Was it worth it?
Here's what Winnipeg did with what it got in return:
— Winnipeg traded Chicago's 2013 second-round pick to Washington in exchange for its third- and fourth-round picks in 2013 and Calgary's fifth-round pick.
— The Jets used all these picks to draft Jimmy Lodge, Jan Kostalek, Tucker Poolman and JC Lipon
Since Lipon is the only prospect that has seen NHL ice, it's still to be determined whether Winnipeg was able to capitalize on this trade. But considering the 'Hawks were able to win two Cups with Oduya, I'd say this trade was clearly worth it.
February 27th, 2012: Blackhawks trade John Scott to the New York Rangers in exchange for a 2012 fifth-round pick.
After spending a couple seasons with the Blackhawks, it was clear Scott didn't fit in with what the Blackhawks were trying to do. He was slow and nobody really knew what position he played.
Although he never was very productive, he protected Blackhawks' top stars when opposing players attempted to take liberties on them. His size and strength created David vs. Goliath fights with the league's top enforcers.
Was it worth it?
The Blackhawks drafted Travis Brown with the Rangers' 2012 fifth-round pick, and he is no longer in the Blackhawks system. It's hard to say whether this trade was worth it, but the 'Hawks parting ways with Scott and getting a draft pick out of it was beneficial at the time.
Side note:The Scott trade opened up a roster spot which was filled by calling up Rockford IceHog Andrew Shaw … and the rest is history.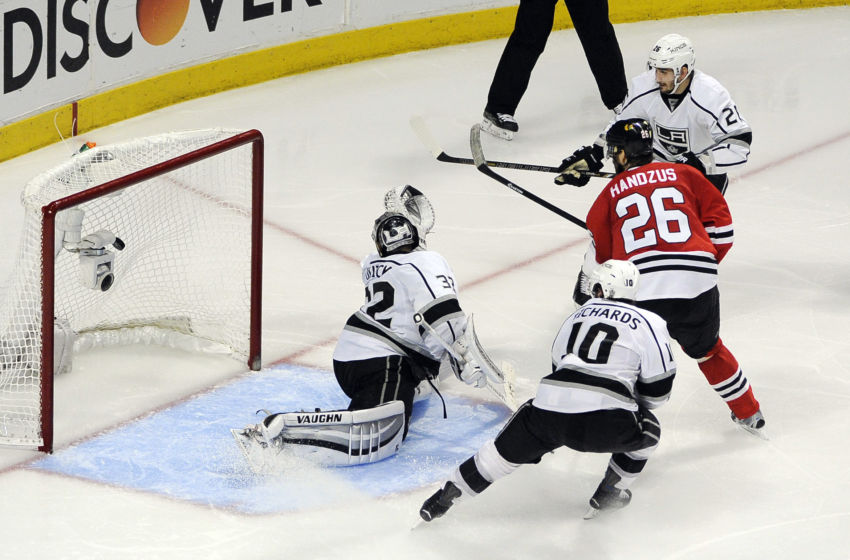 April 1st, 2013: Blackhawks acquire Michal Handzus from the San Jose Sharks in exchange for a 2013 fourth-round pick
Talk about a great return on investment. Handzus was another big contributor in the 2013 Stanley Cup run.
He was a big centerman who could go toe to toe with anybody in the faceoff circle and hardly played like an older veteran. In a shortened season, it was a perfect time to acquire this kind of veteran who may have had more left in the tank.
'Zus was a great temporary fix for a team that had been longing for a second=line center for years. I will always remember him for this shorthanded goal in the 2013 Stanley Cup Final.
Was it worth it?
Well, the Blackhawks won the Stanley Cup that year and the Sharks drafted Fredrik Bergvik, who has yet to see NHL ice. Yes, I'd say this trade was worth it.
March 2nd, 2014: Blackhawks trade Brandon Pirri to the Florida Panthers in exchange for a 2014 third-round pick and a 2016 fifth-round pick
Brandon Pirri was supposed to be slotted as the Blackhawks' next second-line center, but somehow his game never translated to the NHL level for the Blackhawks.
He won the AHL MVP one year and continuously was one of the IceHogs' top players, but the big stage seemed like too much for Pirri at the time.
Pirri has since been a journeyman playing for the Panthers, Ducks and currently the Rangers. He has had some decent seasons, but nothing like the 'Hawks had planned for him.
Was it worth it?
Well, the Blackhawks made a trade with the San Jose Sharks that swapped their 2014 first-round picks in exchange for the Blackhawks sending the Sharks a third-rounder for a sixth. Because the 'Hawks were able to move up in the first round from 27th to 20th, they selected Nick Schmaltz.
The 2016 fifth-rounder was traded to St. Louis for a 2017 fifth-round pick.
Judging on how high the 'Hawks are on Schmaltz, I'd say this trade was worth it.
March 4th, 2014: Blackhawks acquire David Rundblad and Mathieu Brisebois from the Phoenix Coyotes in exchange for a 2014 second-round pick
Rundblad gets a bad rap because he was kind of a turnover machine. Blackhawks fans cringed when he and Kyle Cumiskey were on the ice during the 2014 playoffs.
GM Stan Bowman liked Rundblad's size and continued to not realize his mistake when he re-signed Rundblad to the Blackhawks roster the following year. I think he could have been successful on another team where he wasn't a sixth/seventh defenseman, but not on a quick team like the 'Hawks.
Brisebois was simply a throw-in but never reached the NHL level.
Was it worth it?
Hold your breath, 'Hawks fans. The 2014 second-round pick traded to the Coyotes turned into Christian Dvorak.
Dvorak is one of the many young forwards the Coyotes are building around and has an extremely bright future. The former Team USA juniors star is fitting in quite nicely and has some serious moves. See below:
Because Rundblad and Brisebois didn't really work out, I don't believe this deadline trade was worth it.
February 28th, 2015: Blackhawks acquire Antione Vermette from the Arizona Coyotes for Klas Dahlbeck and a 2015 first-round pick
Well, the picture above should answer if this trade was worth it. Although Vermette didn't fit in right away, his presence was felt in the 2015 playoffs, winning key draws and scoring clutch goals.
In fact, he was pretty awful in tallying just three assists in 19 games during the regular season. But we don't remember him for that do we? We remember him for this:
And this:
Was it worth it?
Duh, the 'Hawks won the Stanley Cup. But let's analyze what the Coyotes got in return. Klas Dahlbeck was pretty much a bust for them, and their first-round pick in 2015 was Nick Merkley, who is still to be determined at the NHL level. So yeah, worth it.
February 27th, 2015: Blackhawks acquired Kimmo Timonen from the Philadelphia Flyers in exchange for a 2015 second-round pick
Timonen was added to the Blackhawks' 2015 playoff roster to provide some veteran leadership and depth on the blue line. Although he didn't play much and truthfully was a burden when he did, Timonen still was a part of a great Stanley Cup team. It was nice to see a player do this after 16 seasons in the NHL:
Was it worth it?
Look — it's always worth it when you win the Stanley Cup. Philadelphia drafted Travis Konecky in the second round of the 2015 Draft with the Blackhawks' pick.
Honorable mention
In a smaller trade in 2015, the Blackhawks traded TJ Brennan to Toronto in exchange for forward Spencer Abbott. Abbott is currently Rockford's leading scorer with 29 points in 45 games.
Unfortunately the only two photos available that we could use of Abbott were of him getting cross-checked.
February 26th, 2016: Blackhawks acquire Andrew Ladd, Jay Harrison and Matt Fraser from the Winnipeg Jets in exchange for Marko Dano and a 2016 first-round pick.
Trading for Andrew Ladd seemed like a good idea at the time, but he didn't do much to help the Blackhawks in the 2016 playoffs. This reacquisition of ex-Blackhawks trend really ticks me off sometimes because we're seeing these players for who they were, not who they are.
Ladd was in the last year of his deal and the Jets turned an expiring contract into a first-round pick and a top prospect.
It was unfortunate that the Blackhawks lost in the playoffs' first round to the Blues, but it was more unfortunate that Ladd didn't contribute more. Yes, he's great on the forecheck and he scored a couple goals, but how much better were the Blackhawks?
They definitely overpaid for an aging veteran based on his glory days with the 2010 'Hawks.
Was it worth it?
Nope, it wasn't. Ladd, Harrison and Fraser are all gone and the Blackhawks didn't win the cup with Ladd as a rental.
Marko Dano is struggling in Winnipeg now but still has talent. The Jets selected defenseman Logan Stanley with the 18th overall pick in the 2016 Draft.
February 26th, 2016: Blackhawks acquire Tomas Fleischmann and Dale Weise in exchange for Phillip Danault and a 2018 second-round pick
This could be the Blackhawks' worst deadline trade in the last five years. Danault, a former first-round pick in 2010, was held in AHL captivity until finally reaching the NHL in 2016.
A few injuries held him back but he finally got his shot with the Blackhawks. Known for his speed and defense, Danault looked to be a promising bottom-six forward for the 'Hawks.
In an effort to add more depth to the roster for another playoff push, the 'Hawks traded Danault and a 2018 second-round pick for Dale Weise and Tomas Fleischmann.
Weise rarely got ice time and never fit in on the 'Hawks, which sucks because he was so great in the playoffs for Montreal previously. Fleischmann fit in a little better but made little impact.
Was it worth it?
Absolutely not. Danault now plays big minutes for the Habs and they have an extra second-round pick in 2018. The Canadiens are back to being one of the top team in the East and made the best of two expiring contracts.
Conclusion
In conclusion, it seems like the quality of the Blackhawks' deadline deals has been getting worse year by year, and it's ironic that those reaping the benefits of the 'Hawks overpaying are former Blackhawks assistant GMs Kevin Cheveldayoff and Marc Bergevin.
Anytime you make a move at the deadline and you win the Stanley Cup, it's worth it. If the Blackhawks continue selling high on their prospects in exchange for a chance to win the Stanley Cup while their core is still in its prime, it's a good idea to make a move.
This article originally appeared on