Chicago Blackhawks Struggle In Their Eighth Week Of The Season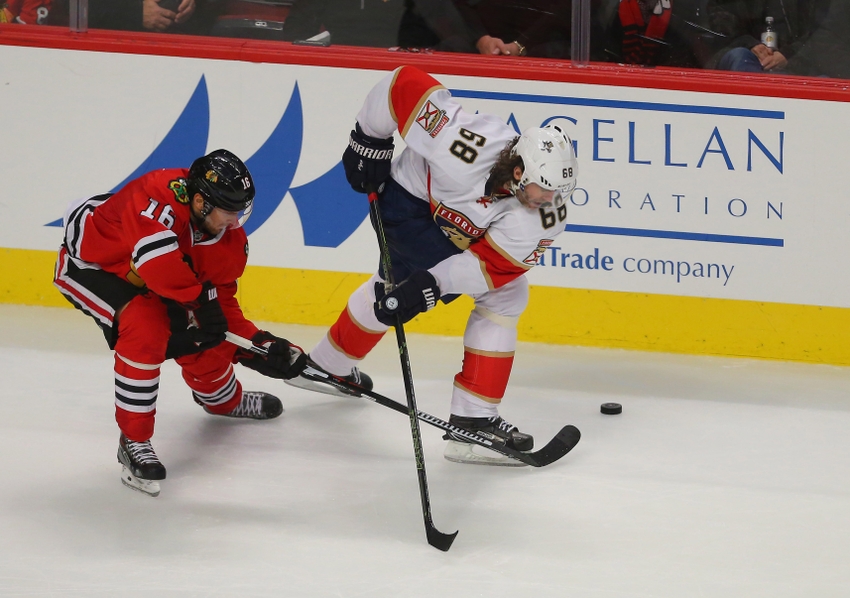 The Chicago Blackhawks are continuing to struggle as they finish their eighth week of the season. 
The Chicago Blackhawks have now played through eight weeks and 27 games.  They currently hold a record of 16-8-3, for 35 points.   This still leads the Central Division, but right now the Hawks don't exactly look like a team that can compete for a Stanley Cup.  Out of four games played this week, they were lucky to win the first two in overtime, and then predictably lost the second two.  Things aren't looking pretty right now, and it doesn't help that the Hawks are missing their captain and their starting goaltender.  Let's review this eighth week of the season.
Tuesday, 11/29, Hawks vs. Florida Panthers.  Win 2-1 in OT
The story here was that Richard Panik finally came out of his slump in a big way.  In this game, he scored his first goal since October 22nd, when he led the league with six goals after six games.  He tallied the only Hawks goal in regulation, and then the shootout winner.  Why he wasn't named the second star of the game behind Corey Crawford is beyond me.  I think they might have gotten Panik and Artemi Panarin mixed up in all the winning chaos.  Poor Panik should get his due.  Oh well, I'll bet he got the game belt from the players.  He also had a team high five shots on goal.
Panarin called it a sleepy game; you're always leery of that first game back after a long road trip. Crawford was exemplary again, stopping 38 of 39 shots, and only giving up a power play goal.  The Hawks were able to get it done, and added another two points to their record.
Thursday, 12/1, Hawks vs. New Jersey Devils.  Win 4-3 in OT
This was by far the best game of the week.  It's also what you call a team win.  You don't usually get goals from either Marcus Kruger or Niklas Hjalmarsson.  They're both known for their defensive attributes more than anything else.  But in this game, they both scored.  Artem Anisimov tallied as well.
It's completely fitting that Marian Hossa scored the game-winner in overtime.  He's become quite the clutch player.  This was his 12th goal of the season, and his fourth game-winning goal.  Not to mention he's had to hold up the fort defensively more with Jonathan Toews being out.  Ho-Ho-Hossa is contributing big time right now.
It should be noted that the third line of Dennis Rasmussen, Kruger, and Panik are looking especially strong in recent games.  As mentioned, it was this line that put together a goal against the Panthers.  Krugs scored a goal in this one, which was assisted by a great set-up from Rasmussen.  Panik also scored a goal that was disallowed.  These three are developing some great chemistry as a checking line.  Rasmussen and Kruger are also both contributing on the penalty kill.
Saturday, 12/3, Hawks at Philadelphia Flyers.  Loss 3-1
Well, the Hawks never seem to play well in the afternoon.  Besides Panarin and his line's pretty goal at the beginning of the game, the Hawks were simply out-worked and out-played.  I know for the most part they are finding ways to win.  But maybe they should find a way to have a fast start and a strong first period.  Even with a 1-0 lead, the Flyers out-shot the Hawks 16-6 in the first.
I guess it was about time for a stinker game.  Trevor van Riemsdyk came back from injury, and in my opinion, two of the three Flyer's goals were directly related to his rusty/bad play.
So Corey Crawford underwent an emergency appendectomy, and a kid named Eric Semborski had a front row seat as the backup for Scott Darling.  Pretty cool.  Darling said after the game that it's much easier to start every game than just play now and then.  Well, for the next two to three weeks, he'll have that chance while Corey gets better.  Let's see how Darls fares.
One more thing.  It was Patrick Kane's turnover that led to TVR looking bad (as discussed above) on the Flyer's third goal of the game.  And unless he thinks he's going to get the puck, he's pretty much just standing around.  I think Kaner needs Toews to come back to show him how to put in a full 60-minute effort.
Sunday, 12/4, Hawks vs. Winnipeg Jets.  Loss 2-1
This was Darling's second start in a row in the same amount of days.  But he was NOT the problem.  He actually stepped it up big time, stopping 30 of 32 shots, including four breakaways!  He was the one that kept them in the game.
Meanwhile, the Hawks had the worst first period of the season, only registering three shots on goal.  Oh, and a fight from Jordin Tootoo.  Things didn't get much better from there.  The Hawks weren't able to generate much in the way of quality chances.  The Jets played a solid game, and actually registered 47 hits.  The Hawks had 30.  That's just way too many hits.  Needless to say, it was a very frustrating game to watch.
Panarin tallied in the third period (from the right side!), but it just added insult to injury, as the Jets answered right back to make it 2-1.  Then the Hawks had a four-minute power play at the end of the game and weren't able to convert.  That's just unacceptable.
On the defensive end, TVR was actually scratched after only one game back!  Miracles do happen.  Campbell was moved up to the first pairing with Keith, and Hjalmarsson was pushed to the third line with Gustav Forsling, for some balance among the pairings.  I'm not sure these pairing are the answer, but we'll have to see how things progress.
The Chicago Blackhawks play a sub-par team in the Arizona Coyotes on Tuesday (please win!), and then the New York Rangers on Friday, and the Dallas Stars on Sunday.  Ugh.  One of the top teams in the league, and then a division rival.  It's not going to be easy, especially without Toews and Crawford.  But we have to move forward.
Let's Go Hawks!!!
This article originally appeared on