Chicago Blackhawks Roundtable: Trade Needs And Retiring Numbers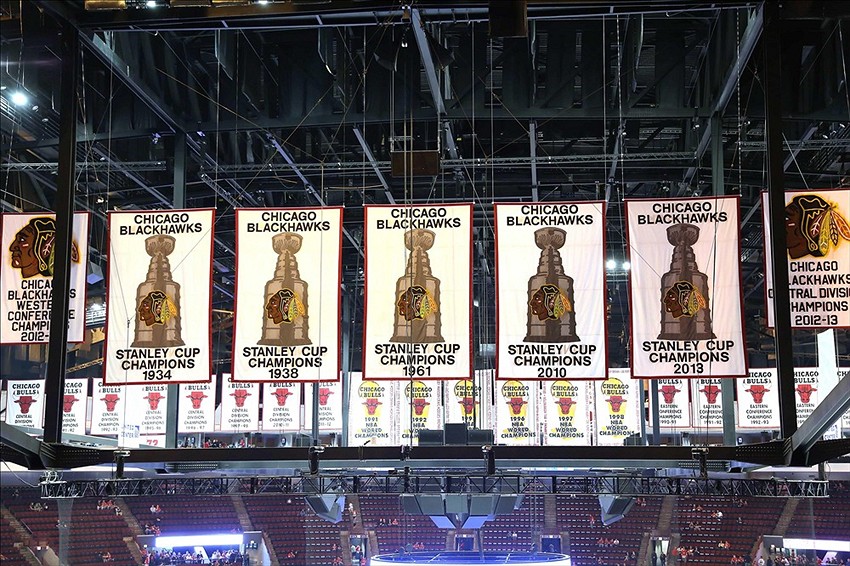 This week's Chicago Blackhawks roundtable takes a look at the still-a-ways-off trade deadline and some past Blackhawks
Welcome back for another of Blackhawk Up's Chicago Blackhawks roundtable discussions. We've got two doozies for questions today, as we usually do. One of the questions will certainly lead to some interesting discussion.
While the Blackhawks have been far from full strength of late, there's no doubt they're far from perfect even at full strength. So one of today's questions takes a look at moves that could eventually be made to improve the Blackhawks for a Stanley Cup Playoffs run.
The other question is certainly more controversial, but it's an interesting one considering the most recent One More Shift. The Blackhawks' initiative to bring back former players for one final skate at the United Center saw Steve Larmer get his turn Friday.
The same night, Larmer was reported as saying he didn't believe his number should be retired, despite many Blackhawks fans feeling opposite. So our second question will focus on that topic.
The official questions:
— What's a position/area the Blackhawks need to most upgrade by the trade deadline, and why?
— Whose number would you like to see the Blackhawks retire next, and why?
Let's get on with our Chicago Blackhawks roundtable.
Greg Bradshaw
Question 1: Special teams. And while that's not something that can just be upgrades dramatically by a trade, I feel that maybe adding some more depth players would work nicely.
However, the price would have to be rather low for some bottom-six role players. No big names, just maybe another veteran presence with some scoring touch.
For special teams to improve, the 'Hawks need to get creative with the groups on the ice. Maybe throw out four forwards and one D-man on the powerplay more often?
Chicago Blackhawks' Hockey Is Back, In Multiple Forms
Question 2: While Steve Larmer is the obvious answer here, I'm going to go with Chris Chelios. Illinois native and captain from 1995-99, he won two of his three Norris Trophies with the 'Hawks. He also got the Blackhawks to the Stanley Cup Final in 1992.
George Clifford
Question 1: To help remedy their struggles to score, the Blackhawks should seek a goal-scoring forward. Many candidates will likely be 2017 free agents, so veteran players having a good year like Radim Vrbata (Coyotes) and P.A. Parenteau (Devils) immediately spring to mind. Unlikely, you say? OK, then how about … Viktor Stalberg. Just kidding.
Question 2: Steve Larmer. If his recent turn on United Center ice for the Blackhawks' "One More Shift" promotion is any indication, Larmer should see his 28 raised to the rafters as the next Blackhawks number to be retired.
His team-record 884 consecutive games, 49 game-winning goals and a plus-minus of plus-182 pretty much seal the deal. That Larmer's not already in the NHL Hall of Fame borders on criminal negligence.
Gail Kauchak
Question 1: If the Blackhawks want to compete for another Stanley Cup, they need to gain another center at the deadline. Anisimov can't get over 50 percent on the dot for the life of him. And Kruger is great at faceoffs, but he struggles offensively. If only the Blackhawks could have a combination of the two.
Can we bring Vermette back? A girl can dream.
Colin Likas
Question 1: A bottom-six forward would be useful. The defense is in a lot better shape than it was last season. Coach Joel Quenneville simply refuses to use the optimal blue line group. Goaltending obviously isn't an issue either.
The Blackhawks haven't scored a whole lot of late and have been extremely top heavy, showing the problem that plagued last season's team still hasn't been fixed. While youngsters like Vincent Hinostroza, Ryan Hartman and Tyler Motte have shown flashes on offense, most of the scoring is still being done by the top six — and that's even with Jonathan Toews sidelined.
Jordin Tootoo and Andrew Desjardins aren't going to score much, if at all (at least Desjardins serves a penalty-killing/defensive forward purpose), and neither is Marcus Kruger. Richard Panik's scoring has also slowed. The Blackhawks need to make a move for a bottom-six forward and slot him into the lineup for Tootoo.
Question 2: Everyone wants to say Steve Larmer, and no doubt his number should be retired. I think it will be sooner rather than later (unless he declines the offer?). Chris Chelios is another solid option. It's not like he gave up on the Blackhawks and went to Detroit. Chicago moved him, and he had a huge impact there before he was traded.
So we look to recent names. Guys like Toews and Patrick Kane will find their numbers in the rafters (the team has quickly gotten past Kane's 2015 offseason). Marian Hossa, Duncan Keith, Brent Seabrook and even Niklas Hjalmarsson could see their numbers strung up, too.
But I'd like to nominate an active player who is no longer in Chicago, and who'll probably retire before any of the above mentioned guys (except maybe Hossa): Patrick Sharp. The Dallas Stars forward is going through concussion protocol for the second time this season, even seeing a specialist recently. Who knows what his career trajectory is now?
Sharp spent parts of 10 seasons in Chicago, serving as one of the first pieces of the team's reboot to being a successful franchise. He was an important part of all three Cup wins in this era, tallying 511 points in 679 regular-season games and 80 points in 117 postseason games, including totals of 22, 16 and 15 in the Cup-winning seasons. Reward the handsome one.
Mario Tirabassi
Question 1: The Blackhawks losing Jonathan Toews to injury shows the value he brings to the team. Artem Anisimov is a nice second-line center, but he is not a first-line center.
Marcus Kruger, Dennis Rasmussen and Vince Hinostroza aren't long-term third-line center players. At least as of right now. I still feel that the Kruger contract extension was too high and if Hinostroza can fill out his frame or Nick Schmaltz can develop at the center position, the Blackhawks might need to find a reliable guy who could make it as a second-line center on most teams, but would be a third-line guy on the Blackhawks.
Question 2: There is a reason that #Retire28 is a thing. Steve Larmer's No. 28 is the next to be retired by the Blackhawks. Before 19, 88, 2, or any other number goes up into the rafters, Larmer's 28 needs to be there.
One of the most consistent and hard-working players in franchise history, Larmer made the 1980s era Blackhawks engine go. Even Denis Savard himself says that without Larmer, he wouldn't have been the player he was. No question, #Retire28.
This article originally appeared on