Chicago Blackhawks Roundtable: East Opponents And Points Leaders
Colin Likas/FanSided via Blackhawk Up

Fansided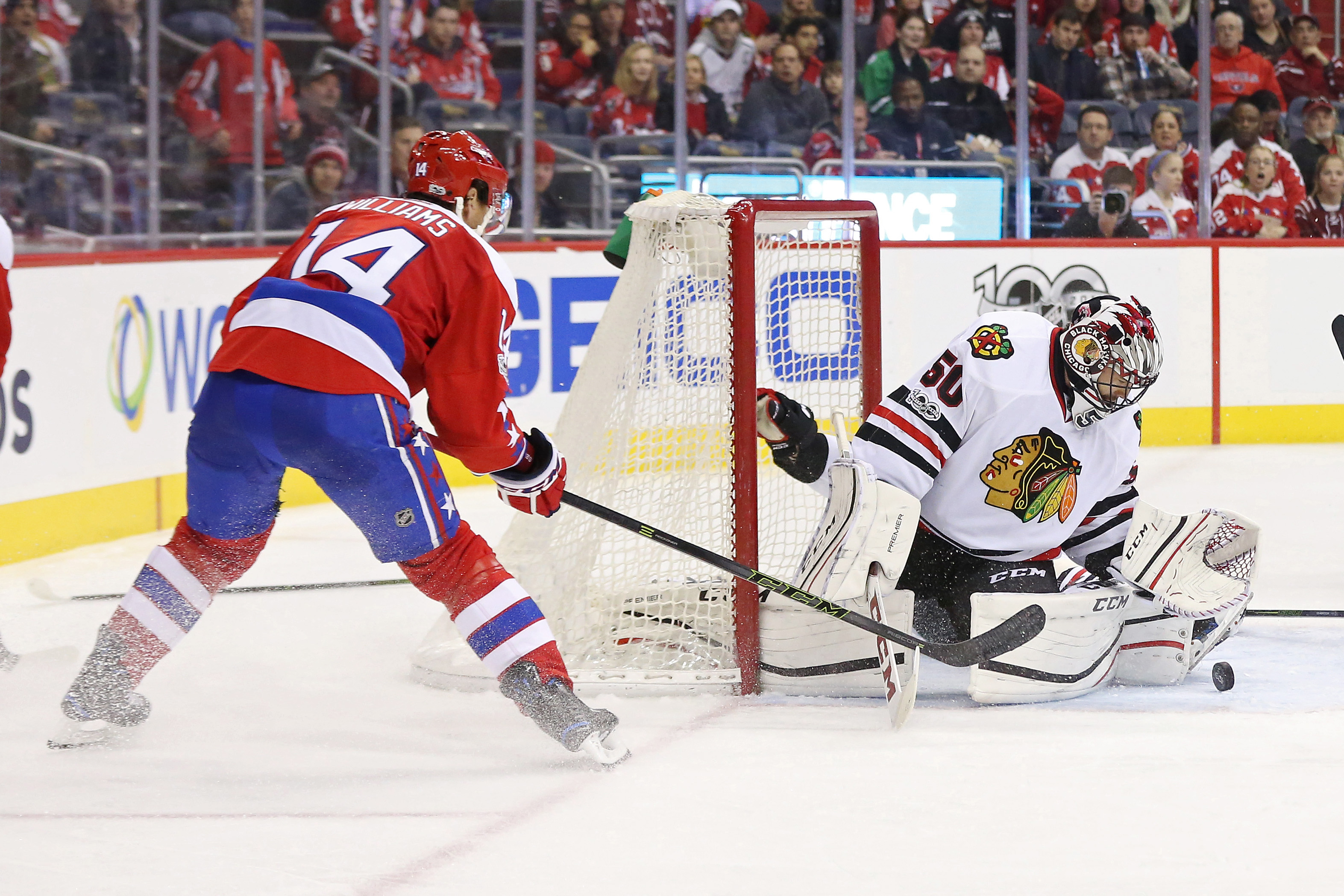 In this week's edition of the Chicago Blackhawks roundtable, we take a look at the conference "across the pond" and the team's points rankings
The Eastern Conference is sure on a roll of late, isn't it? The Columbus Blue Jackets, Washington Capitals, Pittsburgh Penguins, New York Rangers and Montreal Canadiens have been a tough crop to stop. The Chicago Blackhawks are doing their best to keep pace from the West.
While there's far from a guarantee the Blackhawks make the Stanley Cup Final this season — as shown in their previous two setbacks, against Washington and Minnesota — it's always interesting to think about matchups we don't always see.
With the Eastern Conference as hot as it is at the top, we're using half of today's Chicago Blackhawks rountable to look at Blackhawks-Eastern Conference matchups. Here are both questions we posed to the Blackhawk Up crew:
Question 1: Which of the five standout Eastern Conference teams (Columbus, Washington, Pittsburgh, New York Rangers and Montreal) would you be most interested in seeing the Blackhawks take on in a seven-game series, and why?
Question 2: Which one of the Blackhawks forwards from outside the Panarin-Anisimov-Kane line do you think will finish with the most points this regular season, how many points and why?
As a side note for the second question, Duncan Keith is currently the leader in that category with 31 points, two behind Artem Anisimov and well behind Artemi Panarin (43) and Patrick Kane (47).
With the questions out there, let's see what our writers had to say this week.

Greg Bradshaw
Question 1: Personally, I think a matchup with Washington would be the most intriguing. It's obvious that the Capitals are a very well-rounded team from top to bottom. However, the Caps haven't had any success in the playoffs while the Blackhawks typically become a whole different kind of animal en route to the Stanly Cup.
With so much on the line for both teams, I would be curious to see which team responds positively. Alex Ovechkin has never raised the Cup, so it would interesting to see the outcome of the two teams going at it.
Question 2: While many 'Hawks fans have seemingly thrown in the towel on Jonathan Toews this season, the captain will be the player to finish within the top five in points for the Blackhawks this year.
Sure, his numbers are down and his luck has been beyond terrible so far, but the season will turn around. Hopefully before it may be too late as the 'Hawks are in desperate need of a boost from the top line especially.
George Clifford
Question 1: New York Rangers. The Blueshirts score a boatload of goals off the rush, but tend to give up grade-A chances going the other way. They play a mostly one-dimensional speed game in front of mediocre goaltending this year from Henrik Lundqvist. They'll falter under the fatigue and pressure of a seven-game series against the Blackhawks.
If not them, bring on the Blue Jackets, who will have difficulty winning consistently down the stretch.
Question 2: Marian Hossa. Already leading the others with 25 points, Hossa will finish with 25 goals and 20 assists for 45 points on the season Playing in all situations, he'll stay healthy and compete for the team lead in goals, while his playmaking will net a bunch of helpers.

Sean Fitzgerald
Question 1: The most interesting team for me would be the Montreal Canadiens. The Habs have former Blackhawks assistant GM Marc Savard running the team. They also have coast-to-coast star and former Blackhawk Phillip Danault playing well. Danault has 9 goal and 15 points for 24 points this season.
Carey Price versus Patrick Kane would be a great matchup, top scorer vs. top goalie. I would also like to Ryan Hartman take on Andrew Shaw head-to-head to prove the Blackhawks got the better deal.
Question 2: Marian Hossa will finish with the most points outside the Kane line. He currently has the most goals outside that line. He will finish with over 20 goals and close to 60 points.
The play of Jonathan Toews and Vincent Hinostroza will help propel Hossa to the most points.
Aaron Goldschmidt
Question 1: Pittsburgh for sure. Playing the reigning Stanley Cup champs for a chance for them to repeat would be phenomenal. We got to see Jonathan Toews vs. Sidney Crosby in the Stadium Series game, but never in a playoff series. It would probably be as exciting as the 2013 Cup series with Boston.
Question 2: It's a little late for Toews to catch up in points, so I'm going with Duncan Keith. He's on the ice more than anybody else and never has a problem just throwing it towards the net with an open lane. 50-60 points is probably where he will end up at the end of the season.

Gail Kauchak
Question 1: Good God, not the Capitals! The Caps are just too fast and too good. Even with the 'Hawks' playoff experience, I'm not sure they could match up in a seven-game series. Sure, they'd win a few games, but they would be outplayed in the end.
I have no interest in Pittsburgh; Sidney Crosby and their ugly uniforms make me cringe. The Rangers always choke in the playoffs, and the only players that really intrigue me are the goalies (Henrik Lundqvist and Antti Raanta). Montreal would be fun in that they're also an Original Six team. And who wouldn't want to watch the Andrew Shaw shenanigans?
But the team I'd really like to see the Chicago Blackhawks play would be the Columbus Blue Jackets. The Blue Jackets remind me of the Chicago Blackhawks team that won the Cup in 2010. They are young and fast, and they have so much talent. They're too naïve to even understand the pressures of the playoffs, so they have nothing to lose. Except perhaps Brandon Saad.
Let's face it, fans. Wouldn't it be great to be able to watch Saad up close and personal for a seven-game series? And then there's head coach John Tortorella. Heck, the press conferences alone would be high entertainment.
But most importantly, even with all the assets listed above, I still think the 'Hawks can beat Columbus.
Question 2: Oh boy, that's a tough one. In my opinion, it's a toss-up between Jonathan Toews and Marian Hossa. Hossa and then Toews are currently fourth and fifth on the team among forwards in points (behind Kane, Panarin and then Anisimov). Unless something drastically changes, these two will continue to be on the first line together, so they will have plenty of opportunities to put up points.
Let's also remember the question asked how many points will be scored, not goals. Chances are, if Toews scores, it could easily be assisted by Hossa, and vice versa. This is a win-win for everyone. Hossa has had a resurgence this season, while Toews has struggled.
With that being said, I foresee Hossa slowing down a bit, while Toews will get hot. Shoot, Toews has been working so hard and getting so many chances. It's going to pay off eventually. In the end, I think Toews will finish off the season strong, just behind the trio of Kane, Panarin and Anisimov. Heck, he might even finish in front of one or two of them. And Hossa won't be too far behind.
Colin Likas
Question 1: The New York Rangers. Alain Vigneault's bunch just cannot play defense at the rate necessary to succeed in the Stanley Cup Playoffs. If they add multiple solid options to their defense at the trade deadline — nearly impossible unless they mortgage their entire future on this season — then I might change my mind.
Sure, the Rangers have plenty of weapons to stop on offense. But wouldn't that just be part of the fun in facing this team? Plus, one of those weapons is Kevin Hayes (certainly not a Blackhawks favorite), while another is Rick Nash (also not a Blackhawks favorite).
Henrik Lundqvist has had a really off year in net, and he hasn't always brought his A-game to the postseason. I don't think Antti Raanta is like Antti Niemi, either. With a lackluster defense in front of them, the Blackhawks should be able to compete with New York's staggering offense.
It'd be a six-game series minimum, but it'd be highlight entertaining with plenty of storylines.
Question 2: Probably Duncan Keith. The fact the guy has two goals on the season and is still fourth on the team in points is absurd. He has a shooting percentage of 2.0, while his career mark, though not amazing, is more than double that at 4.7.
So Keith is due for some more puck luck when he shoots it. Add into that him constantly being out there with the top two lines, which produce just about all of Chicago's points, and there's little doubt the assists will keep rolling in.
So I like Keith to finish with the most points among the Blackhawks outside the Panarin-Anisimov-Kane line. He'll probably wind up with more than Anisimov, too. And I wouldn't totally be stunned if we can say the same for Marian Hossa.
This article originally appeared on