Chicago Blackhawks Roundtable: Bye Weeks And Stretch Running
Colin Likas/FanSided via Blackhawk Up

Fansided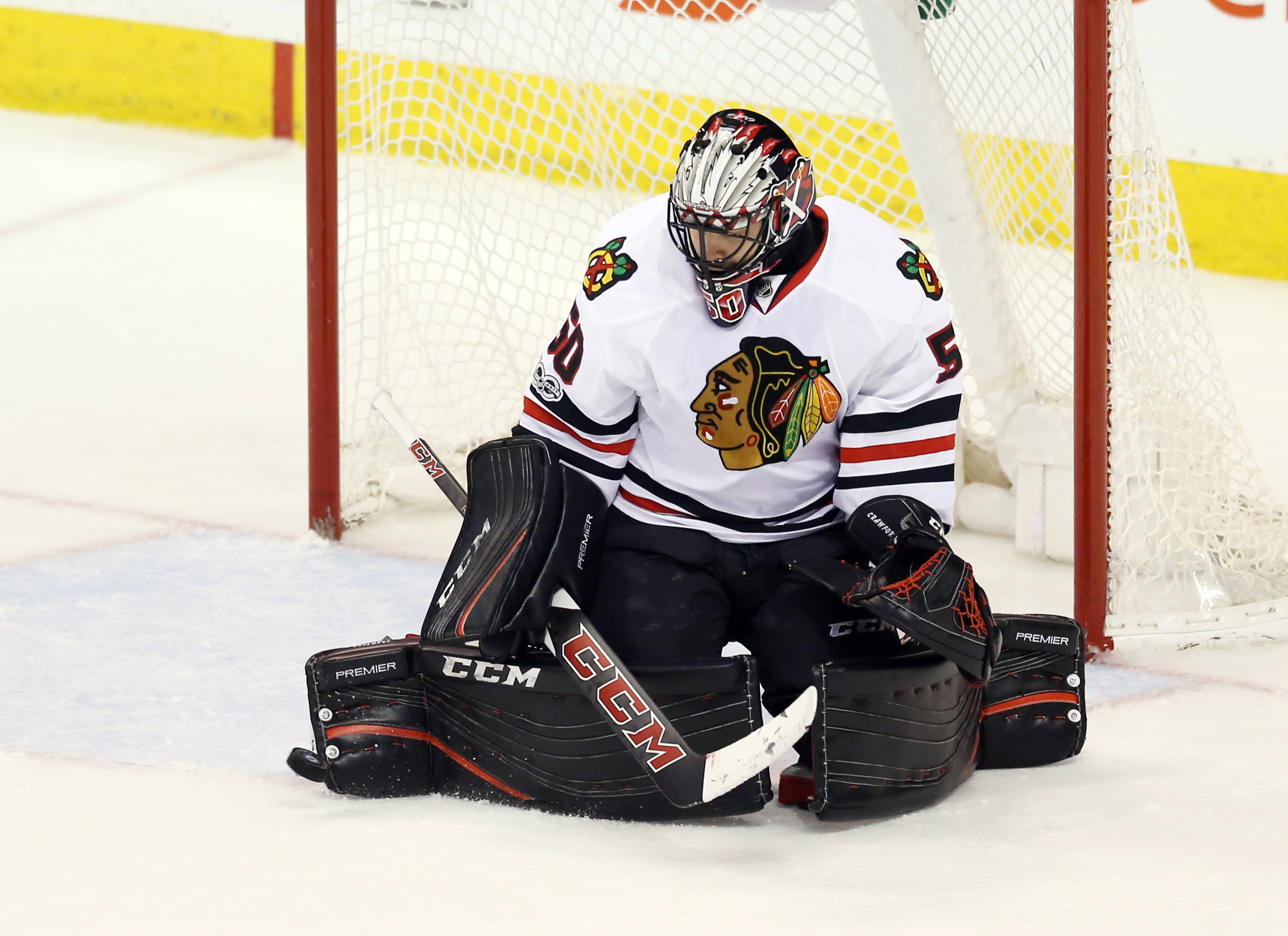 An important time is coming up for the Chicago Blackhawks — after the important off time they're currently engaged in
We don't have any game action to talk about until the end of this week when it comes to the Chicago Blackhawks. Good thing we have items like our weekly roundtable the fill the void the Blackhawks are currently leaving in our hearts.
Of course, they didn't decide to not play for most of the week — though I doubt most of them mind. The NHL's new bye week idea has hit the Blackhawks this week, constituting a mandatory five-day break.
The Blackhawks defeated the Edmonton Oilers last Saturday and will not compete again until they host the Oilers this upcoming Saturday. It's a good time to get some rest, unless you got sent to the AHL yesterday.
After the bye week ends, though, the Blackhawks will be in a critical part of their regular season. Granted, they're fairly well locked in to their No. 2 spot in the Central Division, but it's never bad to pile up points and continue playing well as you get closer to the postseason.
So today, we're looking at both of these topics: the bye week and the stretch run. Here were the two official questions for today's Chicago Blackhawks roundtable:
Question 1: Do you think the bye week is a good idea for the NHL, and why or why not?
Question 2: Which member of the Blackhawks' core do you think needs to perform the best for the Blackhawks to succeed down the stretch?
Let's see what our esteemed panel of Blackhawks and hockey experts had to say on these matters.

Greg Bradshaw
Question 1: The bye week is absolutely a good thing despite leaving us NHL fans pondering on what to do for five days. However, with the Blackhawks on such a hot streak it could affect the level of play negatively or positively.
For the sake of the players, it's a great thing. We will just hope the 'Hawks can keep up the momentum.
Chicago Blackhawks Send 4 To AHL For More Playing Time
Question 2: The answer is 100 percent Patrick Kane and Jonathan Toews. Throughout the winning streak (and a few games before), the two cornerstone players have really been bringing it every game.
The results speak for themselves, and both players are leading by example which is so necessary with such a young group of guys.
George Clifford
Question 1: Results so far indicate that teams coming off a five-day bye week are at a disadvantage, having to shake off rust while facing an opponent playing at full tempo. Mid-season downtime should be scheduled at the same time for all teams to put everyone on equal footing. Adding a couple days to the All-Star break or the Christmas break would fit this model.
Alternatively, the schedule could be decompressed a bit to avoid scenarios like the Blackhawks having to play seven games in 11 days from March 9-19.
Question 2: Corey Crawford. If it comes down to the extended performance of one player, it has to be the goaltender.
Just like he carried the 'Hawks for much of the early season, if Crow can play at a consistently high level down the stretch, he is fully capable of stealing some games when the rest of the team might falter. The Blackhawks could ride hot goaltending deep into the playoffs.
Aaron Goldschmidt
Question 1: Yes, the bye week is a good idea. Due to a compressed schedule, this was probably the only compromise the NHL and NHLPA could agree on that made up for the lost time from the World Cup.
It's just unfortunate the 'Hawks go into it red hot, winning five of their last six. Let's hope the guys get a few days off then start preparing for the home stretch.
Question 2: Corey Crawford probably needs to perform the best. Scott Darling played great in his absence, which is always in the back of coach Joel Quenneville's mind.
Crow's games versus Minnesota and Winnipeg were great. Minnesota might have been a goalie game. I'd say right now that the confidence and success of the Blackhawks goes as Crawford goes.
Gail Kauchak
Question 1: The whole idea of the bye week is for the players to have a chance to rest for an extended period in the middle of the busiest time of the season. For the Chicago Blackhawks, they can relax their bodies in anticipation of a long playoff push.
But the schedule was already condensed because of the World Cup of Hockey in September. So this means all the teams are going to have to make up for this time off by having a very busy schedule at another time. If you ask me, this kind of defeats the purpose.
But I'm also not a player. They negotiated this, so apparently it means something to them. I will say that as a fan, it's going to be a long week!
Question 2: I honestly don't think it's a matter of any one player stepping up. Hockey is a true team sport, which is what makes it so great. Sometimes you have more of a chance to contribute than others.
For example, last Wednesday night in Minnesota, the Jonathan Toews line had its turn. Each member of that line, Toews, Nick Schmaltz and Richard Panik, scored a goal.
On Friday in Winnipeg, every member of the second line scored (Patrick Kane, Artemi Panarin and Artem Anisimov).
In Edmonton on Saturday, it was a combination of many different players, including defense. Sometimes you just need your goaltender to stand on his head.
The idea is for everyone to be on top of their game, and to be ready to take advantage of every opportunity that is given to them. Everyone has a role to play to help the team win, and no one knows this better than coach Joel Quenneville. Don't count this team out yet, my friends.

Colin Likas
Question 1: While the bye week is a function of the World Cup of Hockey being played prior to this season, I think the bye week is a good idea for the NHL in general and needs to stick after this season.
It's kind of incredible that hockey players don't keel over mid-game with how often they have to play. Eighty-two games from early October to early April may not seem like a ton to a non-viewer, but there are back-to-backs and stretches like the Blackhawks have in March (seven games in 11 days) that make it extremely difficult to be focused all 82 games.
Combine the hard-hitting, fast-paced nature of today's NHL, and you have a sport from which guys need some sort of break. Not everyone gets the All-Star Game as a break, and the longest in-season break that isn't a bye week is typically no more than four games.
The bye week will probably fit in even more nicely in seasons in which there isn't some sort of tournament (World Cup, Olympics) to worry about. I'm all for it, even if it takes one's favorite team off the screen for close to a week.
Question 2: My first answer to this was Corey Crawford, but I think I have to go with a 1A/1B deal here. Crow, as the starting goaltender who carried Chicago through the first couple months of this season, needs to be on top of his game essentially every night.
This Blackhawks group does not possess the puck terribly well, and it's also not abundantly quick. Both of those issues lead to Crow facing more chances in a typical game. And with the Blackhawks offense heating up some days, then going missing on others, you never know how much support he'll get.
Having a strong, confident Crow is good to get the Blackhawks points in the regular season and even better come playoff time, as we know he can carry his team through stretches against the league's best under the brightest lights.
So I'm going with Crow at 1A. Now, in the past, the team's offense and defense have both gone as Duncan Keith has gone. But Keith has had a so-so season, still producing decently on offense but seemingly being a step behind on defense.
To make up for that, Niklas Hjalmarsson has had to be incredibly adept in the defensive zone. And I think that makes him 1B for importance to the Blackhawks down the stretch.
Hjammer isn't just a shot blocker, although he does that really, really well. He's become the figurehead of this offseason by cutting off passing lanes, winning board battles and making impressive passes to clear the zone or even start offensive rushes.
We've seen Hjammer evolve quite a bit in his time with the Blackhawks, and it could be argued he's pushing for No. 1 D-man honors this season. As such, continued strong play from him is about as critical for the Blackhawks down the stretch as continued strong play from Crow.
Juliana Nikac
Question 1: I do think the bye week is a good idea for the NHL. It gives the players, coaches and personnel a chance to rest for five or six days. There's no thinking about hockey. It's a rough 82-game season from October to April, and if your team makes the playoffs, there's basically no time to rest.
However, I think the bye week can also not be good, in some ways. Once a team gets out of the zone, it may take a while for them to find their mojo again. When you're used to being on a certain schedule, your body may take a few days to get used to the constant work again.
Question 2: For the Blackhawks to succeed, the entire core (Patrick Kane, Jonathan Toews, Duncan Keith, Brent Seabrook, Marian Hossa, Niklas Hjalmarsson, Corey Crawford) needs to perform their best.
There can be times when a player has a difficult time getting into the swing of things (i.e. Toews prior to the Christmas break), and the rest of the core can put the team on their backs and carry them through the tough times.
Every player needs to contribute as best as they possibly can. For example, Kane needs to tally as many points as possible. Toews needs to be himself: a solid two-way center. Hjalmarsson needs to close the gaps and make those timely blocks. Hossa has to be … well, Marian Hossa.
The whole team has to work together, yes, but the individual players just need to do what they do best.
This article originally appeared on