Chicago Blackhawks' New Facility Should Invite College Hockey
Aaron Goldschmidt/FanSided via Blackhawk Up

Fansided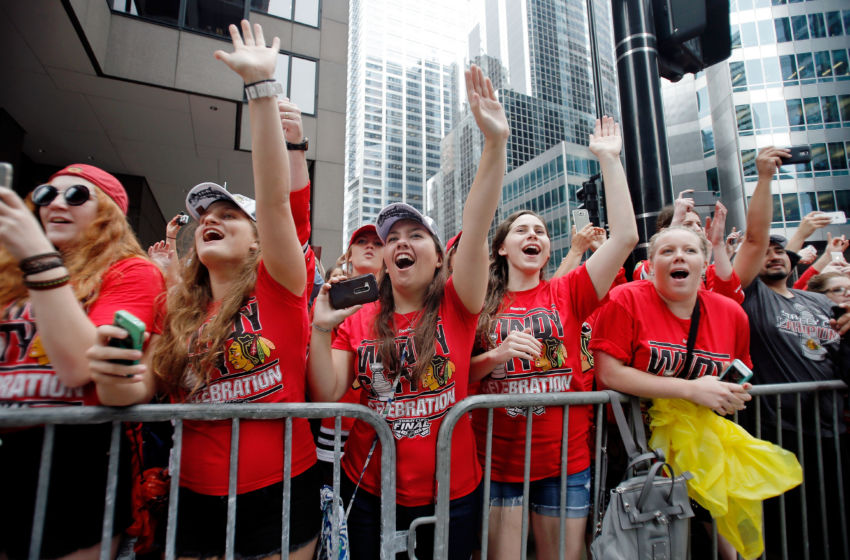 The absence of college hockey in Illinois has forced local players to play out of state, but the new Chicago Blackhawks practice facility could provide a home for a new program
Collegiate sports in Chicago have always been a tough draw. Because of the mass amounts of professional sporting events (such as Chicago Blackhawks games), music and other forms of entertainment, Chicagoans tend to slight college sports as inferior.
We do have several universities in the Chicagoland area, but few are successful when it comes to athletics. To this day, Loyola University is the only Illinois school to win a NCAA national championship in basketball (1964) even after so many great players have come from Chicago.
The problem is that elite recruits leave our state to attend better programs elsewhere. And such is the case with hockey, considering we have none.
Growing up in Chicago, every kid played basketball or at least tried. The cool fads were rocking your AND1 T-shirt, wearing a pair of red Bulls basketball shorts and sporting some sort of Jordan kicks. Everybody wanted to be like Mike.
The popularity of Michael Jordan and the Bulls of the '90s inspired many of basketball's great players today, which gives reason for Chicago to invest in amateur hockey.
Since winning three Stanley Cups in seven years, the Blackhawks have been the hottest ticket in town. So hot, it's rare you can get into the UC without paying upwards of $100 to sit in the nosebleeds, unless a certain baseball team from the north side is in the playoffs at the same time.
Kids in the city and surrounding suburbs are watching Patrick Kane and Jonathan Toews on TV like we did Jordan, hoping someday they could too be Stanley Cup champions. These dreams and aspirations may only become reality for a small fraction of the kids, but giving them the resources they need to succeed only strengthens their chances.
Let's take a look at why college hockey should be in the Windy City.

Chicago is absolutely hockey-crazy right now
The city is so hockey-crazy that 'Hawks fans show up to conventions, training camp sessions and even prospect camp session. There is no question this support for hockey would translate to the collegiate level. Here are a few reasons why.
Cheaper tickets
Ticket brokers in Chicago have made a living the last decade on the resale margins of Blackhawks tickets. In 2015 when they went to the Stanley Cup Final, the cheapest ticket available for Game 6 started at around $1,300. For a regular-season game, you're looking at around $100 plus parking, food, etc. Taking your family is simply not an option for many of us.
Chicago Blackhawks' January Struggles Are Nothing New
Tickets for college hockey are much cheaper, ranging from $15-$30. At that price, you could bring a family of four, park, buy dinner at the game and maybe get a few souvenirs for the kids. I know the AHL's Chicago Wolves have made games affordable in a similar fashion, but they're up in Rosemont.
With more and more college hockey players being drafted, the competition would not reflect the cheaper price tag. If a solid program is put together, hosting powerhouses like North Dakota, Boston University and Minnesota could provide a similar kind of entertainment to folks who can't afford to see the 'Hawks.
Keeping talent in Illinois
A lot of good, young hockey players from Illinois decide to go to college in the Midwest to stay close to home. But what if they could play at home?
If there was a Division I hockey program in Chicago where Mom and Dad could drive in every weekend to watch you play, wouldn't that be a tough offer to refuse? And the possibility of your games being played in the Blackhawks' backyard, just hundreds of feet from GM Stan Bowman's office?
The Big Ten currently only has six teams in its hockey conference: Minnesota, Wisconsin, Penn State, Michigan and Michigan State. Should a Chicago school enter this conference, it could sway many of their recruits to come to the biggest city in the Midwest.
Scouts are constantly in town for Blackhawks games, so it would be easy for them to peek their head in next door.
Another perk would be the resources. The Blackhawks are set to open their practice facility later this year with state-of-the-art training equipment and multiple rinks. The Blackhawks have been public already about the community's access to the facility to grow the brand of the sport in Chicago.
Live Feed

chicago blackhawks
Blackhawks fans will support you
It seems like rain, snow, sleet or hail, Blackhawks fans will come out to support their team. Given a lot is contributed to winning, this team is supported in more ways than buying tickets.
The sea of fans at the Stanley Cup parades, the packed Blackhawks bars to watch games on weeknights and the overwhelming support the 'Hawks receive on the road are all signs that there almost isn't enough hockey to go around. The Blackhawks are closing in on the record for most consecutive sellouts in the NHL at the United Center as well.
I remember the year of the most recent lockout in 2013, some of the Blackhawks were playing in the American Hockey League to stay fresh while the collective bargaining got sorted out between the NHL and NHLPA.
The Chicago Wolves hosted the Rockford IceHogs in Rosemont, a game that featured Blackhawks players Marcus Kruger and Nick Leddy. The All-State Arena was packed with screaming 'Hawks fans in a rare sold-out AHL game.
One thing Chicago has never had that Michigan, Wisconsin, Minnesota and North Dakota have is frozen lakes. Kids don't spend all day skating around playing pond hockey in Chicago like they do in those northern states or in Canada.
But with the emergence and success of the Blackhawks, the curiosity of kids trying to play hockey has opened up so many opportunities for the youth in our community. Especially thanks to the Blackhawks organization.
Conclusion
Yes, there are several obstacles to hurdle in order to institute a D-I hockey program in Chicago. School, location and funding are all good reasons. The idea isn't bulletproof, but there is definitely an opportunity here.
Northwestern could be a team that takes advantage of the amateur hockey market. It advertises as Chicago's Big Ten team even though the Wildcats are based in Evanston.
Another school that could step into the market could be the University of Chicago. It would be fantastic to host the Ivy League schools just north of the Hyde Park campus.
This year, the Frozen Four will be held at the United Center April 6 and 8. Do yourself a favor and either check it out or watch it on TV. It might spark some interest and you may hear a name or two that you recognize. And maybe someday a school from Illinois could earn the opportunity to participate, hopefully sooner rather than later.
This article originally appeared on