Chicago Blackhawks Morning Links- Shark Infested Waters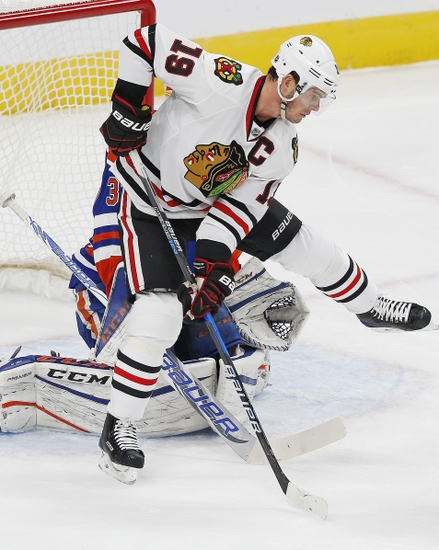 Good morning Chicago Blackhawks fans! The Chicago Blackhawks are 2-2 so far on the circus trip, and tonight they head to the Shark Tank to face San Jose on Thanksgiving Eve. 
The circus trip has given us a mixed bag of results with a .500 record through 4 games.  The two losses the Hawks have taken on the trip have been two extremely ugly games.  The Hawks never really had a chance to win either the Winnipeg Jets game or the Edmonton Oilers game.
That being said it's an 82 game season so you can throw out a game or two during the season, but it's the fact that the Hawks are trailing in nearly every game digging them hole after hole and now they aren't able to climb out of.
I did ask on Twitter how concerned you were about the Hawks recent stretch of games that include two shut outs, here are some of the responses.
@Blackhawk_Up Yes. Between the proven veterans (Toews, Kane, etc) and all young guns, the Hawks have too much fire power to get shutout.

— Lance Crombar (@LanceC78) November 22, 2016
@Blackhawk_Up Nope, growing pains with the young bucks includes inconsistency. OK now but not in March! 51 on left side a big factor too.

— SteveY HockeY (@SteveYatsushiro) November 22, 2016
@Blackhawk_Up Hmmm 2 losses by shut outs and 2 wins. 2 wins scratched out of two middling teams. Yes worrisome !! Can't be understated!!

— Ed Picco (@epicco77) November 22, 2016
So tonight we get to see what the Chicago Blackhawks are made of after getting humiliated in Edmonton.  The one thing about carrying a bunch of youth on the roster means you have some really fowl games on the road especially on long road trips like the circus trip.  The other thing about having a bunch of youth is that they can rebound quickly. Let's hope they do tonight in San Jose.
Here are some Chicago Blackhawks morning links to start your Thanksgiving Eve.
What is Andrew Desjardins favorite show? Well here you go (Blackhawks)
What is Stan Bowman's thought process about the 2017 NHL Draft (Madhouse Enforcer)
So what's going on in Rockford and what kind of week did the Ice Hogs have (The Committed Indian)
What's going on with the slow starts for the Chicago Blackhawks and the young Blackhawks (CSN)
How the Vegas NHL franchise came up with the Golden Knights nickname (Bleacher Report)
So what do you think of the logo? Pass or Fail Vegas (Puck Daddy)
This article originally appeared on