Chicago Blackhawks' Kane, Toews Show Both Sides Of Linemate Debate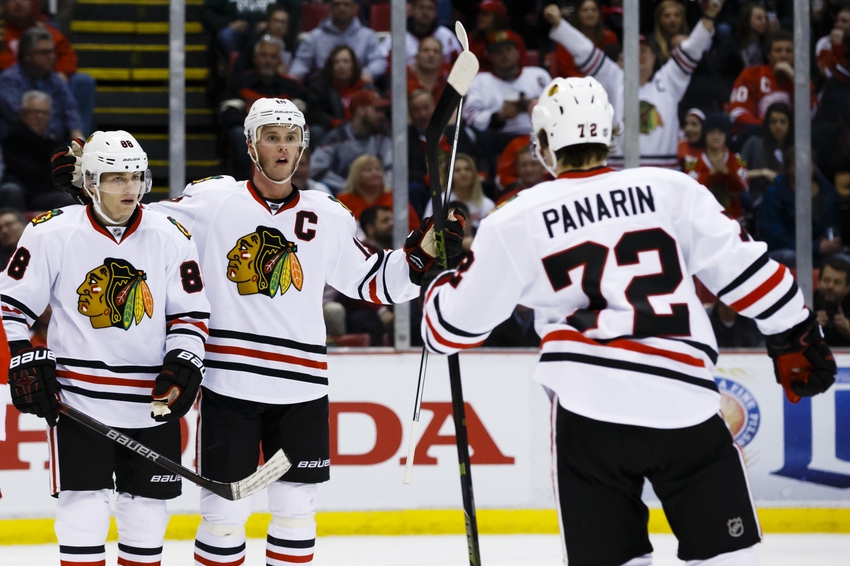 How important is it to have consistent linemates in the NHL? The Chicago Blackhawks' Jonathan Toews and Patrick Kane can probably tell you
Chicago Blackhawks coach Joel Quenneville is known for his line blender, among other things. Essentially, the mustache man will jumble his forwards together in all sorts of formations until he starts getting consistent two-way output. Sometimes, defensemen even slot in at forward.
There are upsides and downsides to this, of course. The upsides would be all the forwards get a chance at on-ice action with each other forward, and eventually Q will come up with lines that can push the Blackhawks to consistent success.
On the flipside, no one is able to get comfortable with any teammates, and guys' rhythm at both ends of the ice can be drastically thrown off.
So what has this meant for guys like Jonathan Toews and Patrick Kane, the Blackhawks' two biggest stars and highest-paid players. Well, it's meant quite a lot in recent seasons.
Looking at the stars' linemates
Kane is coming off a season in which he led the league in points with a career-best 106. That garnered him Hart Trophy, Art Ross Trophy and Ted Lindsay Award recognition.
Toews is coming off a campaign in which he posted his lowest point total (58) in a full season since 2011-12, just four points better than his rookie season of 2007-08. But he also finished fourth in Selke Trophy voting and was the league leader in faceoff percentage (58.6) among those whose job it is to consistently take draws.
A frequent argument is that Kane is paid to find the net and help his teammates find the net multiple times a game, while Toews scoring is a bonus in addition to his various other duties, in the defensive zone and as team captain.
But you're not paying someone more than $10 million a season to play good defense and win faceoffs, especially when that same player has nearly touched 80 points in a season. I'm sure Toews would say as much.
So that brings us to the linemate discussion. Kane last season was frequently paired with newcomers Artemi Panarin and Artem Anisimov, leading to Kane's breakout year and Panarin winning the Calder Memorial Trophy.
Toews was paired with Marian Hossa and … a lot of other teammates. The top line was far from being a top line as far as offensive output.
Let's take a look at the guys Kane and Toews have contributed on goals with over the last three regular seasons. This is tracking all forwards Kane and Toews were on the ice with for a Blackhawks goal since the 2013 lockout season, and it's only counting regular-season goals.
Kane's goal-scoring linemates
Kane's 2013-14 regular-season stats: 69 games, 29 goals, 40 assists (69 points), 12.8 shooting percentage, 55.6 percent Corsi-for
Kane's 2013-14 regular-season linemates on goals for: Patrick Sharp (20), Jonathan Toews (14), Andrew Shaw (12), Kris Versteeg (8), Brandon Saad (8), Marian Hossa (5), Michal Handzus (5), Brandon Pirri (3), Ben Smith (2), Bryan Bickell (2), Jeremy Morin (1), Joakim Nordstrom (1), Marcus Kruger (1), Brandon Bollig (1)
Kane's 2014-15 regular-season stats: 61 games, 27 goals, 37 assists (64 points), 14.5 shooting percentage, 54.7 percent Corsi-for
Kane's 2014-15 regular-season linemates on goals for: Sharp (20), Toews (15), Brad Richards (13), Kris Versteeg (13), Bickell (7), Hossa (5), Saad (5), Shaw (3), Smith (3), Kruger (2)
Kane's 2015-16 regular-season stats: 82 games, 46 goals, 60 assists (106 points), 16.0 shooting percentage, 53.1 percent Corsi-for
Kane's 2015-16 regular-season linemates on goals for: Artemi Panarin (56), Artem Anisimov (23), Toews (13), Teuvo Teravainen (7), Shaw (5), Hossa (3), Andrew Ladd (2), Kruger (1), Dennis Rasmussen (1)
Toews' goal-scoring linemates
Toews' 2013-14 regular-season stats: 76 games, 28 goals, 40 assists (68 points), 14.5 shooting percentage, 59.8 percent Corsi-for
Toews' 2013-14 regular-season linemates on goals for: Sharp (37), Hossa (23), Kane (14), Saad (5), Shaw (2), Smith (2), Versteeg (1)
Toews' 2014-15 regular-season stats: 81 games, 28 goals, 38 assists (66 points), 14.6 shooting percentage, 56.8 percent Corsi-for
Toews' 2014-15 regular-season linemates on goals for: Hossa (29), Saad (16), Kane (15), Sharp (9), Shaw (4), Versteeg (4), Richards (3), Smith (1)
Toews' 2015-16 regular-season stats: 80 games, 28 goals, 30 assists (58 points), 15.6 shooting percentage, 52.2 percent Corsi-for
Toews' 2015-16 regular-season linemates on goals for: Hossa (17), Kane (13), Shaw (12), Teravainen (8), Ladd (7), Panarin (5), Ryan Garbutt (4), Andrew Desjardins (2), Anisimov (2)
Drawing conclusions
So what have we seen change involving Kane's and Toews' linemate combos? Well, for starters, Kane has shifted from playing with all kinds of guys to sticking with a select few, while the opposite has been true for Toews.
Look at how many guys Kane had a point with in the 2013-14 season. And he was still on a point-per-game scoring rate before being injured. I think it's safe to say he could have been doing far better than that if he wasn't randomly on the ice with the likes of Nordstrom, Bollig, Morin and Smith, among others.
And what do you know — Kane settled in with regular linemates, and he went off last season.
Toews, meanwhile, was with Hossa and the now-departed Sharp at the start of this three-year period. That switched to Saad, and then to pretty much whoever Q liked on gameday. So it's no surprise Toews' scoring output has fallen the last three seasons, especially when you couple that with Hossa's precipitous decline on offense last season.
Looking at shooting percentages though, both guys have seen their marks rise each of the last three seasons. Little surprise for Kane considering he was slowly moving into more stability, but given what I just said about Toews, that's a little interesting.
However, a closer look reveals it's a bit of a mirage. Toews playing with a slightly younger Hossa and some combo of Sharp and Saad kept the percentage stable for two seasons with similar shot outputs for Toews (193 in 2013-14, 192 in 2014-15). But last season, Toews fired just 179 shots on net.
That may not seem like a huge deal, but for a Blackhawks outfit that was constantly considered a one-line team, that's a major issue. And it stems at least partially from lack of consistent linemates for Toews.
The possession stats are even more troublesome. Kane's Corsi-for has slightly dropped each of the last three seasons, but it was still at a really solid rate last season. But Toews' possession stats have fallen through the floor, as he's seen his Corsi-for rate drop more than 7 percent from 2013-14 to last season.
Toews doesn't just suddenly suck at possessing the puck. This is a direct function of linemate issues. It's not setting Toews up for success.
What this means now and moving forward
Now I know the Blackhawks are also trying to slot in new pieces, and with Kane part of a line that showed tons of success last season, he's not going to be part of nearly as much experimental stuff as Toews.
But last season, the Blackhawks weren't doing what they are now. The roster was mostly established from the outset. And Toews still couldn't find multiple partners to keep him at his best.
Sure, if Hossa was a step or two faster last season (he already looks better this year after a longer offseason), that could have bumped Toews' numbers and made this a non-issue. But we're already seeing this same problem crop up early in 2016-17.
Kane has six points through four games. Toews has one and got in a fight with James Neal. These are the two guys you want to be getting the most out of offensively, and the Blackhawks are only getting that with one.
It's easy for me to say "Find Toews someone who complements his on-ice skill set." I'm a fan, not the coach. But this issue has been going on long enough now that there has to be some setup that gets more out of Toews offensively than what we've been seeing of late.
This article originally appeared on