Chicago Blackhawks' Game 7s, Ranked, Under Coach Joel Quenneville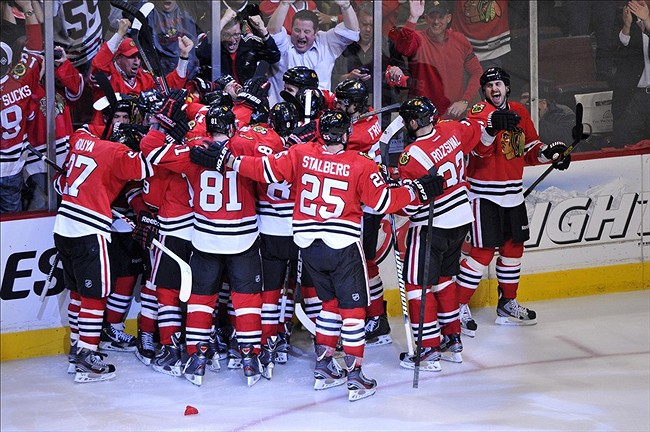 The Chicago Blackhawks haven't played in many Game 7s of late, but when they have, the showdowns have been memorable
Tonight, the Chicago Cubs will try to break their 100-year-plus Major League Baseball title drought with Game 7 against the Cleveland Indians. Game 7s are typically one of the most exciting things in all of professional sports.
Two teams giving it their all, knowing tomorrow is not guaranteed for at least one. And with this Game 7 preceding the awarding of the league championship, it just adds an extra layer of intensity.
The Chicago Blackhawks under coach Joel Quenneville haven't played in a Game 7 during the Stanley Cup Final. All three of their championship runs in this current era saw the Blackhawks mop things up in Game 6. Probably good for everyone's heart.
Still, the Blackhawks have found themselves in a few Game 7s under Coach Q — five, to be exact. So let's rank them by entertainment value (and not necessarily the result).
No. 5: 2016 Western Conference quarterfinals, at St. Louis (3-2 loss)
I think this game is going to be remembered by Blues fans for a decent amount of time, especially considering the team didn't make too many more amazing memories last season after dispatching the Blackhawks.
While this game had all the intensity you'd expect from a Game 7 between bitter rivals, there wasn't really a defining moment that set it apart from other "big-time games." The final goal scored was a really putzy battle in front of the net that Troy Brouwer came out on the winning end of.
That came after St. Louis jumped ahead 2-0 just about 14 minutes into the game, only for Chicago to tie things by the early stages of the second period, on goals by Marian Hossa and Andrew Shaw.
After Brouwer tallied, the Blackhawks kept slamming away at usual-sieve Brian Elliott, but he wouldn't give. You had the feeling the Blackhawks were probably the better team overall on this night, and they just didn't grab the win.
That's why this result ranks lowest on the list. And, of course, because the Blues won the game. How could I highly rank a Blues win?
No. 4: 2015 Western Conference finals, at Anaheim (5-3 win)
This was such a bizarre yet entertaining series. The teams traded wins, as well as periods of dominance, and you could kind of feel coming in to Game 7 that everyone except Ryan Kesler was leaning toward the Blackhawks taking this series.
The Ducks really needed to get this series wrapped up in six games, and they couldn't do it. Even traveling back to their home Honda Center, they almost seemed deflated hitting the ice for Game 7. The Blackhawks took definite advantage of that, jumping to a 4-0 lead by the second period.
This game isn't one that's necessarily going to be remembered. Even in this series, there were far better outings — three games went to overtime, with two going at least two extra periods. But a Game 7 rout to see your team advance to the Stanley Cup Final still sends tingles down your spine.
Jonathan Toews netted two first-period goals in this one, including one on the powerplay, to drive the stake a bit further into Anaheim. Brandon Saad and Hossa followed suit with strikes in the second period, and even though the Ducks scored the next two goals, you could just feel it was over.
Brent Seabrook added a powerplay goal late to really seal the deal (even though Anaheim scored last), and the Blackhawks had put Kesler's "can't survive all the hits" theory to bed. That was probably the most satisfying part about this game, to be honest.
No. 3: 2011 Western Conference quarterfinals, at Vancouver (2-1 OT loss)
This seires. Ohhhhh this series. The Canucks were trying to prove "third time is the charm" when facing the Blackhawks in the playoffs. Meanwhile, Chicago was just trolling Vancouver.
The President's Trophy-winning Canucks had taken the series' first three games handily. But, Raffi Torres decided to put his imprint on the series with attempted murder against Seabrook. Just the motivation the Blackhawks needed, apparently.
Toews and his mishmash crew, following the first Cup firesale, stormed to 7-2 and 5-0 wins in Games 4 and 5, setting up a critical showdown at the United Center for Game 6. That game was almost definitely better than the game that would follow it, but Game 7 was no slouch.
These two teams were really bitter rivals at this point. Even after the Blackhawks had dumped some key pieces before the season, these two teams had ample hatred to spread. That's why the atmosphere surrounding Game 7 was so electric.
You knew it would be a fight to the finish, and it was. But I'm not sure anyone could project exactly how that fight went down.
Alexandre Burrows scored less than three minutes in, and somehow it looked like that tally would stand up. Then, this happened:
This is one of those goals that it seems only the Blackhawks can produce. Shorthanded, from a guy who was halfway on his ass, with less than two minutes to play. You could've dropped a pin in Rogers Centre at that moment.
Of course, the ending didn't work out well for Blackhawks fans. But the way that entire game went, and as a culmination to a truly wild series, made it really memorable.
No. 2: Western Conference finals, vs. Los Angeles (5-4 OT loss)
Through four games in this series, the matchup of "the two true best teams" was good, if not spectacular. But all Blackhawks fans saw was a 3-1 series deficit.
Then, this series hit an otherworldly level for the final three games. And it was incredible to watch, for fans of either team or just fans of hockey.
In Game 5, the Blackhawks jumped out to a two-goal lead early, had to come back to tie in the third period and eventually won in a second overtime. In Game 6, the Blackhawks scored the final two goals with less than nine minutes to play, achieving another one-goal win.
That set the stage for Game 7, which had the United Center rocking in ways not seen outside Stanley Cup Final games. You still had the feeling this *was* the Stanley Cup Final (the Kings would, more or less, prove that in the next round).
This one started with two Blackhawks goals, including one on an awkward angle by Saad after a beautiful pass from Kane. The Kings, though, tied it in a one-minute stretch toward the end of the first. The Blackhawks followed the second of those L.A. goals with a strike of their own, and we had quite the contest on our hands.
The teams traded goals in the second period, while Marian Gaborik netted one for the Kings in the third. All the while, this just felt like a game for all the marbles, not just as the final step to the Stanley Cup Final.
Even when Alec Martinez's point shot deflected off Nick Leddy's stick and past Corey Crawford in overtime to end the series, you still knew you had witnessed an incredible Game 7. It just might've taken a while to let that sink in.
No. 1: 2013 Western Conference semifinals, vs. Detroit (2-1 OT win)
When you have a record-setting (albeit lockout-shortened) regular season, seeing your year end in the playoffs' second round against your historical rival is not optimal. This is especially true when said rival is switching conferences at season's end.
And so the Blackhawks found themselves in this spot after Game 4 of the conference semifinals against the Detroit Red Wings. Seabrook had his penalty box chat with Toews in Game 4, and the Blackhawks all of the sudden showed back up with wins in Games 5 and 6.
That established a winner-take-all, end-of-the-traditional-rivalry game at the United Center. It was just a tightly played game, but a really well-played game on top of that. And with the crowd just waiting to explode at any moment, the atmosphere was unreal for a game that wasn't part of a conference or league final.
Patrick Sharp and Henrik Zetterberg traded scores in the first and second periods to set us up for a fantastic finish. And we got it. Kind of. Before that, we got a false fantastic finish:
This moment would've gone down in Blackhawks infamy had the team not secured a win later. Niklas Hjalmarsson had a goal taken away with less than two minutes to play in regulation as a result of Stephen Walkom retroactively calling penalties.
It was ridiculous and infuriating, but this was the way it had to be, right? A sort of "passing of the torch" between Detroit and Chicago couldn't come without at least one more insane hurdle. This was about as insane as it could get.
So, instead of Hjalmarsson ending the series for Chicago, Seabrook got to do it.
Dave Bolland destroyed Gustav Nyquist in the neutral zone to free the puck, and Seabrook slipped a floating shot past Jimmy Howard to send the UC into hysterics.
It might not have been exactly how they drew it up, but given the opponent and the situation, this Game 7 win was the Blackhawks' most memorable under Coach Q.
This article originally appeared on