Chicago Blackhawks: 5 Reasons For Pessimism In 2016-17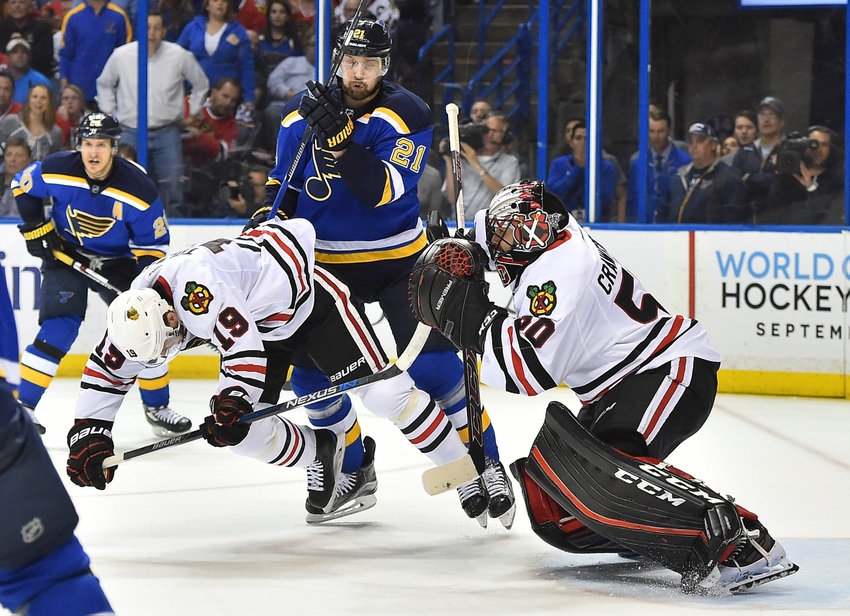 It's not always easy to be positive, especially with some of the concerns going into this Chicago Blackhawks' season

A few days ago, we discussed 5 reasons to be optimistic about the Chicago Blackhawks' upcoming season.  Today it's time to look at the other side of the coin.  There are many questions and concerns going into any season, and this year is no exception.
In fact, many fans are very concerned that the Hawks might not have the talent and depth needed to make a push for the Stanley Cup this year.  Let's take a look at 5 reasons to be pessimistic about the upcoming season.
1. The Toews Tango
In my previous post, one of the main reasons for optimism was the second line success of Artemi Panarin, Artem Anisimov, and Patrick Kane.  But this trio had to carry the rest of the team a lot last season.  A glaring hole in the lineup was, and still is, finding someone to play with Jonathan Toews.  Since the loss of Brandon Saad and Patrick Sharp, the first line left wing has been a revolving door of players.  No one seems to be able to keep up, or be effective, alongside Toews and Marian Hossa.
Andrew Shaw held the spot for a while and had some success.  But many thought he could be more appropriately utilized as a grinder on the third or fourth line.  Andrew Ladd played this position after he was re-acquired by the Blackhawks at the trade deadline in March.  He never really reached his potential there, and ended up on the third line during the playoffs.
Now both the above team members are no longer with the organization, and the Hawks missed out on signing free agents Jimmy Vesey and Jiri Hudler.  Both these players would have been potential candidates for a first line role.  The most recent person to get a chance alongside Toews was Richard Panik; and it is believed he could start this season in that spot.  Unless one of the youngsters impresses at training camp.
To make matters even worse, Hossa, who has been on Toew's right wing for what seems like forever, wasn't very effective there for most of last season.  Although still defensively sound, he doesn't seem to have the offensive punch he used to.  Like Ladd, he also found himself on the third line during the playoffs, and actually thrived in this spot.  He might be more effective in a third line role this season as well.
So you see, besides Toews, who will skate on the top line is completely up in the air.  Finding an answer to this dilemma will not be easy; but it could be key to the success of the team moving forward.
2.  Young blood
Not only is there an issue on the first line, but there are jobs to be had up and down the entire forward corps lineup.  On the official Chicago Blackhawks website, only ten forwards are currently listed.  We all know it takes 12 players to make four lines, and there's usually two extras for injury, substitution, and healthy scratch purposes.  That leaves at least four open slots.
Jordin Tootoo is the only forward that was picked up via trade this offseason, but this doesn't guarantee him a position.  Interestingly, Dennis Rasmussen is not listed on the Hawks' site, although he played in 44 games last season.  He's listed in the Rockford IceHogs roster instead.
Brandon Mashinter, on the other hand, IS listed as a member of the Hawks, while he played in 41 games last year.  Although all three of these players will probably dress for the Chicago Blackhawks at some point, it's safe to say they are on the bubble.
They will be competing with a number of youngsters that have been in the system for quite some time now.  An acquaintance on one of my Blackhawks Facebook groups dubbed these fellas the "Rockford rookies".  It's a pretty good nickname, wouldn't you say?
This group includes, Tanner Kero (17), Vincent Hinostroza (7), Ryan Hartman (3). Kyle Baun (2), and Mark McNeill (1).   All had somewhat of a chance to show their stuff last season.  I have put the number of games they played for the Chicago Blackhawks in parentheses behind their name.  But that's nothing compared to the opportunities they might receive this year.
Also included as part of these rookies are Tyler Motte and Nick Schmaltz.  Both have thrived at the collegiate level, and are touted as highly likely to make the team this year.
At least a few of these guys have got to pan out, right?  Most of these players would already be regulars in the NHL if they were affiliated with a team besides the Chicago Blackhawks.  But either way, it's not going to be an easy task to transition this much young blood into the system.
3.  Is the defense really as strong as we think?
I know, I know.  I listed the defense as one of the reasons for optimism in my previous post.  But I can't help but be a little concerned that the house of cards could easily topple.
First off, you have Duncan Keith, who has decided to forgo the World Cup in order to continue to rehab his knee.  Apparently, the cyborg isn't indestructible anymore.  After all, he is 33 years old.  What if he continues to have issues going into the season?
Brian Campbell is supposed to be the missing link, but he's 37 years old.  Can he sustain the kind of play everyone is expecting of him?  And then there's Michal Rozsival, who's almost 38 years old.  Why is he here again?!  Oh, right.  To be a "veteran presence", and Coach Q's crutch.  It's his job to fill in if either Erik Gustafsson or Viktor Svedberg don't pan out.  Neither one showed much promise last season.  It would be a huge leap if they did so this year.
4.  Coaches' comfort
Head coach Joel Quenneville is one of the most winningest coaches in the NHL.  He is also notorious for having very little patience with young players.  When asked point blank about this at the recent Chicago Blackhawks convention, he said, "We're always patient."  Then he laughed.
Forwards in the Blackhawks' system are expected to be defensively responsible in addition to their offensive duties.   Defensemen are instructed to join the rush and help transition to offense whenever possible.  Being young and inexperienced is no excuse in Coach Q's eyes.
Well, this is the year where there's going to be no choice in the matter.  As discussed above, numerous holes in the lineup will more than likely be filled with players that are green, and they are going to make mistakes.  Coaches and players alike will definitely be outside of their comfort zones.
This could be handled positively, with it being a learning curve for everyone.  Or, it could be a complete distaster.  If Coach Q can push the right buttons and manage things this season, I will truly believe he is one of the best coaches of all time.
5.  Why the goons?
Old school hockey surmises that there's definitely the need for an agitator on a team; someone who can get under their opponent's skin and draw penalties.  If you take it a step further, there's the belief that a "protector" is needed, to keep the star players from getting pushed around by the other team.
But the game has evolved in recent years.  There's a lot less fighting, and players are more about skill and speed than intimidating each other.   Goons such as John Scott and Daniel Carcillo are a dying breed.  Andrew Shaw was a pretty effective agitator, but his style of play ran the high risk of taking stupid penalties at very bad times.  His saving grace was that he was also a relatively skilled player that had a nose for the net.
Most believe that Brandon Mashinter and Jordin Tootoo are a waste of two roster spots for the Chicago Blackhawks.  Both have the agitator style of play that Shaw had; but many don't believe they have the skills to be effective.
But Coach Q comes from that "old school" mindset, and he always insists on having one or two players like this on his team.  Sometimes it works out that these guys are effective enough to at least be able to eat up some minutes and make a few hits on the fourth line.  Perhaps fight when called upon every now and then.  But with so many pressing needs on the roster this year, the jury is still out as to whether dressing these two regularly will be a smart move.
I usually look at the glass half full.  So, if pressed, I would still have to say I believe that the Chicago Blackhawks will be successful again this year.  But they certainly have to work out some kinks.  It may not always look pretty; but that's the nature of the beast, isn't it?  That's what makes watching sports so fun.  If all the winning was easy, it would get boring pretty fast.  No, it's the overcoming of obstacles, the digging deep, that we all want to see.  Well folks, we're going to see plenty of that this year.
This article originally appeared on