Chicago Blackhawks' 3 Good, 3 Bad From Loss To Minnesota Wild
Colin Likas/FanSided via Blackhawk Up

Fansided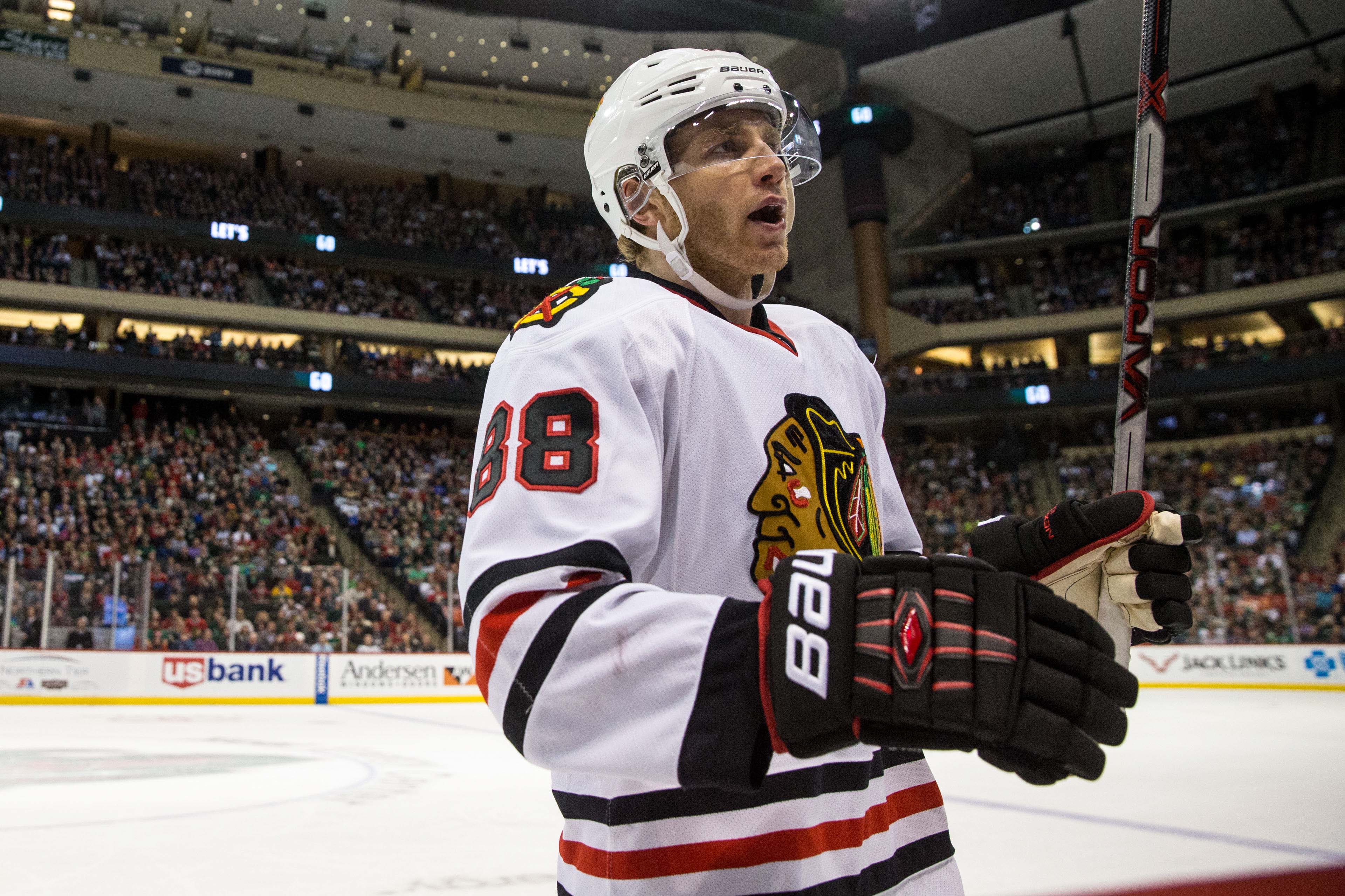 Instead of Chicago Blackhawks morning links today, we're going to look at some positives and negatives from Sunday's loss
After Friday's Chicago Blackhawks defeat at the hands of the Washington Capitals, I posted a morning links to help everyone try to quickly move on from a blowout loss that had little redeemable value on its face.
But today, not long after a Blackhawks loss to the Minnesota Wild, we're going to take a look at three positives and three negatives from the game. It was just a 3-2 loss this time, but a loss in which the Blackhawks blew a 2-0 lead and also the first game of the season between these teams.
It seems like there was a fair amount to unpackage from this game, what with the Blackhawks rolling a pretty … unique lineup. So let's get started.
NHL Player Rankings: Week 14 Risers/Fallers
Positive: This is not a lineup the Blackhawks will use in crunch time
Eleven forwards and seven defensemen is typically not a good look. But when Jordin Tootoo and Andrew Desjardins can't buy a point, you do what you feel you have to do if you're coach Joel Quenneville.
It didn't amount to a whole lot, as Brian Campbell was more or less a healthy scratch on skates with nine minutes played. But what this really means is the Blackhawks were close to winning a game against what appears to be a good team with a heavily flawed lineup.
The Blackhawks are not rolling 11 forwards and seven defensemen when the regular season is winding down, or when the postseason has begun. AKA, when they typically fully show up for games. And they nearly beat the red-hot Wild.
Some of this has to do with getting last change, and while the Blackhawks outshot the Wild 35-32, Patrick Kane had 12 shots by himself. I'm still calling this a positive though, because the Blackhawks can say they had a shot against Minnesota using a lineup inferior in many ways.
Negative: Crow isn't in stop-all mode
Corey Crawford at the outset of this season was stopping everything that wasn't a shot on the penalty kill. His 5-on-5 save percentage was hovering around .950 for some time.
But of late, it seems Crow can't find some of these clutch saves. He managed a .906 save percentage Sunday, and that's just not going to work against a team that's rolling like the Wild.
The Blackhawks defense is also showing it isn't quite all there, bringing back some terrors from last season. And when mistakes are made in that regard, the goaltender is required to back things up. Crow has often been able to do so. Not the case in some instances of late.
By no means does this mean Crow should be benched. He's still one of the league's best goaltenders. But the Blackhawks could really use him in peak form moving forward. Of course, they could also use improved play in front of him, but one of those things involves a single guy, and the other involves 18 guys.
(Still, don't be surprised if Scott Darling gets the call Tuesday. He's been great, too, this season, and the Colorado Avalanche are just awful.)
Positive: Q figured out something on defense (maybe)
While the blue line is in disarray of late, it appears one item was ironed out Sunday. On the seven-man unit, guess who got the most ice time behind the big three? Michal Kempny.
Yeah, the guy who keeps getting healthy-scratched. After Duncan Keith (24:38), Brent Seabrook (24:01) and Niklas Hjalmarsson (20:50), Kempny logged 16:32 in ice time. And considering Trevor van Riemsdyk was a full three minutes off that mark, Kempny was the No. 4 defenseman on Sunday.
Now, this is what some Blackhawks fans have been calling for. While the scoring isn't always there, Kempny brings more to the table. Did Q see it Sunday? If he didn't, he only needs to head to Natural Stat Trick.
NHL Player Rankings: Week 14 Risers/Fallers
Kempny posted a possession rate of 62.86 in Corsi-for. Now while there were a lot of bloated Corsi-for rates Sunday as a result of Minnesota just falling back to goaltender Devan Dubnyk at every give chance, there's something else that goes with this.
Kempny also was on the ice for 22 Corsi-for events. That tied Artemi Panarin for second-best on the team, behind Kane's 31. (Considering Kane was on the ice half the game and had 12 shots, it only makes sense he'd lead this category.)
Furthermore, Kempny posted a Corsi-for rate of 50 percent or better against all but three Wild — two of them, Jason Zucker and Mikael Granlund, played on a line that destroyed the Blackhawks' top center in Jonathan Toews.
What I'm saying is, Kempny is really good for the Blackhawks holding the puck, and thus getting more scoring attempts. This isn't just a one-game sample, either. Go back and look at stats from past games. Hopefully, Sunday's game just showed Q what he really needed to see.
Negative: Offense remains top-loaded
It's no surprise Kane scored against Minnesota. He clearly likes playing against the Wild. It's not even a surprise he scored more than once.
Unfortunately, it's also not a surprise he *was* the scoring. The Blackhawks remain top-loaded on offense, and it's not changing any time soon.
Especially not with an 11-person forward unit. The Blackhawks officially need to acquire a top-six forward at the trade deadline. I've said on this blog before I thought the Blackhawks had the tools already in place to make a strong playoff run, but I'm less sure about that by the day.
There are some solid guys like Vincent Hinostroza and Ryan Hartman who can crush on the bottom six, but that requires someone to take the top-line left wing spot that's gone mostly unfilled since Brandon Saad was traded.
Not Nick Schmaltz's return, not Tyler Motte's eventual return and not any other in-system stopgap is going to work. Find a top-six forward, and the Blackhawks can balance this whole forward lineup. Until then … we'll see a lot more of the Panarin-Aretm Anisimov-Kane line doing it all, like we did last season.
Positive: The Blackhawks are winning faceoffs
I was going to make this one about the Blackhawks possessing the puck, but I touched on that in the previous positive, and it was really a bigger product of Minnesota just backing off and protecting their goaltender.
So let's look at some draw percentages on the Chicago side. They're pretty good to look at. Tanner Kero posted a 7-2 mark (78 percent), Dennis Rasmussen was a limited 3-1 (75 percent) and Toews was 11-10 (52 percent).
This is one area the Blackhawks struggled in earlier this season, so any kind of success here should be appreciated.
Negative: Ice times going crazy
Kane played 27:09 on Sunday. That's … nearly half a regulation game. This is what happens when a player has a team's number, and the player's team is chasing. I'm sure Kane was fine with what amounts to triple shifting, but this is not an effective model for success.
Of course, this has something to do with the 11-forward, seven-defenseman look. Still, Rasmussen (7:52) and Schmaltz (8:29) not coming close to 10 minutes in a game where you've set up your forwards for a least some level of failure is pretty irresponsible.
We're talking a January game, and while Q treated it in-game like a key two points, he decided beforehand to roll with 11 forwards, one of them being a guy who was called up the day prior. Those two things don't click together.
I guess the nine minutes of Campbell, 10:47 of Michal Rozsival and 13:31 of TVR are all tryout looks, but Q is just never going to bench TVR, and he doesn't seem to know what to do with Campbell and Rozsival (while being unreasonably confused about what to make of Kempny). So the blue line, as previously mentioned, is in disarray once more.
These ice times were reflective of one thing: Q is not happy with what he's been given at this point in the season. He probably shouldn't be, but then again, he had a hand in Tootoo getting a roster spot.
This article originally appeared on