Carolina Hurricanes Trades: Let's Kick A Few Tires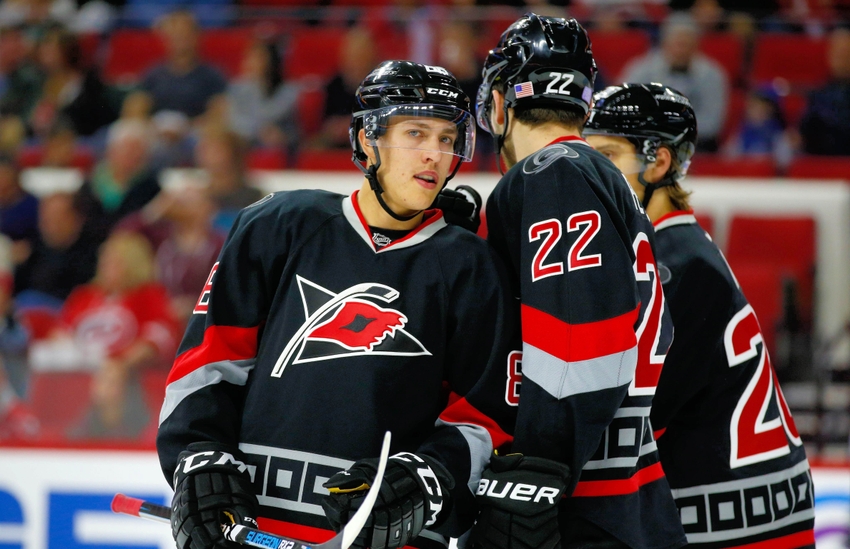 With Jordan Staal headed to the IR, the Carolina Hurricanes need offensive help more than ever
One of the major complaints coming into this season was whether the Carolina Hurricanes roster contained enough firepower to compete with the powerhouses of the Metropolitan Division.  While the additions of Teuvo Teravainen and Sebastian Aho increased the talent level on the team, nobody expected them to produce like top ten forwards.  Many opponents consider Jeff Skinner offensively gifted but after him there is really nobody on the team considered an offensive threat.  And now with the loss of Jordan Staal, an anemic offense (23rd in the league for Goals For) gets even weaker.  So if Ron Francis wanted to bring in a forward who could he look at?  Well, lucky for him we've compiled a short list of possible players.  I hope he's reading this because it's not like we've been wrong before right?
Evander Kane
The Buffalo Sabres made it known they are officially shopping Evander Kane.  Kane comes with a lot of positives.  He is a fast and powerful forward that can cause all kinds of headaches for defenses with his speed and size.   His CF% isn't great this year but he has a 4.26 CF%Rel and his last year CF%Rel was even better.  Place him in a great possession system built on speed like Bill Peters runs it could be a recipe for success.  Fans have long wanted an Erik Cole type player since Cole's departure, and Kane could be that replacement.  Add in the fact he's only 25 and his contract has one more year after this, it makes obtaining Kane a good idea.
And while Kane does have a lot of pros, he also comes with just as many cons.  One is that he is injury prone.  Kane hasn't played more than seventy games in a season since 2012 and only played 65 last year.  He also missed time to start the season with cracked ribs.  In addition to the
injuries, there's also Kane's slow start to the season that has him with only 2 points in 10 games.  This doesn't even mention his off the ice issues that has plagued his career both in Winnipeg and Buffalo.  There is no denying that Kane has the talent to help any team to the playoffs.  But given the price Buffalo is asking (a top four defenseman), Kane may just be too risky for the Carolina Hurricanes.
Martin Hanzal
Martin Hanzal is another player in the rumor mill as well.  Given that he's another center would help this trade make even more sense than the last one.  He could just slot in for Jordan Staal while he's on IR.  Then, once Jordan Staal returns, Hanzal would move down and bump out either Jay McClement or Derek Ryan both of whom aren't performing well.  Hanzal at 3.1 million won't carry a huge cap hit,  and he's a free agent after this season.  Seems like a pretty good deal.
Well except for the fact he may not be that good anymore.  Take a look at Hanzal's rolling CF% since the beginning of last year.  Graph and data sourced from Corsica.
Martin Hanzal Rolling CF% S & V adjusted pic.twitter.com/ovs3SmnNeU

— Matthew Barlowe (@matt_barlowe) November 29, 2016
Ouch, that's quite a steep drop.  Some of that could be from his team because last year he was around a 3% CF%.Rel player.  But even this year his Corsi relative takes a beating as well.  While Hanzal could come in and fill a need, one would worry that he may not be good enough.  Unlike Kane, Hanzal's age means there would be no reason to resign him no matter how well he played. If the Carolina Hurricanes trade for him and still miss the playoffs it would be worse than not trading for him at all.
Chris Kreider
How did he get on this list?  Is he even rumored to being shopped?  Why would the Rangers trade one of their best wingers they just resigned in the offseason?  I know, I know it doesn't make any sense.  The thing is ,though, the Rangers need some defense in a bad, bad way.  Every night the Rangers have to trot out these two pylons and hope they aren't awful.    Graph and data sourced from Corsica
— Matthew Barlowe (@matt_barlowe) November 29, 2016
Marc Staal's play is better to start the season but it's only a matter of time before regresses.  Add that to the fact Henrik Lundqvist looks semi-human with a sub .920 SV% for the first time in seven years.  With their fast start to the season, the New York Rangers are not just thinking playoffs, but thinking about winning a cup.  And there is no way they can do that with both Girardi and Staal on the blue line.  Prying Kreider out of New York won't be cheap.
Like Evander Kane, it will take a top two(maybe four) defenseman.  But Kreider is a great shot generator and point per 60 producer and unlike his teammates in New York this year he isn't being carried by unsustainable Shooting Percentage.  There is also his outrageous rel.CF% of 8.89 score and venue adjusted according to Corsica which puts him 8th in the league for players with over 150 minutes.
The thing is getting this trade done means giving up Justin Faulk.  He's the only player that makes this deal work.  They have similar contracts, both are similar skill levels, and both players address an obvious weakness on the other team.  Last season set a precedent for this type of move with the Ryan Johansen for Seth Jones trade.  And like that trade it could be a win for both teams.
All of these trades represent a gamble for the Hurricanes, and there are no easy answers.  Given the Carolina Hurricanes proclivity to think in terms of singles instead of homeruns, moves like these aren't really in the playbook.  But if Francis ever decided to think outside his own box, the talent is out there to help the Hurricanes reach the playoffs for the first time in seven seasons.
This article originally appeared on