Carolina Hurricanes Preview: Devil Of A Time In Raleigh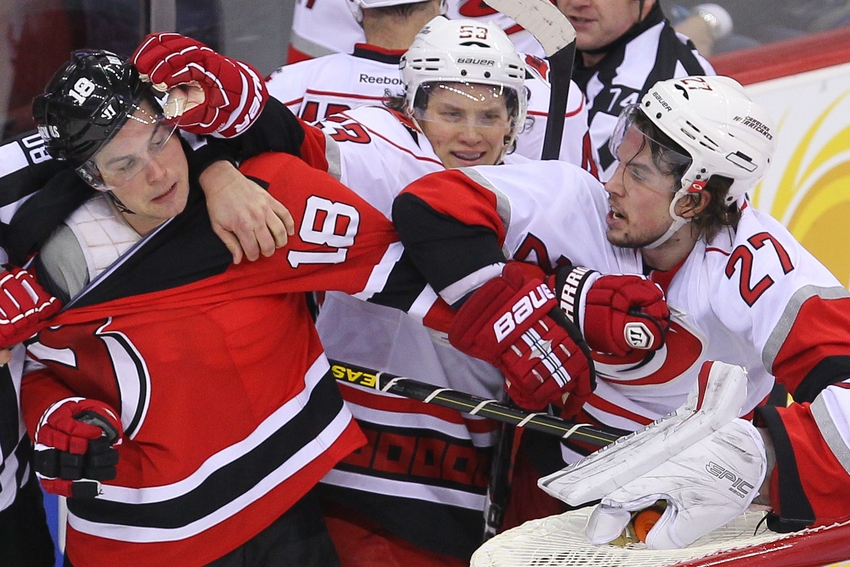 Carolina Hurricanes take on the New Jersey Devils tonight in the first of a home and home series
Carolina returns home after beating the Nashville Predators 3-2 in a shootout last night.  Jaccob Slavin was the only one to score in the official skills competition.  He slotted one past Pekka Rinne to give the Canes their first win since their home opener against the New York Rangers.  Tonight the Carolina Hurricanes (3-4-3) are back in the saddle again as they return to face their Metropolitan foe the New Jersey Devils (4-3-3) at the PNC arena .
The Devils are on a two-game losing streak and are hoping to stop the bleeding.  In their four games before that, New Jersey went 3-0-1.  Corey Schneider has amazed this season  posting a .927 SV% good for eighth in the league for goalies that have played five games or more.  Schneider played last night and nine out of the last ten games this season one would think the Devils would rest him.  Nobody on the Canes side would complain too much if they did because Schneider since moving to the Devils has been one of the best goalies in hockey.  Taylor Hall their key addition in the offseason isn't disappointing either.  He has eight points in 10 games with five of them goals.
Now time for the fancy stat breakdown for each team.  All stats sourced from Corsica and Score/Venue adjusted.
| Fancy Stat | Carolina | New Jersey |
| --- | --- | --- |
| CF% | 53.85 | 48.36 |
| CF60 | 57.58 | 50.30 |
| CA60 | 49.35 | 53.72 |
| GF% | 46.40 | 48.66 |
| xGF% | 54.73 | 49.65 |
| xGA60 | 2.16 | 2.16 |
| xGF60 | 2.61 | 2.13 |
The Devils, like the Predators last night, haven't been stellar in the fancy stats so far for the year.  But when a team has a goalie like Corey Schneider there is a greater threshold for how much you can get outplayed by your opponent and still win.  It is a strategy that has its flaws though just ask the Montreal Canadiens.  Judging by the stats the Carolina Hurricanes are going to get their chances tonight, and a good amount of them.  The team needs to make New Jersey pay when they do and not allow Schneider to get into a groove.
Want your voice heard? Join the Cardiac Cane team!
Matty B's Game Keys
Limit the Breakaways
The Hurricanes got lucky last night after only getting scored on from one of the many breakaways they allowed.  Most of them weren't from playing aggressive offense but rather lazy passes or bad plays at the blue line.  Cam Ward bailed them out but it would be foolish for Carolina to think he can do it every night.  The team needs to tighten up its play.  Keep it simple stupid or the story will be a lot different from last night
Keep the Aho-Lindholm-Teravianen line together
That was the best line last night and so far they have played some of the best hockey on the team. It surprised many when Peters broke them up to start the third period.  They haven't been putting a lot of points on the board but it's just a matter of time.  It took a great defensive play by Roman Josi to rob Aho of his first goal.  Peters can tinker with the other two lines but this one is working please don't break it up.
Power Play
The Canes power play has cooled considerably since its hot start this season.  Now at 21.2%, Carolina has failed to convert with the man advantage in the last three games.  A lot of the Hurricanes early season offense came from special teams.  Especially against a goaltender of Corey Schneider's caliber.  Carolina needs to make the man advantage matter to help open up the ice 5v5 as well.
This article originally appeared on