Carolina Hurricanes Player Power Rankings: Where is Justin Faulk?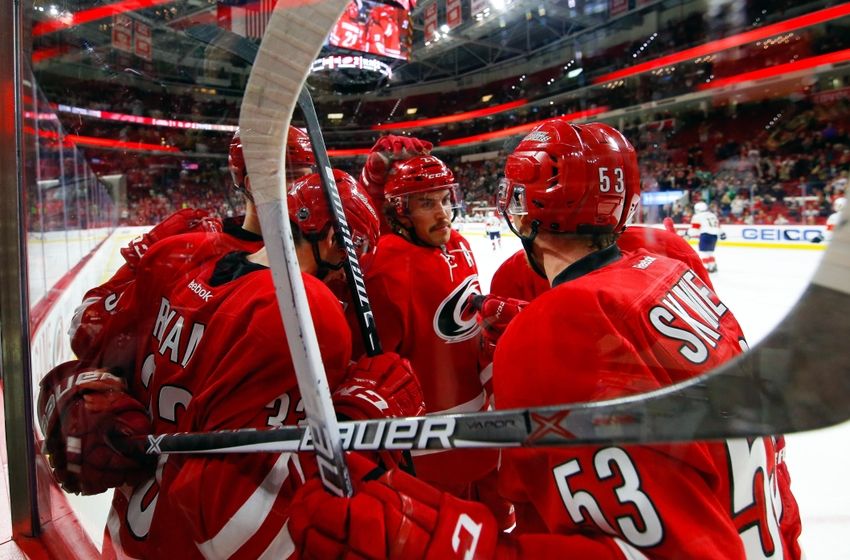 The Carolina Hurricanes are in the midst of a brutal stretch of schedule. With only one home game this past week and games away in Montreal and New York, the Canes are struggling to keep their heads above water.
The sole win for the Hurricanes came at home against the Florida Panthers. Two points from a possible eight looks bad, but it doesn't tell the whole story. For large stretches in Montreal, Ottawa, and New York, the Hurricanes were the better team. Goals just didn't come for them.
It is a frustrating theme. When the Canes do score, their goaltending has come back to bite them. When their team defense is immaculate, they can't pocket goals.
This is starting to show up in the rankings with many Hurricanes trending up and down. There is also the noticeable absence of Justin Faulk from the rankings. He played bad in New York and can't score. Not the recipe for success for an offensive d-man.
The Best of the Canes: 1-3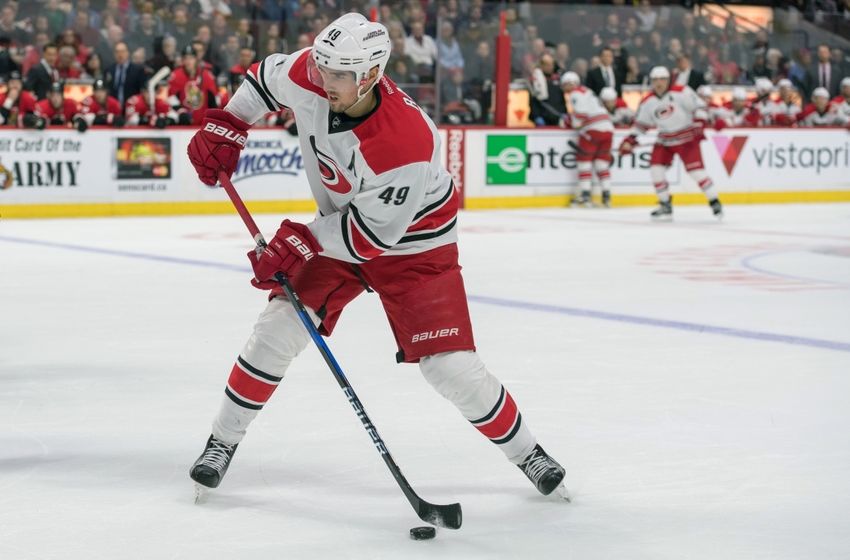 1
Jeff Skinner
21GP, 9G, 10A
Last week:
4GP, 1G, 2A
Last rank:
1
It was another week at the office for Jeff Skinner. In week when the Canes only managed 7 goals from 4 games, Skinner was on the score sheet for 3 times. That just shows how vital he is to the Hurricanes offense. In the team's only win, he led the team from down 2 goals to comeback and win. The breakaway goal he contributed against Florida was beautiful. After the win, Head Coach Bill Peters said Skinner "manned up" on Sunday. The former Rookie of the Year is the brightest star the Hurricanes have.
2
Jaccob Slavin
22GP, 1G, 5A
Last week:
4GP, 1A
Last rank:
4
While he didn't produce much offense, Jaccob Slavin had very solid week. He continues the lead a defensive unit that is doing just about everything to keep his team in games. In Montreal and Ottawa, the 22 year old helped to continue the team's penalty kill streak. He has been able to be a great penalty killer because he has 42 blocks, which ties him both Drew Doughty and Brent Burns. In New York, Slavin logged almost 27 mintues and held the Rangers back for as long as possible.
Want your voice heard? Join the team!
3
Victor Rask
22GP, 8G, 9A
Last week:
4GP, 2A
Last rank:
2
Looking back on the week, it was kind of difficult remembering much contribution from Victor Rask. That goes to show just how good the Swede is. He assisted Jeff Skinner's breakaway tally and also added one in Montreal. With Jordan Staal out, its up to Rask to carry an even bigger load than before. His team leading +4 rating is pretty good indication he is up to the challenge. Hopefully this coming week Rask can once again score some goals. Carolina desperately needs someone to help Skinner up top.
The Middle of the Pack: 4-6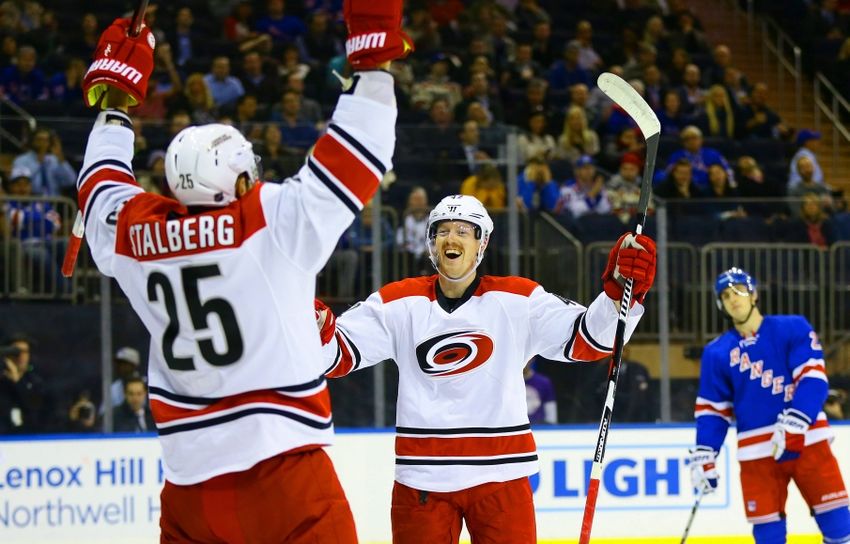 4
Viktor Stalberg
21GP, 6G, 1A
Last week:
4GP, 3G
Last rank:
Unranked
What a week for Viktor Stalberg! His arrival in Raleigh wasn't given much fanfare and his Canes career was bumpy early. This week though, Stalberg turned up his play in a big way. Against his former team, Stalberg scored twice in the 1st period in New York City. He also scored at home against the Panthers. Stalberg has been part of a really dominant 4th line. If only Jay McClement could get him the puck more.
5
Brett Pesce
22GP, 4A
Last week:
4GP, 1A
Last rank:
Unranked
Much of what was said about Slavin applies to Brett Pesce. He may not have the offensive skills his partner has, but Pesce makes up for it with desperation and physicality. On multiple occasions this week, Pesce either blocked or intercepted a crucial shot or pass. All of Carolina's possession dominance comes from its defense making all the right moves. Brett Pesce is arguably the biggest contributor to that.
6
Cam Ward
17GP, 2.29GAA, .915S%
Last week:
3GP, 0-3, 60 saves on
Last rank:
3
After railing off 5 straight wins, this week was always going to be difficult. In defense of Cam Ward, he did just about everything he could have to help the Canes win. If you give up 2 goals a game, your offense should do the rest for you. Unfortunately, the didn't happen for Ward or the Canes. The road doesn't get easier with more tough match-ups approaching. If the offense can't produce, Ward might have to steal a game or two.
The Other Guys: 7-10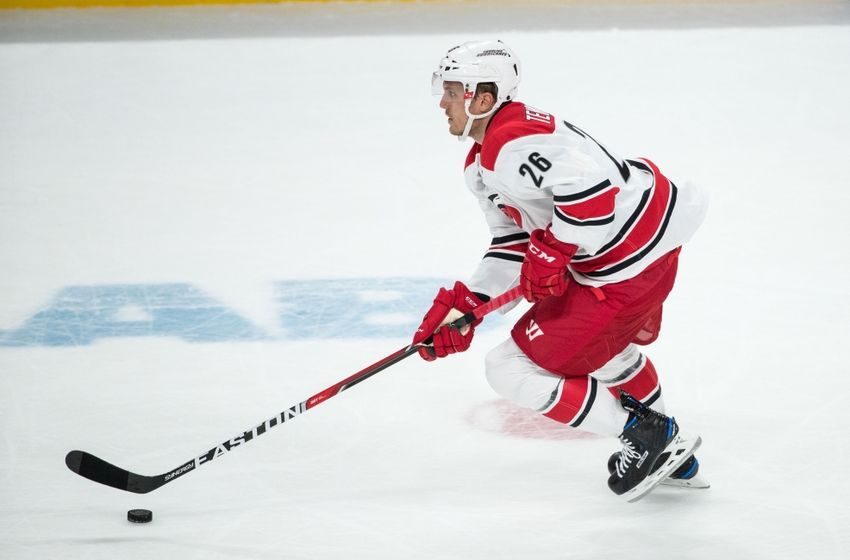 7
Jordan Staal
21GP, 5G, 4A
Last week:
3GP
Last rank:
7
Not a lot was cooking for Jordan Staal offensively this week. It looked like he scored against Ottawa, but it turned out to be an Aho goal. Besides that, it was quiet week. That is until Sunday. Against the Panthers, Staal took a stick to the back of the neck and was diagnosed with a concussion. His absence was really felt in New York where it seemed the Rangers hemmed Carolina in during the 3rd period. Hopefully he returns soon.
8
Matt Tennyson
9GP, 2A
Last week:
4GP, 2A
Last rank:
Unranked
Tell me if you've heard this before. An American defenseman is called up from Charlotte after playing really good and then makes an immediate impact for Carolina. Like Pesce and Slavin before him, Matt Tennyson is doing it again in 2016. He was maybe the Canes best defender this week and is tied with Rask for the team's best plus/minus.
9
Sebastian Aho
22GP, 3G, 8A
Last week:
4GP, 1G
Last rank:
7
It was a toss up, but Sebastian Aho retains a place on the rankings over his Finnish buddy Teravainen. Aho scored (although it was pretty lucky) in Ottawa and didn't do much else this week. He is wise beyond his years and plays very tough for his size. However, its a results business, and he has gone two weeks and scored only two points.
10
Michael Leighton
1GP, 2.00GAA, .939S%
Last week:
1GP, 1-0, First NHL Win Since 2010
Last rank:
Unranked
It's the feel good story of the holidays. It's been a long time since Michael Leighton won a game in the NHL. His last victory was in December 2010, until Sunday. The journeyman was given the start at home and didn't disappoint. He was shaky early, but settled in and won his first NHL game in nearly six years.
This article originally appeared on