Carolina Hurricanes Player Power Rankings: We Will Have So Much Winning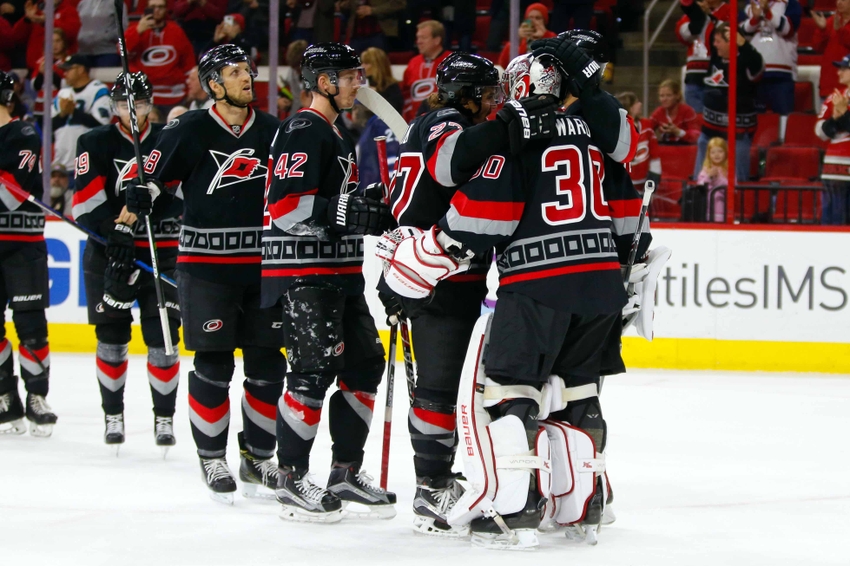 The Canes have won 5 games in a row. It was a great week for many Carolina Hurricanes.
For the first time in recent memory, the Carolina Hurricanes are the hottest team in the National Hockey League. Not only has the club rattled off 5 straight victories, but has done so against very impressive competition. Every team the Canes defeated were above hockey .500 at the time they were faced. San Jose, Washington, and Montreal are each among the league's elite.
This sudden turn around came at the perfect time. The Canes brutally slow start meant that a winning streak was the only true way to stay afloat in the league. Thankfully, Bill Peters has rallied his troops and led them to shoot up the Eastern Conference.
In regards to the power rankings, no one really regressed. This week's performance has been a team effort. Still, some players were big time movers. Let's take a look.
The Best of the Canes: 1-3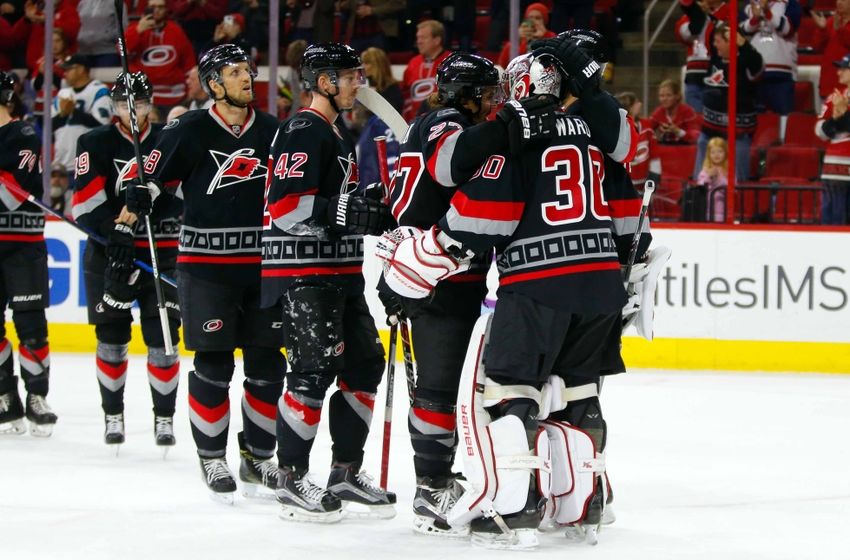 1
Jeff Skinner
17GP, 8G, 8A
Last week:
4GP, 2G, 1A
Last rank:
1
Another week, another 1st place ranking for Mr. Skinner. He was lucky to get credited the goal against Toronto, but he deserved it. Trying not to sound like a broken record, but Skinner is relentless. He is winning board battles in all zones, using his vision brilliantly, and being the offensive spark plug for his team. Ever since the departure of Eric Staal in February, the 24 year old has been playing at a level he never has before, including his rookie season. Jeff Skinner is on track to represent the Hurricanes at the 2017 NHL All-Star Game.
2
Victor Rask
18GP, 8G, 7A
Last week:
4GP, 2G, 1A
Last rank:
2
Like his linemate, Victor Rask is playing fantastic. Looking back at Rask's team leading 8 goals, 6 or 7 of those tallies were complete snipes either in the corners or bar in. Skinner is certainly the team's resident sniper, but Rask is giving him a run for his money. The Swede can seriously shoot. His scoring pace may be unsustainable, as he is converting and absurd 20% of his shots. Keeping that up may be hard, but Rask is still doing other things to be successful. The guy just won't slow down right now.
3
Cam Ward
2.27 GAA, .919 S%
Last week:
NHL 2nd Star of the Week
Last rank:
9
About a quarter of the way through the season, the feel good story of the Canes is Cam Ward. After playing poor last season, re-signing this summer, being shockingly bad in October, and getting grilled by just about everyone for it (we are guilty as charged), the veteran goalie has been spectacular. He recorded a shutout against San Jose and was the NHL's 2nd star of the week. His save percentage is now .919, which considering where it was just two weeks ago is incredible. With Eddie Lack injured, the Canes are going to ride Wardo for a while. He moved up 6 spots from last week's rankings.
The Middle of the Pack: 4-6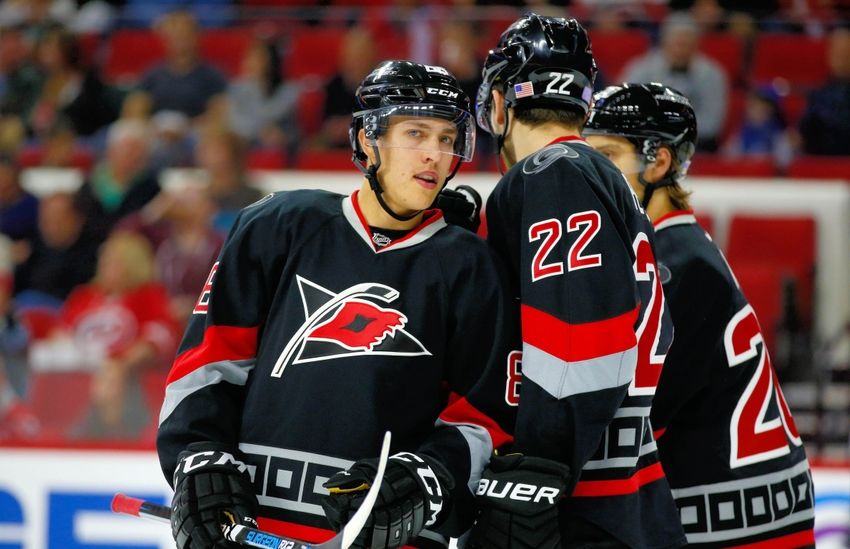 4
Jaccob Slavin
18GP, 1G, 4A
Last week:
4GP
Last rank:
3
A model for consistency, Jaccob Slavin finds meaningful ways to contribute on just about every shift he takes, and he takes a lot. He averages 27 minutes of ice time a game and he hasn't missed a game. A decent chunk of that time is spent killing penalties. With Slavin as the key shutdown guy, the Hurricanes have been perfect down a man. The Canes have killed off 20 straight penalties and even added some shorties. Slavin's team leading 33 blocked shots is surely a big part of it.
5
Teuvo Teravainen
18GP, 5G, 5A
Last week:
4GP, 1G, 1A
Last rank:
7
He hasn't been on the score sheet every game, but Teuvo Teravainen is finally finding his feet in Carolina. In Chicago, Teravainen played distributor for scorers like Kane and Panarin. However, with the Canes, specifically on the TSA line, Teuvo is becoming a good goal scoring option. The fantastic two-way play of guys around him have given the Finn great opportunities to score, and he's taken them. Hopefully it continues.
6
Jordan Staal
18GP, 5G, 4A
Last week:
4GP
Last rank:
4
It was was a tough week offensively for Jordan Staal. So far this season Jordan has scored a lot in bunches with long dry spells in between. The good news for Staal is he is contributing in lots of other ways. As a defensive forward, he is still dominating the face-off circle. If Slavin is leading the defensive guys on the penalty kill, its Jordan who is doing the same for the forwards. His physical presence is always a bonus, no matter whether he is scoring or not.
The Others: 7-10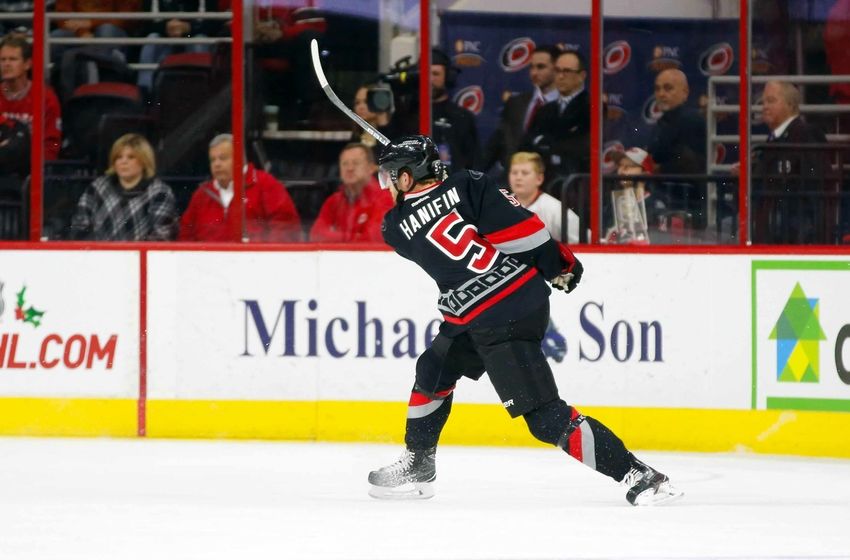 7
Sebastian Aho
18GP, 2G, 8A
Last week:
4GP, 1A
Last rank:
5
Similar to Staal, it was a slow offensive week for Sebastian Aho. It wasn't for lack of trying. Aho displays not only offensive competency, but also creativity. It is just that his plays aren't working out for him. Sometimes though, he plays too conservative. Aho is such a smart player, you almost wish he was more willing to take some risks. It's a good problem to have for the rookie.
8
Noah Hanifin
18GP, 1G, 7A
Last week:
4GP, 1G
Last rank:
10
Shooting has never been a calling card of Noah Hanifin's, but to his credit its getting better. His goal this week was a bomb that was reminiscent of a Faulk point shot. Along with his goal, Hanifin has settled down defensively. The addition of Matt Tennyson on the third pairing has given Hanifin a more stable defensive partner. Noah's movement up this list is credit to Tennyson's steady play which has allowed the 19 year old to play better.
9
Elias Lindholm
18GP, 1G, 5A
Last week:
4GP, 1G, 2A
Last rank:
Not Ranked
Well it sure took long enough. Against Winnipeg, Elias Lindholm scored his first goal of the season. That's not the reason he makes the rankings though. For whatever reason, Lindholm's season has had a complete turn around this week. He has looked far more lively this week. His best moment was his interception and then dish to set up the Canes game winning shorty against Toronto.
10
Ron Hainsey
18GP, 1G, 5A
Last week:
4GP, 3A
Last rank:
Not Ranked
The surprise addition to this week's rankings is none other than the 'Ronster'. Ron Hainsey was fantastic this past week. His 3 assists were all vital. The first 2 came in the Canes comeback victory against the Canadiens and the other helped lift Carolina over Winnipeg. The veteran is having a great offensive season so far. Hopefully he can continue his great form so he can reach his first every play-off game.
This article originally appeared on