Carolina Hurricanes Player Power Rankings: Skinner and Rask Lead the Way

Two weeks into the season, these are CardiacCane's player power rankings of the Carolina Hurricanes.
Finally the Carolina Hurricanes played a game in PNC Arena and for the first time since 2008, the Canes were victorious in their opener. Every time the Hurricanes have won their home opener, they have made the playoffs oddly enough.
Despite that trend, the Canes stumbled to only 1 victory in the last 4 games. While team defense has been spotty, the goaltending continues to plague this club. Neither starting netminder made their way into the top 10 rankings.
Here are our top 10 Carolina Hurricanes.
The Best of the Canes: 1-3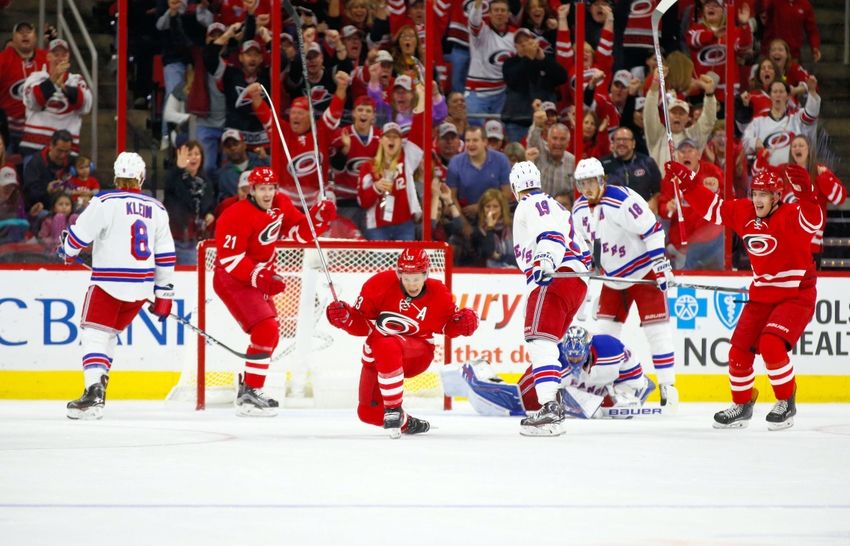 1
Jeff Skinner
7GP, 5G, 6A
Last week:
3GP, 3G, 3A
Last rank:
2
Jeff Skinner's absence from the roster in Detroit clearly hurt the team as the Wings were all over the Canes. To make up for lost time, Skinner played some truly special hockey against the Rangers on Friday. If it wasn't for a puck grazing Bryan Bickell, Skinner beat New York by himself with a hat trick. Since the trade deadline last season, number 53 has been an offensive dynamo. There is only one player in the NHL with a better points per game average this season, that's Sidney Crosby, and Skinner has played in double the games.
2
Victor Rask
8GP, 4G, 6A
Last week:
4GP, 1G, 4A
Last rank:
3
While Skinner is grabbing headlines, and deservedly so, Victor Rask is quietly tied for top 10 in the NHL in points. Through 8 games, Rask has been Carolina's most consistent performer, collecting a point in every game this season, a mark that is now the best to start a season in Hurricanes history. The development in his game has been remarkable and there is little evidence to suggest he will slow down.
3
Jaccob Slavin
8GP, 2A
Last week:
4GP, 1A
Last rank:
4
He isn't a big time point producer, but Jaccob Slavin is a brick wall in the back for Carolina. Constantly Slavin is drawn in to battle the oppositions top line and is providing excellent defensive work. It is a shame that the Hurricanes team defense and goaltending are overshadowing Slavin's play. Hopefully the team can get up to Slavin's level soon.
The Middle of the Pack: 4-6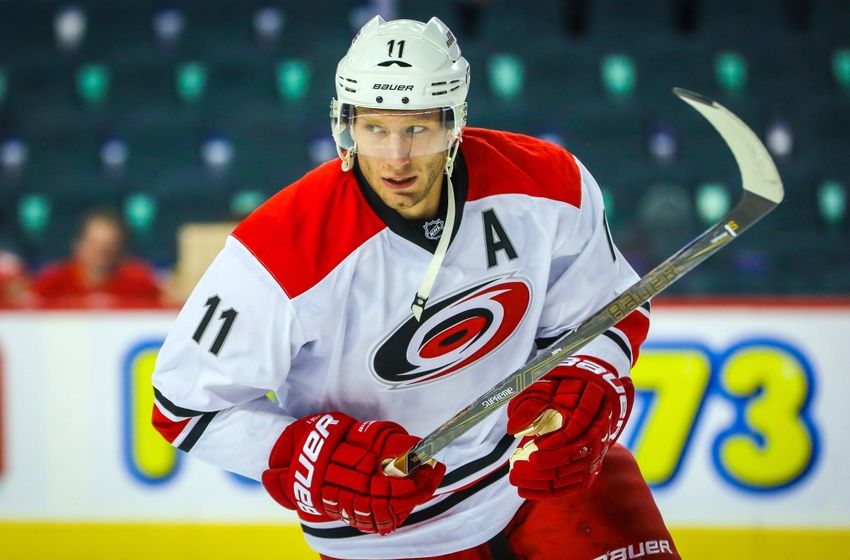 4
Lee Stempniak
8GP, 4G, 2A
Last week:
4GP, 1G
Last rank:
1
Lee Stempniak drops out of the top 3 due to other players around him are picking up their play to where he has been at all season. After storming out of the gate offensively, the veteran has cooled off slightly. However, Stempniak leads the squad in plus/minus rating with a +3. There is a legitimate argument that Stempniak is the Hurricanes most complete player right now.
Want your voice heard? Join the team!
5
Justin Faulk
8GP, 3G, 3A
Last week:
4GP, 2G
Last rank:
7
Two goals in a little over a week is decent production for offensive d-man Justin Faulk, but his play in his own end is still spotty. Against New York, Faulk was noticeably impactful in his own end. In the other 3 games, he was either mediocre or a detriment. He needs to pick up his play at his own blue line.
6
Jordan Staal
8GP, 3G
Last week:
4GP, 2G
Last rank:
5
Center Jordan Staal continues to hover around a 70% faceoff winning percentage which is spectacular. Despite the inclusion of Sebastian Aho on his wing, his offensive game is still stagnant, but it should come around. Jordan is a defensive force and drops only one position from last week.
The Others: 7-10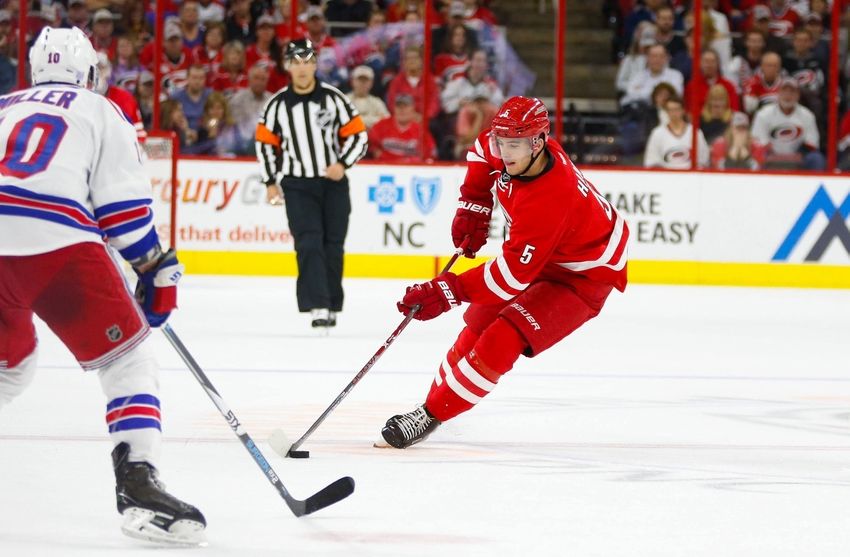 7
Noah Hanifin
8GP, 6A
Last week:
8GP, 2A
Last rank:
Not Ranked
Hanifin made a brutal play that ultimately cost Carolina a point against the Flyers. The 19 year old is having a tough time in his own end right now, as his team worst -6 rating suggests. However, his new found offensive confidence is something to be celebrated. He is tied for the team lead with 6 assists.
8
Sebastian Aho
8GP, 5A
Last week:
8GP, 2A
Last rank:
8
Through 8 games, it is clear that Sebastian Aho is staying with the big club for the rest of the year. Coach Bill Peters bumped Aho up to Jordan Staal's line to help the big center produce some more offense. It's created chances, but no results as of yet. Aho is still looking for his first career goal.
9
Brett Pesce
8GP, 2A
Last week:
4GP, 2A
Last rank:
10
Like is partner Jaccob Slavin, Brett Pesce is just solid. He still paces the Hurricanes in blocks per game and shorthanded blocks. There are also signs his offense is coming around. Against the Rangers, Pesce made a great spring pass on a Jeff Skinner tally.
10
Viktor Stalberg
7GP, 2G
Last week:
4GP, 1G
Last rank:
Not Ranked
The other significant free agent signing this summer was Stalberg and this week was a bit of a coming out party. After getting scratched early on the road trip, Stalberg's speed and grit has been effective at even strength and on the penalty kill.
This article originally appeared on