Carolina Hurricanes Plan B: Are You There God? It's Me, Ron Francis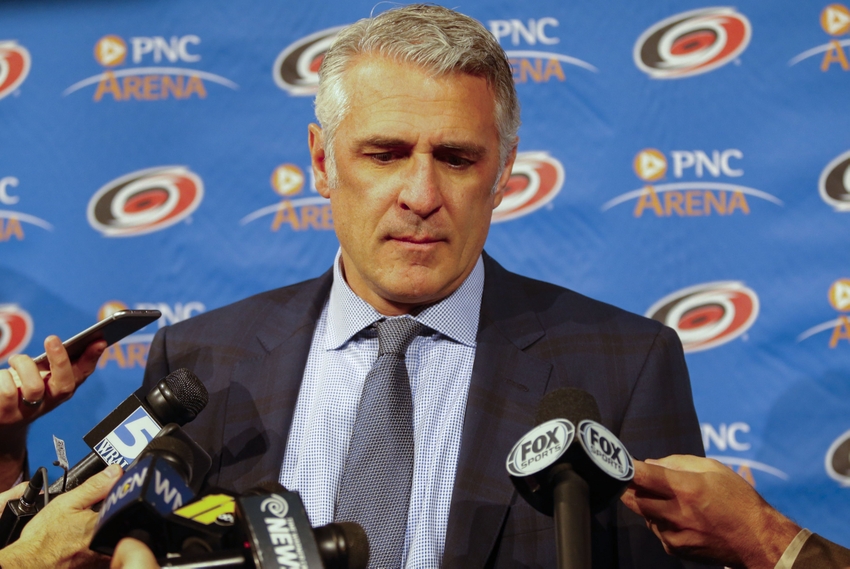 With the Carolina Hurricanes placing Jordan Staal on IR, they now have to fill the gigantic hole of his absence
There is no denying that Jordan Staal's injury throws a gigantic wrench into the Carolina Hurricanes' plans to make the postseason.  His injury is complicated by its length; more so the fact no one knows how long it will be.  Staal could be out a week or he could be out for months or more.  Taken to its extreme, it means the end of Staal's career.  Hopefully, it's not that bad, but either way, Francis, and company, need to come up with something quick. Basically, Carolina's choices boil down to three things: trade for a player, call up a center from the AHL, or leave things as they are and shift around positions.  We'll cover them in the likelihood we think it happens from least to most.
Trade For A Player
One of the quickest, if not the easiest, way to replace Jordan Staal would be a trade.  Doing so brings in an NHL ready player that Peters could fit in as needed.  Also given the weakness of centers after Rask and Staal (when healthy), once Staal returns there remains a place for the person brought in to still get ice time.  And if Francis didn't want to do that, he could trade for a solid offensive winger, slide either Teuvo Teravainen or Lindholm to center, and once Staal comes back the team is left with some extra firepower to slot in where needed.
Will Ron Francis make the move?  No, most likely not.  Francis sticks to the process no matter what. That means not giving up any assets for anything other than surefire successes on the trade market such as the two trades with the Chicago Blackhawks that netted Carolina Teravainen and Joakim Nordstrom.  While most fans favor this option, Francis's history rules this out to a certainty.
Callup A Center From The AHL
The Carolina Hurricanes already used the Charlotte Checkers to address a need on defense this season so the idea of them heading back to the well is not outside the realm of possibility.  The Checkers have two possibilities down the interstate with centers Andrew Poturalski and Lucas Wellmark. Poturalski leads the Checkers in scoring with Wellmark a close second. Nobody says to slot them in a top six role, but they could push up Derek Ryan or Jay McClement.
Some would argue that Elias Lindholm and Teuvo Teravainen should take the empty spot at center left by Staal.  It is true they are the more talented choices, but Lindholm and Teravainen play stronger offensively on the wing.  It wouldn't be the first time an AHLer jumped up to the Carolina Hurricanes from Charlotte and played better than expected.  This also could be a way to see what offensive talent Carolina has down in the minors.  Again this probably won't happen but the move is more likely than Francis going out and trading for someone
Maintain The Status Quo
Phil DiGuisepie's call-up after placing Jordan Staal on the IR proves this scenario to be Francis's choice for the time being.  Elias Lindholm or Teuvo Teravainen slide over to the center spot.  DiGuisepie fills in while Brock McGinn is injured and the two of them rotate in out of the lineup with Andrej Nestrasil as needed.  It's not the most exciting of prospects, but it is the one that fits in with Ron Francis's style the most.
The main problem with this plan is how long can the Carolina Hurricanes keep winning with this roster?  Having one top six position and two-thirds of a line filled with marginal NHL talent is a recipe for disaster.  Even more so when the team plays in the best division in hockey.  So while this plan may be the Cane's go to solution it won't work for the long term if Stall misses any significant time.  Which if you are hoping Carolina can somehow squeak into the playoffs, this decision almost certainly means they won't.
The choices Ron Francis and the Carolina Hurricanes make to solve the Jordan Staal issue will define the season.  Will he deviate from the defining strategy of his tenure and bring in a big name with a midseason trade?  Or will he stay the course and trust the players he has?  It is a difficult decision up ahead, but Francis's leadership so far inspires confidence and leaves little room for doubting him.  Let's hope we can still say the same two months from now.
This article originally appeared on