Carolina Hurricanes Lose Bryan Bickell, Justin Faulk, and Others in One Day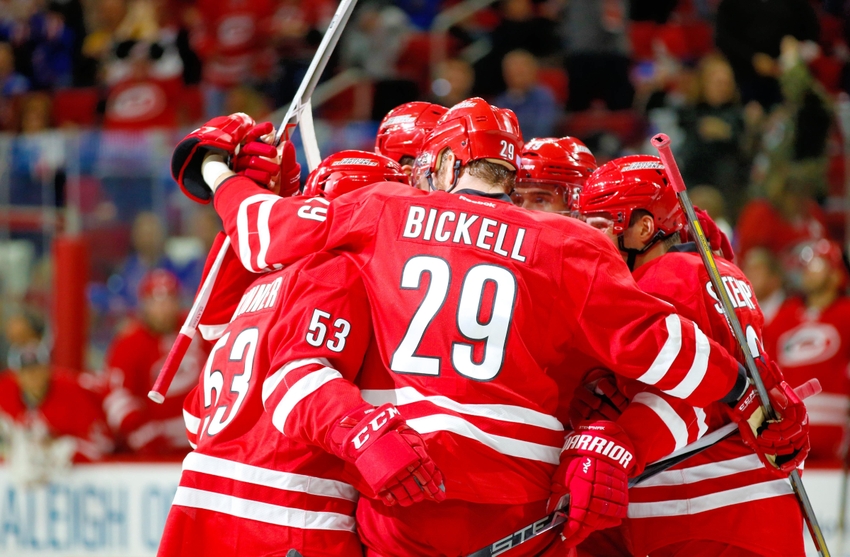 November 11th, 2016 was a rough day for the Carolina Hurricanes and their fans. The Canes lost 4 players from the active roster.
Bryan Bickell
The big and terrible news of the day concerns Carolina Hurricanes center Bryan Bickell. After missing the last two games with an illness, the club announced that the former Blackhawk has been diagnosed with Multiple Sclerosis, more commonly referred to as MS.
Bickell has been placed on indefinite leave by the Hurricanes so he and his family can assess his options and battle this disease. In his short time with the team, Bickell has already proven to be tough competitor and warrior for his teammates. The man has won three Stanley Cups and is no stranger to a fight. If anyone can tackle this disease, it is Bryan Bickell.
A key off-season acquisition for the Hurricanes, he has been a steady player for the 4th line this season. His only point was a power play goal in Carolina's home opener.
Despite the tough news, Bickell seems optimistic and is ready to face what's in front of him. He and his family will stay in thoughts and prays of us at Cardiac Cane as well as the rest of Caniac Nation.
"Obviously this is a bit of shock for my family and me, but I am hopeful I will be able to return to the ice and continue playing the game that I love."
– Bickell
For more information on Multiple Sclerosis, below is a link to the National Multiple Sclerosis Society's website. There you can find out more about Bryan's battle ahead and even donate to help families like the Bickell's and find an eventual cure.
Justin Faulk
After taking an injury against the New Jersey Devils, Justin Faulk has been placed on Injured Reserve. As the week progressed, the diagnosis went from game to game, to an MRI, to week to week, and now the IR. It looks to be an upper body injury.
Justin Faulk will be sorely missed while he is out. The team was in dire straights with him in, let alone without him. Even though he hasn't been as good on defense as he usually is, he is still one of the better offensive d-men in the league. Through his 11 games played, he has 3 goals and 6 points. He also is the Hurricanes best weapon on he powerplay.
Want your voice heard? Join the team!
His absense has no time frame currently, so its anyone's guess how long he will be out. By our estimation, he will likely return sometime around the new year. Whether that's before January 2017 or not, that's up for debate. Luckily, Carolina is deepest on the blue line. Jaccob Slavin and Brett Pesce have been two of the maybe four Canes to be stellar so far this season.
Other Roster Moves
Winger Phil Di Giuseppe was reassigned to Charlotte today. He has failed to make any offensive impact this season. Skating in the bottom 6 with no time on the powerplay, the 2012 draft pick was short on ice time and opportunities to contribute.
Hopefully joining Di Giuseppe in Charlotte will be Jakub Nakladal. Signed as a free agent after a solid showing in the World Cup of Hockey with his native Czech Republic, the defenseman was waived Friday. He has been mostly a healthy scratch in his time in Raleigh. What is surprising is that his play hasn't been as shocking as Ryan Murphy's or Klas Dahlbeck's. It's a little weird Nakladal is being waived considering he has looked better than two other guys on the active roster.
This article originally appeared on