Carolina Hurricanes: Letting Eric Staal Go Was Mistake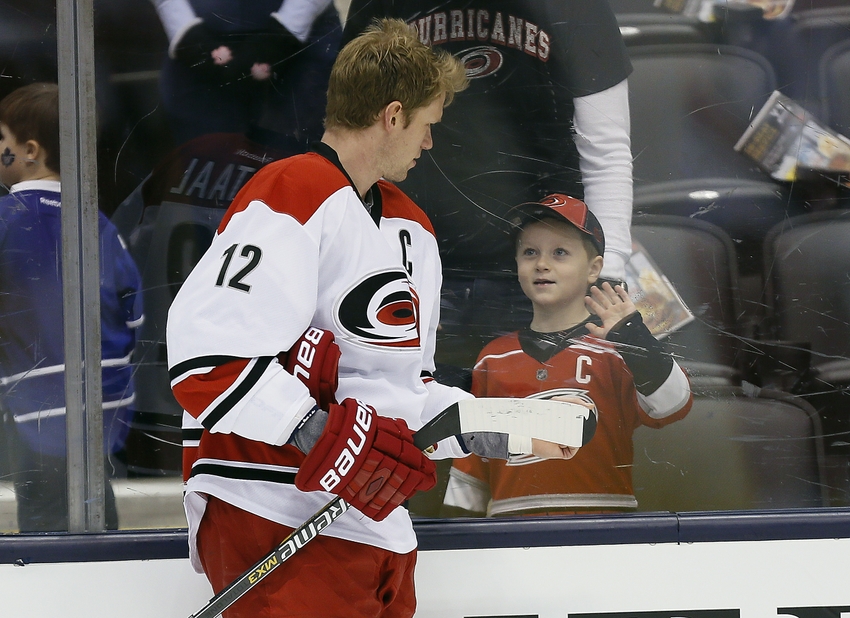 Former Carolina Hurricanes' captain Eric Staal is thriving so far with the Minnesota Wild.
When the Carolina Hurricanes traded Eric Staal to the New York Rangers last season both parties knew it was the best move to improve a rebuilding team.  Carolina desperately needed draft picks and Staal brought in two of them when the Canes shipped him to the Rangers. However, Staal's play with the Rangers wasn't much better than with the Hurricanes at least in terms of production.  Staal failed to register a single point for the Rangers in the playoffs and only scored 6 points in the 20 games before.
In the offseason, Francis made it clear that the organization would not resign Eric Staal to a new contract.  And sure enough come July 1st Staal signed a two-year contract with the Minnesota Wild for an AAV of $3.5 million a year.  The Hurricanes organization have yet to replace at least in spirit as the team so far declined to name any one player to the captaincy.  Right now the Canes split captaincy between the four A's (alternate captains) of Jordan Staal, Justin Faulk, Jeff Skinner when the team is at home, and Victor Rask when the team is away.
Was it the right move?
Sure there were reasons to move on from Eric Staal last offseason.  His production dropped.  The team missed the playoffs every year of his captaincy.  He was on the wrong side of thirty.  The team needed to start a fresh page.  Yes, those are valid points but his Corsi stats painted a different picture.  Last year with the Carolina Hurricanes Staal played with a 55% Corsi for percentage and a CF%Rel of 5.05 according to Puckalytics.  Those numbers were good enough to place him at 31st and 22nd respectively among forwards that had played 500 minutes.  So while Staal's points were bad, his Corsi was good.  Guess which of those are more predictive of future goals and points?
If you said Corsi, you're right and this season backs up those numbers.  Staal leads the Wild in scoring.  Staal leads the team without having Parise to help him either.  Parise was injured on October 28th and hasn't played since.  Staal's wingers are Charlie Coyle and Nino Niederreiter, and while both are solid players neither are really first line material.  They are still head and shoulders above what Staal had to play with in Carolina though.  Anybody remember Ponikarovsky?  Yeah if you don't, you don't want to.  For a team like the Hurricanes, that lost six of their games this year by one goal, Eric Staal's thirteen points look like a cool drink of water in the middle of the desert.
Staal signed cheaply for short term, and to think he wouldn't have done so with Carolina given his roots with the community would be foolish.  The argument could be made that he wouldn't have played as well here in Carolina as he is in Minnesota.  Possibly, yet his play this year shows that he wants to prove he's still a first line center.  He would have had to prove that in Carolina just as much as Minnesota.  All and all I can't help but think of a line of Aho-E. Staal-Teravainen and not think "what if".  Hopefully, the Canes can find a replacement of Staal's caliber since players of his type, unfortunately, aren't as easy to replace as one would think.
This article originally appeared on