Carolina Hurricanes Have A Pair Of Elite Defenseman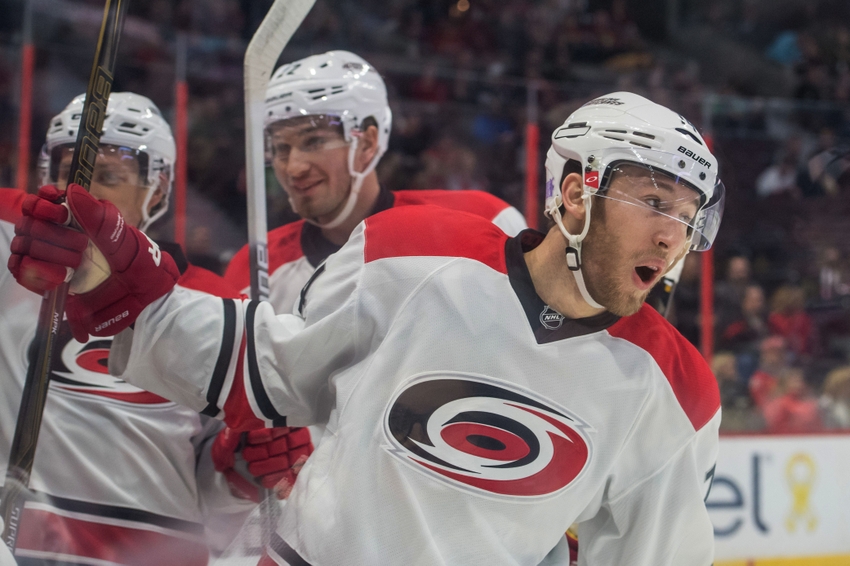 When you look at the current state of the Carolina Hurricanes defensive ranks, two defensemen stand out: Jaccob Slavin and Brett Pesce
Move over Justin Faulk, there's a new crop of elite blue-liners in town. The Carolina Hurricanes are making an art out of drafting and developing defensemen, and it's starting to pay off.  Justin Faulk has been the face of the Hurricanes franchise for several years now.  The tides are starting to shift on the Canes blue line, though, as a new pair of top defensemen is emerging. While Faulk is having a quiet year, Jaccob Slavin and Brett Pesce are taking the defensive core for the Canes to a whole new level.
These sophomore blue liners are making some noise. You could easily isolate either one and have a whole host of traits to talk about. However, since they play as a pair, and dominate as a pair, we should look at them as a pair.   Especially when the two can play shifts like this:
Brett Pesce and Jaccob Slavin jumped over the boards at 17:18 mark and didn't come off until 12:17. That's a 5:01 shift. FIVE MINUTES.

— Michael Smith (@MSmithCanes) December 3, 2016
While the stats are a good way of analyzing trends, and ranking players among their peers. I am going to take a look at the fundamental skills leading to the success of Slavin and Pesce thus far.
Defense Matters
In the modern NHL, a defenseman earns more recognition for their points than their defense. I played defense at all different levels and never once did a coach ask me how many points I scored. Brent Burns, Erik Karlsson, and PK Subban are known as elite defensemen because they score a lot of points. Just look at Justin Faulk.  Faulk gained a lot of recognition around the league because he scores goals.  His offense is great, but it hides his weaknesses on DEFENSE.  I'm not saying he's a bad defenseman.  But watch him closely: he gets beat wide, misses assignments in the d-zone, and goes for hits that take him out of position.
Playing defense should be more than about just putting up a lot of points, and it's a crime how the Norris trophy for best DEFENSEMAN is just a glorified points race.  But all around defensemen lack  the flash of a Subban or Karlsson and the casual fan doesn't appreciate them as much.  for this reason, Jaccob Slavin and Brett Pesce are not well known on the national scene . But ask any scout or analyst that knows Canes hockey, and those two will be the first they talk about.
Jacob Slavin and Brett Pesce have to be the two best defenseman in the NHL that people don't even realize exist.

— Adam Herman (@AdamZHerman) December 3, 2016
Slavin and Pesce's play embodies a defense first mentality.  They play physical but do so while maintaining position.  Plus, both are agile skaters; an uncommon trait with players of their size. The two thrive on shutting down the opponent with shot blocking, good stick work, and quick outlets from the d-zone.
Shot Blocking
Shot blocking means less shots.  And the fewer shots your goalie see, the fewer chances those shots become goals. Compared to seventies and eighties, every team wants their defenseman to block shots. The New York Rangers made their players wear gloves with extra padding. AHL teams mandate their players wear plastic shot protectors over their skates.  Both were measures to make it easier to block shots.  This particular skill is something that Pesce and Slavin have mastered. And trust me, blocking shots is about so much more than taking a puck to the face.
There are a couple things to not do. First, don't screen the goalie.  This is key, as the defenseman likely won't block every shot, and screening the goalie does more harm than good in this scenario. The best shot blockers get in the way of the shot, but still allow their goalie a sightline. This is done by sliding towards the shooter. This takes away the lower part of the net and allows the goalie to only focus on shots up high, as you are taking away the shots along the ice.
Second, avoid blocking shots close to the goal. Shots blocked within 5-10 feet of the net can cause problems for the goalie. The angles don't work in the defenseman's favor and it makes it harder for the goalie to see along with the added  chance for weird bounces.
What makes Slavin and Pesce so good is they know that there is a time and a place for everything. If a shot is coming from in close, they will instead focus on boxing out an opposing player. If they think they can block the shot, they will charge out to meet it. This gives the goalie a greater distance between himself and the point of deflection. Thus, giving the goalie plenty of time to react to a deflection.
Both players currently rank in the top 20 defensemen for blocked shots (Slavin-51, Pesce-49). The pair has blocked a total of 100 shots over the course of 25 games. Sorry, I am starting to get statistical on you guys, but it goes to show the impact that shot blocking can have over a course of the season.
Stick Work, Gap Control, And Positioning
Something that plagues defenders is simply having a "good stick"; players focus less on hitting and more on having your stick in a good position. Slavin and Pesce excel at this particular skill. Good stick positioning can keep a player from taking a shot in the first place. The key is not just the location of their stick, but having a good body positioning. When someone is coming down the ice, they make sure to be within a stick's length of the player by the time they get to the defensive blue line. As they tighten the gap on the player, they make sure to keep the player towards the outside. This enables them to aggressively defend without worrying about giving up the middle of the ice.
When a defender positions himself like this, he is able to get his stick on the puck. If the opposing player stick handles or tries to cut around him, Pesce and Slavin are able to counter. They are quietly becoming a dominant force on defense because of their stick work.
Having a good stick is typically the last resort for most defenders, and playing the body is more common. Big open ice hits, or crunching hits along the boards rile up a crowd. However, they often lead to odd man rushes and players out of position. This is not the case in Carolina as they play a style of hockey that is slightly less physical than most teams. While playing a less gritty game is thought of as being boring, it leads to less wasted energy and allows players to stay in position.
Moving The Puck
Slavin and Pesce as a pair are an anomaly in the NHL. Historically NHL teams built defensive pairings by putting both an offensive and a defensive defenseman together. The styles complimented each other and if one was overly aggressive, the other sat back to cover. With Slavin and Pesce, that norm is broken; both players are extremely strong on either side of the puck.   Where other defenders best option is to make a quick pass out of their own zone, Slavin and Pesce hold the ability to move the puck up themselves or make the pass.
Slavin had a goal earlier this season against Ottawa where he picked off a pass at his own blue line. Before the Senators knew what happened, Slavin was in on a partial breakaway.
This versatility keeps other teams on their toes and makes them unpredictable. It also allows head coach Bill Peters to use them in all situations. Both play a pivotal role on the penalty kill and see some power play time.
Carolina Hurricanes Looking Ahead
All around, neither Slavin nor Pesce has many holes in their game. One area both players have room to grow in is their grit. While they shut down opponents through good positioning and stick work, they often do not get emotional or push anyone around. Unnecessary penalties are frowned upon, though sometimes it is good to mix it up in front of the net when someone gets too close to your goalie. Letting the other team feel your presence on the ice can have a positive impact for your team.
There is always room for improvement in all aspects of the game. Nevertheless, the pairing has been an anchor for the Carolina Hurricanes so far this season. In just their second year as NHL'ers, I expect them to keep growing as players and as leaders. Both players have good heads on their shoulders and have adapted to the pro lifestyle very well. I look forward to Slavin and Pesce being a staple in the Hurricanes resurgence for years to come.
This article originally appeared on